A mountain lion was tranquilized and captured by officials in the early hours of Monday morning after it was spotted in the backyard of a Palm Springs condominium complex in California.
Lieutenant William Hutchinson, a public information officer for the Palm Springs Police Department, told Newsweek that police officers, as well officials within the department's animal control division, were first called to the scene. They later determined that they needed backup from the California Department of Fish and Wildlife.
According to KESQ, the residents of the condominium unit were not home when the mountain lion was seen.
"The mountain lion was safely tranquilized by CDFW, and had her very own Teledoc appointment while she was asleep," the Palm Springs Police Department wrote in a post on its Facebook page. "It was determined that she was malnourished and in need of treatment."
She was brought to San Diego Humane Society's Project Wildlife where she will be provided treatment and care until she is deemed healthy enough to be released back into the wild.
Campus Director for Project Wildlife Ramona Andy Blue told Newsweek that the facility began testing the mountain lion for diseases and injuries. He said there were abrasions found on her forehead, but it's difficult to determine where they came from.
The bloodwork that came back so far has promising results, but Blue said they're still waiting for results on other tests, including whether the mountain lion accidentally ingested a type of pesticide. Blue said she weighed 43 pounds but should weigh about 60 pounds.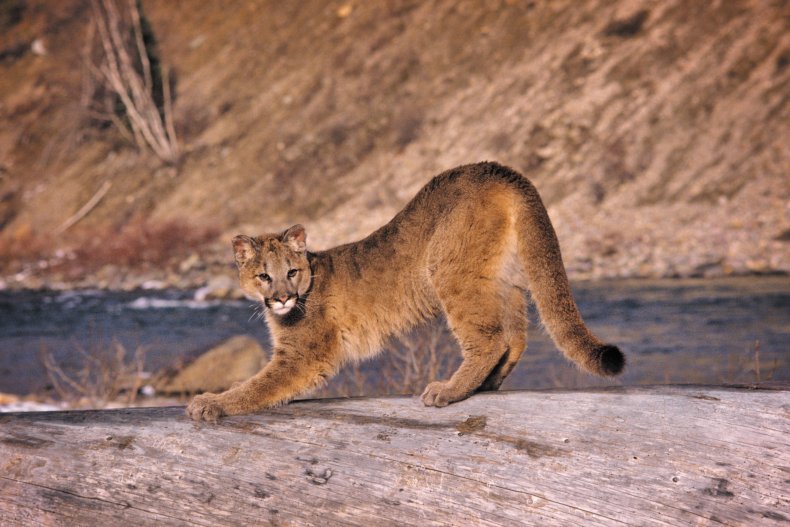 "She seems a little more alert today and active," he said. "She's still in a guarded condition, but she's eating more and drinking water. She's aware of us."
For now, the mountain lion is kept in a quiet and dark room to recover, but as she gains strength, she'll be introduced to the facility's outdoor enclosure. These enclosures are meant to mimic the wild as much as possible.
The tricky piece for the facility is that it is likely the mountain lion will be kept for rehabilitation for a long time, which means she may get used to people. Blue said the goal is to ensure she is rehabilitated but will be ready to return to the wild when she is strong enough.
In the event the mountain lion can return to the wild, Blue told Newsweek that the facility will work with the Fish and Wildlife department on the release. It will be up to the department whether they tag and track the mountain lion when she is released. They typically try to release animals within 10 miles of where they were found.
Blue said they've treated five mountain lions this year, and they are normally hit by cars.
"Our goal is to rehab and release. We are a hospital," he explained. "Any animal that comes here is injured, orphaned or compromised in some way."
In 2021 alone, the facility treated 979 patients.
Elsewhere in the United States, another mountain lion was spotted on the property of a home in July.
Newsweek reported that a 60-pound mountain lion was discovered under a Colorado home after a family cat sniffed it out.
Officials from Colorado Parks and Wildlife managed to tranquilize and relocate the mountain lion.