Mourners Give Fascist Salute to Casket Draped in Nazi Flag, Drawing Ire of Catholic Church
A funeral procession outside the St. Lucia church in Rome on Monday featured a casket draped in a Nazi flag while gathered mourners gave fascist salutes. The display drew the condemnation of the Catholic Church in Rome on Tuesday, which called it "offensive and unacceptable" and claimed that the involved priests had no prior knowledge regarding what happened after the service.
Italian news outlets reported that the funeral service was organized for a deceased member of the extreme right-wing group Forza Nuova. The 44-year-old man died over the weekend from a blood clot.
The Paris-headquartered Agence France-Presse news agency identified the man as Alessia Augello. Forza Nuova, which was founded in 1997, is one of Italy's most prominent right-wing parties and has faced accusations of attacking immigrants and clashing with law enforcement, Reuters reported.
In photos and video published by the Italian online news portal Open, about two dozen people were seen gathered outside the St. Lucia church after the Monday funeral service. The group began shouting "Presente!" and extending their right arm in the fascist salute when the casket, draped with a red swastika flag, emerged from the church.
The Vicariate of Rome, or the capital city's diocese, strongly decried the display in a statement Tuesday and distanced itself from the swastika-adorned Nazi flag, which it described as "a horrendous symbol irreconcilable with Christianity."
"This ideological and violent exploitation, especially following an act of worship near a sacred place, remains serious, offensive and unacceptable for the church community of Rome and for all people of good will in our city," a translation of the statement said.
The Vicariate also emphasized that both the parish priest and the priest that led the funeral did not know what the mourners were going to do outside the church after the Mass ended.
"Unfortunately, what happened outside the church at the end of the celebration took place without any authorization from the parish priest or the celebrating priest, both unaware of what was about to happen," the statement said.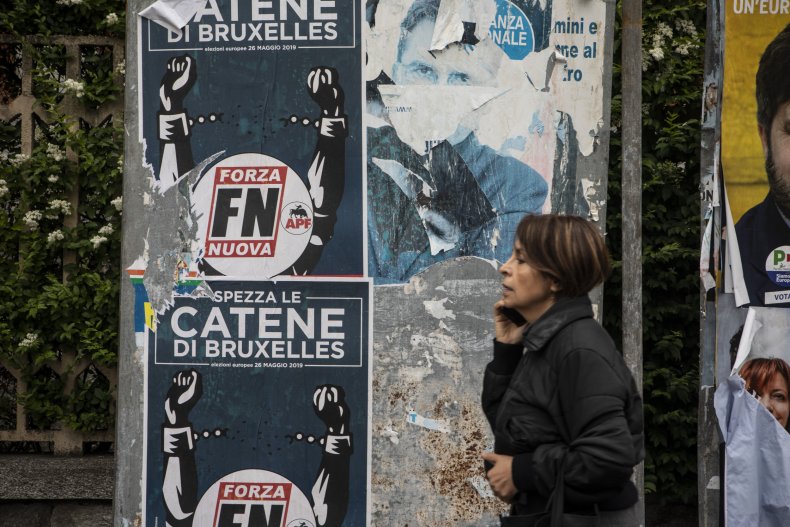 The statement quoted the parish priest, the Reverend Alessandro Zenobbi, as distancing himself and the church from "every word, gesture and symbol used outside the church, which are attributed to extremist ideologies far from the message of the Gospel of Christ."
Pope Francis is technically the bishop of Rome, but he delegates the day-to-day management of the diocese to his vicar, Cardinal Angelo De Donatis.
The Associated Press contributed to this report.