Mourning the Fallen: Police Wear Bands for Slain NYPD Officers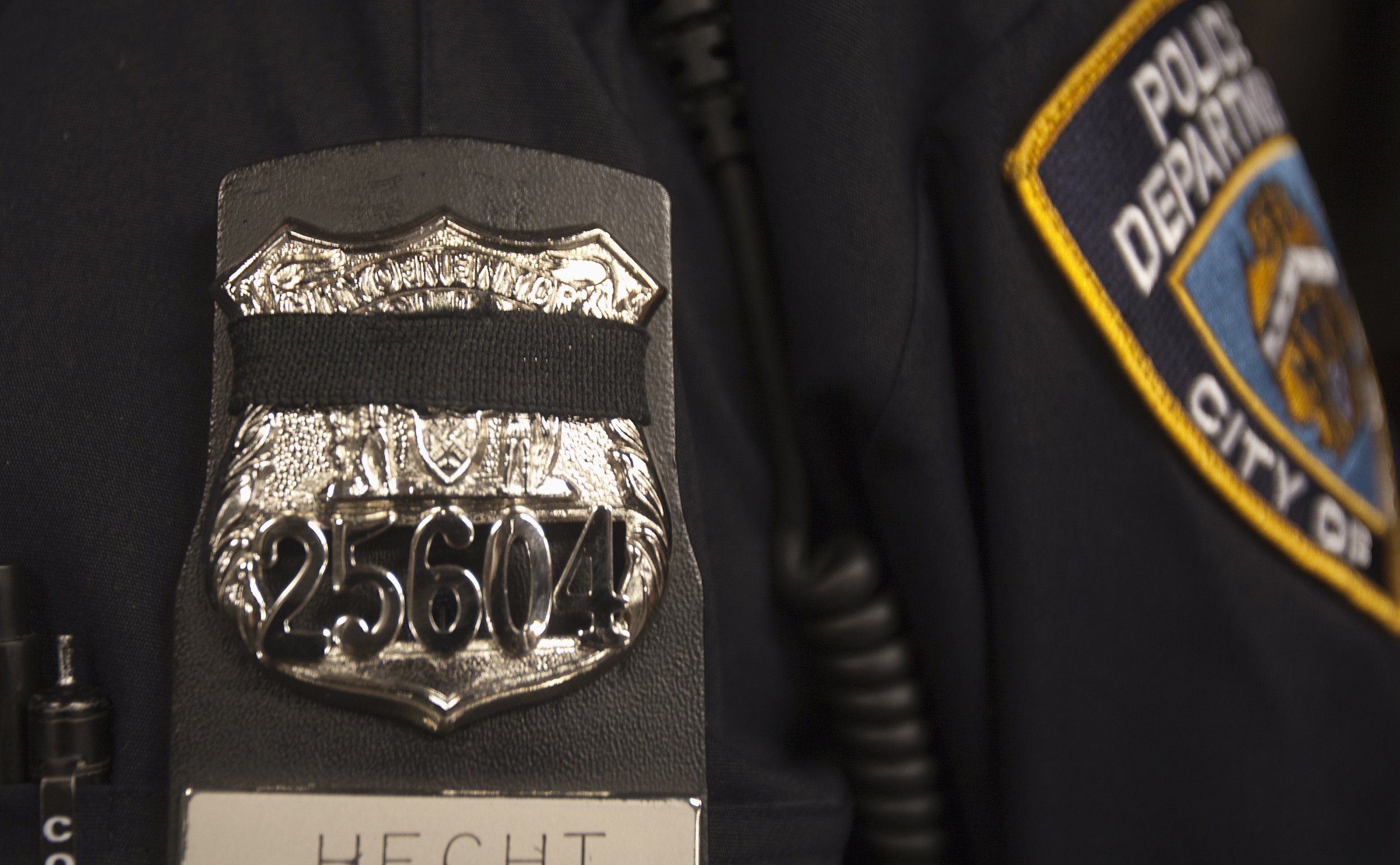 Days after the grisly murders in Brooklyn of New York City police officers Rafael Ramos and Wenjian Liu, law enforcement personnel across the country are honoring their memory by wearing thin black mourning bands on their badges.
"We are cops, and we will always be cops," Keith Maresca, a retired NYPD lieutenant who spent 20 years on the force, told Newsweek. "We stand with the active members, and they are our family."
Officer Down, a Virginia-based organization that honors fallen law enforcement officers, recommends that police wear the bands, which are half an inch thick, up until an officer's funeral or for 30 days afterward if they worked in the same precinct. Some officers wear blue and black bracelets on a daily basis to honor those who died in the line of duty.
"Most officers don't follow that protocol," said Maresca. "They'll just wear it the whole time because it is symbolic, it shows solidarity,"
As the news of the NYPD murders spread on social media, many officers and precincts swapped out their Twitter avatars for a police badge with a mourning band on it:
Some civilians showed their support as well. New York Giants Coach Tom Coughlin even repurposed the mourning band into a patch that he wore on his jersey during Sunday's game:
"It is not common for civilians to show an outward symbol of respect like that," said Chris Cosgriff, the executive director of Officer Down. "It is great to see and heartwarming to the law enforcement community to see the symbol adopted by civilians."
Though mourning bands have become more common in recent decades, Cosgriff said they actually date back several hundred years. "In the mid- to early 1800s, there is a record of officers wearing mourning sashes after line-of-duty deaths. Most of these records are from metropolitan areas like New York City," he said. "They would have been worn on the arm. The term mourning band is more modern, referring to the badge band."
The murders came at tense time for the city. For weeks, people across the five boroughs have been protesting the decisions by grand juries in Missouri and New York's Staten Island not to indict police officers in the deaths of two unarmed African-American men, Michael Brown and Eric Garner. Ismaaiyl Brinsley, the 28-year-old gunman who murdered Ramos and Liu, said on Instagram that the attack was revenge for the deaths of Garner and Brown. After the shooting, Brinsley, who had a history of violence—and of mental illness, according to his mother—killed himself.
When New York Mayor Bill de Blasio spoke at a press conference after the murders, a number of officers turned their backs on him to show their disapproval for how he's handled the protests. "I have never seen that before," Maresca said. "I hope that the mayor takes that as a message. The rank and file of this police department have lost confidence in him as their leader. As much as I miss [the NYPD] and wish I were still a part of it, I don't feel that I could do the job anymore with the way that the climate is these days—the city, the mayor, the City Council. It isn't a job I would enjoy."
But as the mayor and the NYPD sort out their differences, Maresca and department officers and alumni are focused on their fallen comrades. "Retired people, we are only supposed to wear it [the mourning badge] during the funeral," he said. "But many of us wear it the whole time. I'm going to wear it to show solidarity."