'Move to Canada' Searches Surge in Repeat of 2016 Election Result Aftermath
Election night was too much for some Americans, who took to posting "Moving to Canada" memes as the ballot counts continued throughout the night.
According to Google Trends, the last 12 hours have seen a spike in search of "move to Canada" with social media users sharing humorous images. Even Maine Police joined in the fun, advising Americans of the best paths to make it to the northern neighbors.
Jacy Reese Anthis, a social scientist at the University of Chicago, shared an image of the spike, showing a steep incline curve over the past couple of hours.
As the night went on, users decided to share their plans for making a break for the maple syrup-loving nation. Twitter user Morgan Montgomery said: "brb moving to [Vermont] so I can be surrounded by my fellow liberal folk and attempt to sneak into Canada.
Another user, @noy_zilla, wrote: "Me moving to Canada if everything goes wrong."
A user shared another cunning plan—no need to move, when you can make Canada part of the U.S. Pernickety Panda said: "Hey guys, we don't need to actually move to Canada. We just need to expand Canada. I'm totally down with this." The meme shows Democratic-leaning states joined up Canada and labeled "United States of Canada." Republican states are named "Jesusland."
Trying to make light of the election night, one user shared a meme showing how Canadians might be reacting: "Today's going to be spent convincing @sofus72 that it's time to move back to Canada." The picture showed a man hiding behind a curtain, eating a snack bag of potato chips.
This trend follows the 2016 presidential elections, which first saw Donald Trump voted into office. Americans flocked to the Canadian immigration website in such numbers that the website was knocked offline.
Last month, the government of Canada announced plans to support economic recovery through immigration. In a news release, Marco E. L. Mendicino, minister of immigration, refugees and citizenship, said: "Immigration is essential to getting us through the [coronavirus] pandemic, but also to our short-term economic recovery and our long-term economic growth.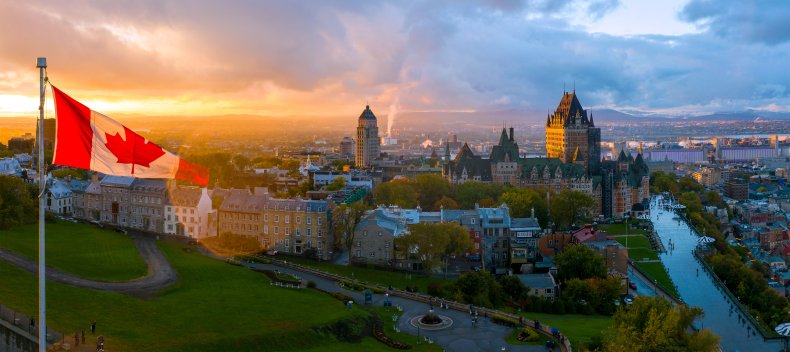 "Canadians have seen how newcomers are playing an outsized role in our hospitals and care homes and helping us to keep food on the table," he continued. "As we look to recovery, newcomers create jobs not just by giving our businesses the skills they need to thrive, but also by starting businesses themselves. Our plan will help to address some of our most acute labor shortages and to grow our population to keep Canada competitive on the world stage."
Immigrants account for 33 percent of all business owners with paid staff, and 25 percent of workers in our health sector are immigrants. Seems that they get the job done...
For those who want to take up Canada on its immigration offering, police in Maine have some advice. The Bangor Police Department took to Facebook to make sure Americans knew the "best" ways to get to the country.
"If you have determined that moving to Canada is your primary goal if the other candidate wins, it should be noted that we would rather you choose another route to gain access to that wonderful country," the Facebook post said.
"It's kind of icy here right now. Might we first suggest using a boat or aircraft to gain access to the land of the majestic— poutine-fattened— beaver."