Should Democrats Move to the Center? Mark Penn Op-Ed Inspires Furious Debate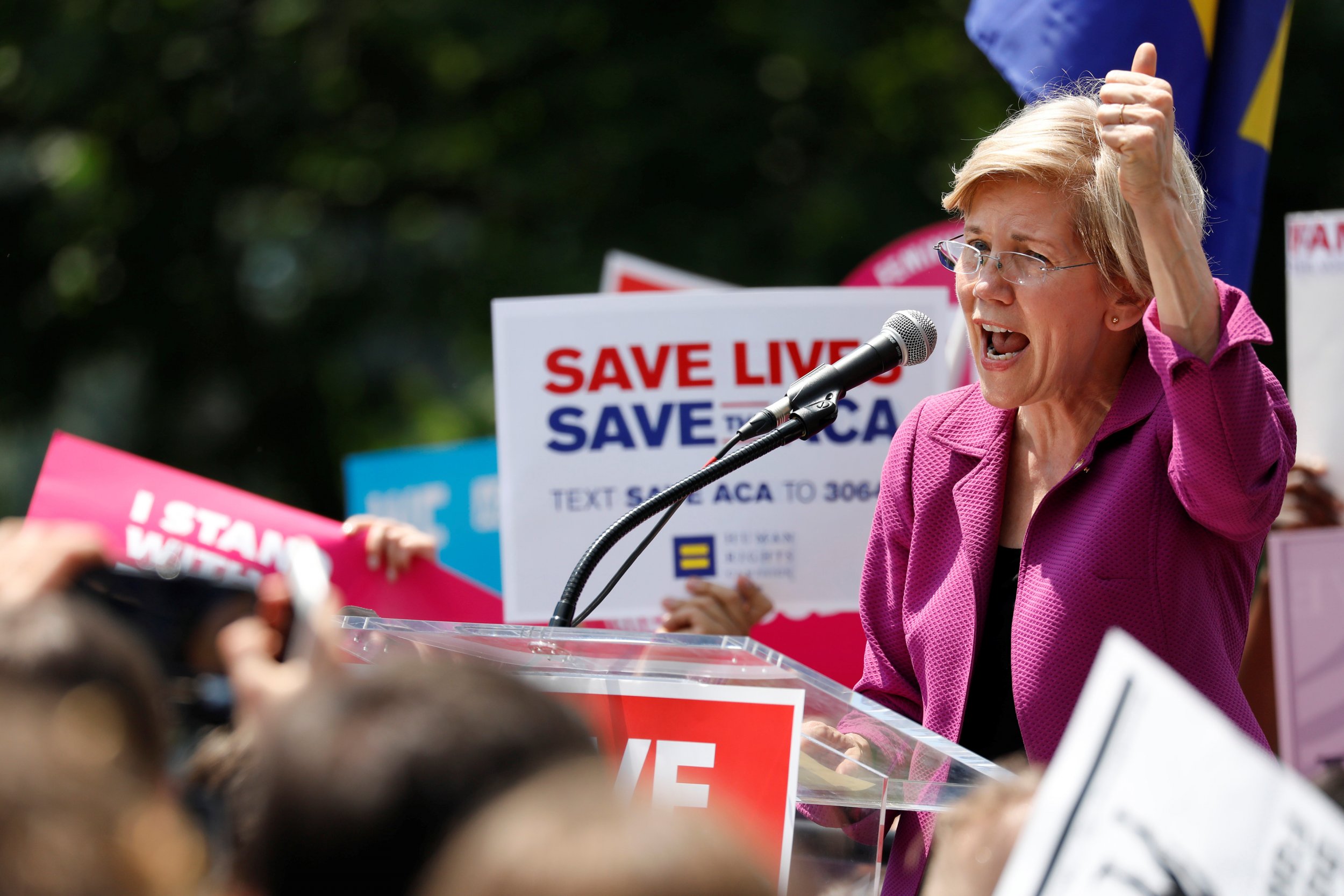 Mark Penn knows about losing elections—and about winning them. Now, the longtime pollster for Bill and Hillary Clinton is offering his advice to Democrats despondent after the 2016 election of Donald J. Trump to the presidency and, more recently, defeat for their party's candidates in several special elections that many hoped would serve as the advance guard of a Democratic takeover of Capitol Hill next year.
Related: Democrats 2018: New slogan could be, "Have you seen the other guys?"
The pollster's much-disputed wisdom, which has generated immense vitriol and some rational debate online, comes in the form of "Back to the Center, Democrats," a New York Times op-ed (co-authored by a former Manhattan borough president, Andrew Stein). As the title suggests, the thesis is that the Democrats' message has been hijacked by the so-called Elizabeth Warren wing of the party and must shift right if it is to recapture the House of Representatives, not to mention the White House.
Penn and Stein write:
Central to the Democrats' diminishment has been their loss of support among working-class voters, who feel abandoned by the party's shift away from moderate positions on trade and immigration, from backing police and tough anti-crime measures, from trying to restore manufacturing jobs. They saw the party being mired too often in political correctness, transgender bathroom issues and policies offering more help to undocumented immigrants than to the heartland.
Others have made similar arguments since Hillary Clinton's loss, but Penn has a credibility that comes with having engineered Bill Clinton's re-election campaign in 1996. He was also a close adviser on Hillary Clinton's 2008 presidential campaign, if not exactly a well-liked one. As John Heilemann and Mark Halperin reported in Game Change, their popular book about that year's presidential campaign, others in the Clinton camp found him "arrogant and amoral, a detrimental force whose perniciousness was amplified by his inexplicably tight bond with the Clintons."
Penn's reputation has not been helped, at least on the left, by his recent turn to investing, something he does through his Stagwell Group, which focuses on public relations, marketing and data research companies. "One of the most unctuous political operatives ever to emerge from the swamp of Washington," Kevin Baker said of him in 2016 in the New Republic.
Reviews of Thursday's op-ed weren't much better, with Slate calling it "asinine," for example. A noted a HuffPost headline read, "It's 2017. Democrats Should Really Just Stop Taking Mark Penn's Advice."
Dan Pfeiffer, a former top Obama aide, told me, "There can and should be a robust debate in the party about where we go in the post-Obama era. I don't pretend to know the right path forward, but I know it isn't a poll-driven, corporatist path."
Twitter users weren't much kinder:
Penn, though, rarely reaches conclusions without looking at the numbers, and those seem to be on his side to some degree. A recent report by Third Way, a centrist think tank, found that Democrats will need to do more than just turn out their base—educated urban liberals, people of color, unionists—if they hope to have cause for celebration in November 2018. Describing that report, James Hohmann of The Washington Post wrote in his Daily 202 politics newsletter, "There is palpable concern among moderate Democrats that the party will squander precious pickup opportunities in the midterms, and even allow Trump to get reelected in 2020, by nominating unelectable liberals."
Lanae Erickson Hatalsky, one of the authors of the report, told him bluntly, "You can't get to a House majority without winning over Trump voters." That seems to have been the point Penn and Stein wanted to advance.
The criticism doesn't seem to have fazed Penn. In an email written on Thursday afternoon, when his op-ed was a Twitter trending topic, Penn noted that his middle-lane approach "worked to win 1960 and 1992 and 1996. Hillary won in 2000 and 2006 general elections as a centrist Democrat as well."
"Of course, I would expect those on the far right and left to have a different view and kick it up online," he added. "But that is the very point of the piece—it's time to give the center more airtime because that's where America lives."