Movie Being Shopped At Cannes Film Festival Draws Attention For Decapitated Trump Look-A-Like Used In Poster
A movie poster on display at the Cannes Film Festival has drawn attention for its depiction of a Donald Trump look-a-like whose head has been decapitated.
The poster is for a movie titled When Women Rule the World and stylized as a B-movie poster such as those often seen in the 1950's when drive-in movie theatres were at their peak. The poster displays a brunette woman dressed in a bikini and carrying two decapitated heads, one of them is a blonde man wearing a Make America Great Again hat while the other appears to be a zombie.
"Meet the first lady of the future with her heads of state," the tagline on the poster says.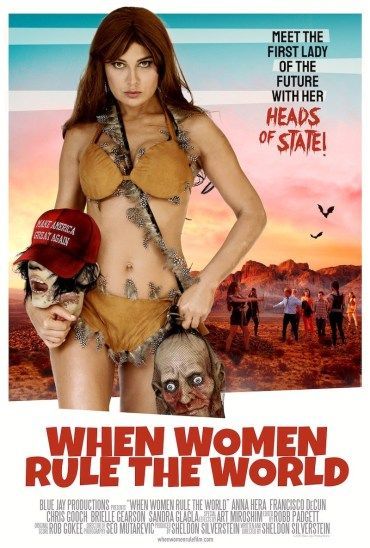 According to The Hollywood Reporter, the movie's writer-director-producer Sheldon Silverstein identifies the film as a sci-fi satire "with sociopolitical themes that align with movements like #MeToo and Time's Up and contain storylines that comment on toxic masculinity."
Silverstein told THR that President Donald Trump and his Russian counterpart Vladimir Putin are a center plot point to the film, saying, "Donald Trump gets in a fight with Putin over who has the biggest penis, and he pushes a button that starts World War III. … It's kind of crazy."
The official synopsis on the movie's website reads, "Reality-show mogul Michael Bray and his Russian fiancé, Maria Putin — along with Susan Tolby, Michael's tough associate producer, and Jon Dawson, brilliant nerd and social media guru — are driving to Las Vegas to begin production of their latest TV series, Showgirl Wars. They blunder into a time vortex and are transmitted to the future, 2121 A.D, after Trump has pushed the button, and World War Three and climate change have decimated life on earth.
The few women who have survived have completely separated from men, blaming them for all the destruction. The women live together in a women's village lead by Auriana and protected by women warriors. The men live out in the desert.
What will happen when two couples from the present become entwined with man-hating Amazons and woman-hating men from the future? Can they teach these new world women and men the value of love? Can they make it back to the present in time to warn people about the future that could be?"
According to Silverstein, the woman featured in the poster is Maria Putin, played by actress Anna Hera.
Silverstein told THR that the film "has something to say about what is going on in the world" and that the movie is meant to be a statement about Trump and his political policies.
"He's a moron and doesn't care about the environment. It's all about money to him. It's a shame he got elected and [this movie] is a put-down on all of that," Silverstein said.
The movie marks his directorial debut and Silverstein said he is in Cannes to look for distributors and showing footage from the film. "Everybody seems to like it so far," he said before telling THR that finding partners to pick up the film has been "painful."
This isn't the first time that Trump has been depicted as a decapitated head. In 2017, comedienne Kathy Griffin sparked outrage when she held a bloodied effigy of the president's head for a photo shoot. Griffin was fired from a hosting gig with CNN anchor Anderson Cooper on the news network and received multiple death threats.
"I'm Hanoi Jane, you know? I get it. This photo is gonna be with me forever, no matter what I do," Griffin told CBS This Morning in March 2019. "I was in London a month ago and I had a driver who took myself and my assistant from London Heathrow to the hotel, and he recognized me from the photo and he said that he was from Morocco and that if we were in Morocco he would cut my tongue off. So, that was a long drive!"
Griffin apologized for the photo shortly after it was published, and months later she revealed that it sparked an investigation by the FBI and the Secret Service. But Griffin told CBS that she doesn't regret the photo shoot.
"I've learned so much. I think a lot of people would love it if I said, 'Oh, I wish I had never taken that picture. I wish I had never cursed. I wish I had never made this comment or that comment.' But the most important thing that I hope people see is that, long after I kick the bucket, they see the crazy red-haired lady didn't go down," she said.
Movie Being Shopped At Cannes Film Festival Draws Attention For Decapitated Trump Look-A-Like Used In Poster | U.S.