Movie Review: 'Burlesque'—Reasons to Not Hate the Cher–Christina Aguilera Musical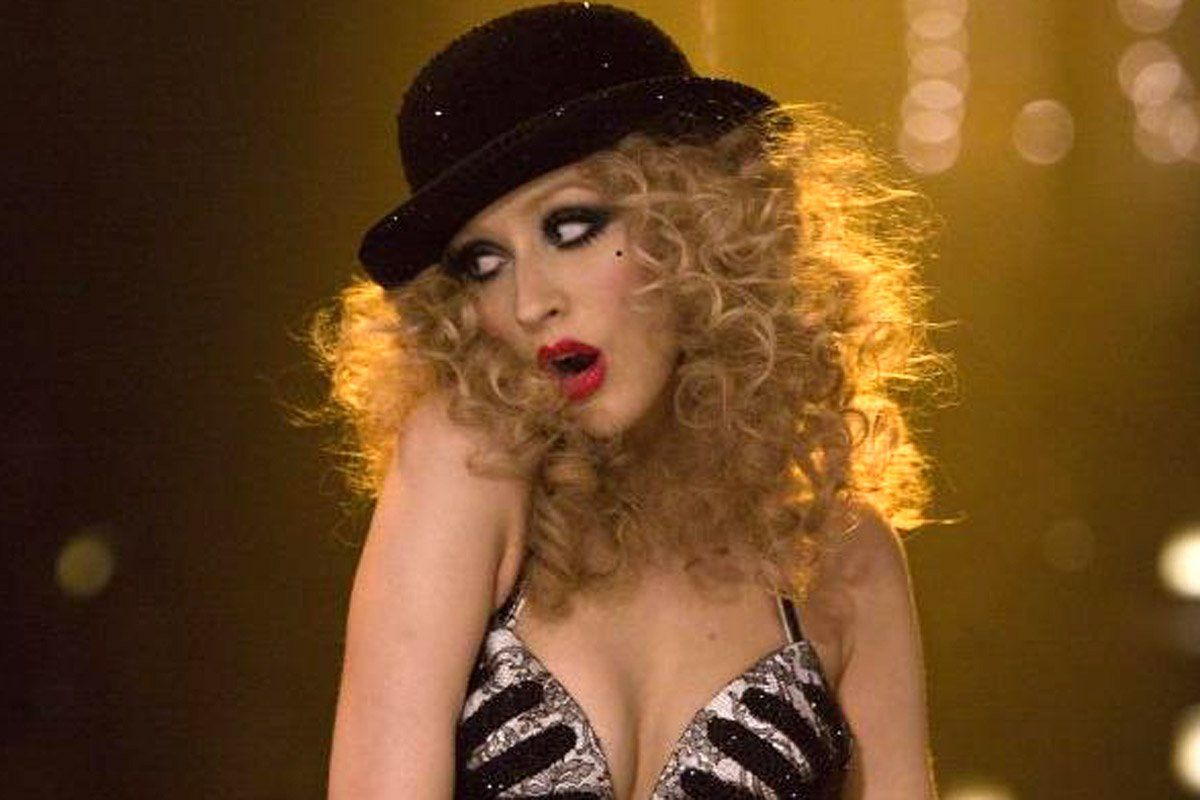 The critic on my left twitched so much during Burlesque, I thought she was having a seizure. The one on my right bolted for the door early. As for me, I just had one question: when can I see it again?
Sorry, Harry Potter, but Burlesque is the event of the holiday season, like the drunk aunt who shows up late to Thanksgiving dinner and falls into your mashed potatoes. The acting is almost nonexistent—Cher's face can't move because of Botox, and Christina Aguilera's moves even less (she can't emote). The audience I saw it with laughed at the serious lines, and I could hear crickets during the jokes. But Burlesque is so bad that it's good: over-the-top, ridiculous fun. As with a Taylor Swift concert or a stick of Velveeta, you can't resist the cheese.
After the trailer was unveiled last summer, the blogosphere started salivating at the idea that Burlesque was the next Showgirls. It's not. First of all, Aguilera is no Elizabeth Berkley. Second, there are no poles involved. Burlesque's "story" feels more like a campy pastiche of other popular films of the last decade. Here's the formula to its success, a combination of:
1. Coyote Ugly. Aguilera steps into the Piper Perabo role as a struggling waitress who just wants to dance. When she finally gets her American Idol moment, she becomes an overnight sensation and starts sleeping with her beefcake bartender (Cam Gigandet from Twilight).
2. The Devil Wears Prada. Oomph! Success is so hard when you're a young girl entering the workforce. Fortunately, Stanley Tucci is there to save the day. He plays the gay sidekick who helps navigate treacherous waters by offering fashion advice. In this case, it's not Miranda Priestly that our heroine must worry about. It's a far more eccentric diva: Cher.
3. Moulin Rouge! The burlesque club that Cher's character owns is in Los Angeles, but what's a small detail like geography when you have Baz Luhrmann to rip off? Inside her club, all the furniture and stage look strictly Paris (and Strictly Ballroom). In an opening number, one of the showgirls even sings the staple that Nicole Kidman put on every tween's iPod: "Diamonds Are a Girl's Best Friend."
4. Twilight. The message of Burlesque is that Cher, like Edward Cullen, is a nocturnal creature who will never, ever die, so we might as well give up and let her bite us. During her big musical sequence, "You Haven't Seen the Last of Me," she even shimmers in the same way as a Stephenie Meyer vampire. Credit the glittery lips, eyelids, tank top, shoes, and belt. Notice: no wrinkles.
5. Wall Street: Money Never Sleeps. Burlesque is not just a film about dance; it also speaks to our difficult economic times. Cher is on the verge of losing her club because she's so behind on payments. She's torn: does she try to sell to McSteamy, or hope she can scrounge together enough money for the bank? This is a dilemma that not even Suze Orman could solve.
6. The Burlesque dialogue, its best part. Here's a sample:
"Push up these boobs. You've got them—show them!"
"So you're not here to use my phone?"
"Hey, Jack, I'm really glad I don't have to be alone tonight."
"My thong is up my butt."
"When you are painting on makeup, you are like an artist, but instead of painting a canvas, you're painting a face."
"How many times have I held your head above the toilet while you lost everything but your memories?"
SETOODEH is a senior writer at NEWSWEEK who covers movies and pop culture. Follow him on Twitter.