Movie Review: 'Never Let Me Go'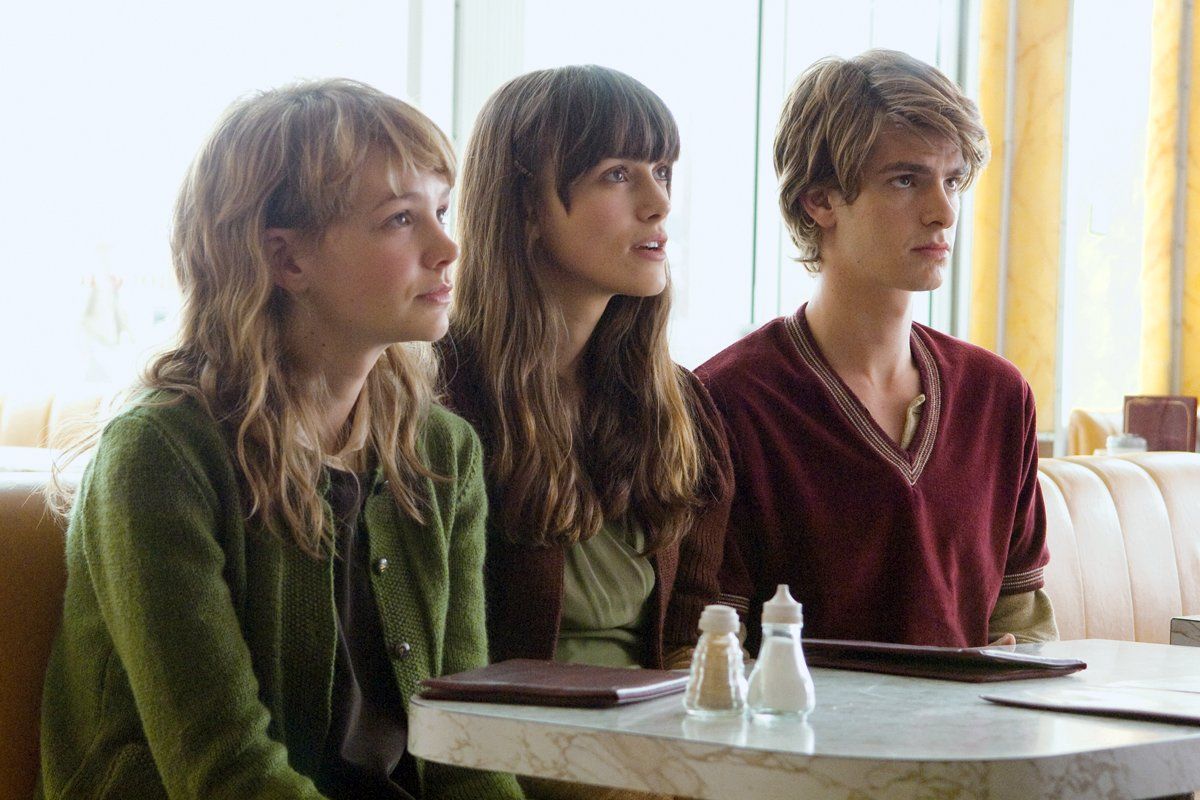 Never let me go takes its title from a song that Kathy H. likes to listen to as a young student at Hailsham, an unusual but beloved British boarding school. There's a scene in Kazuo Ishiguro's novel in which Kathy sings along while cradling a pillow as if it were a baby, imagining that the lyrics tell the story of a woman who, after being told she could not bear children, miraculously gives birth. When she looks up, she sees Madame crying, watching her. Madame is a mystery to Kathy and the other students at Hailsham; she's powerful but clearly unnerved and even repulsed by the students. Seeing her sob, Kathy is troubled. Later she wonders whether Madame could see through the song to her own situation. After all, Kathy cannot have a child, and she does not have a mother.
In the new film adaptation of Never Let Me Go, directed by Mark Romanek, Kathy listens to the song and embraces a pillow—only now she pretends it's a boy. When she turns around, she sees Ruth, staring at her with dark and sallow malevolence. Ruth is supposed to be Kathy's best friend, but that look means one thing: Ruth has it in for Kathy. Cue the scary music.
Why the filmmakers chose to make that change is understandable. High-pitched foreshadowing, borrowing the visual trope of a thriller, plays more easily on the screen than a ruminative exploration of sympathy and confusion. It's a challenge faced by every adaptation. A movie can't take the audience inside the consciousness of a character the way a book can. We don't see Hailsham through Kathy's eyes; we see it through our own.
It's almost impossible to write about Never Let Me Go without spoilers. This is telling, and too bad, because while the revelation about the nature of the students at Hailsham is dramatic, it's also not the real story, which is much more about the human condition than any sci-fi plot twist. When Ishiguro writes fiction, he once told The Atlantic, he wants it to be "unfilmable." "I'm very keen to write fiction that only works on the page," he said. In many respects, Never Let Me Go actually works well on the screen; visually, it is a beautiful film, and nicely acted (by, among others, Carey Mulligan, Keira Knightley, and Andrew Garfield). Certain moments—an angry kiss, a glare in a barn, a howl of rage and pain—are as evocative as anything to be found in Ishiguro's plain but insinuating prose. But the movie strains against the limitations of its form, with characters pushed and flattened into a plot.
One doesn't expect or want a film to copy a book. But an adaptation needs its own integrity, and there's something just missing here. In trading artless prose for artful shots and subtlety for suspense, Never Let Me Go has become more conventional, more obviously sci-fi and self-consciously allegorical. At the end, we're told via voice-over the moral of the story: for all their spoiler-related differences, Kathy, Ruth, and the rest are just like us. But in the movie, at least, they're not. They are a little too soulless.