Movie Review: 'Salt,' Starring Angelina Jolie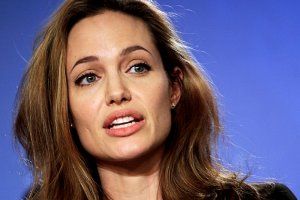 In the great tradition of summer popcorn hits, Angelina Jolie's action-spy thriller Salt is stupid but fun. When she kicks off her stilettos, transforms a fire extinguisher and cleaning supplies into a MacGyver-worthy flamethrower, and escapes a building crawling with CIA agents, you just go with it. As a CIA operative accused of being a Russian spy, she races through Washington and New York in an apparent attempt to clear her name, which naturally involves leaping off bridges onto speeding trucks and jumping out of moving subway cars.
Phillip Noyce (Patriot Games) knows how to direct this kind of engrossing, credibility-defying fluff, in which national security depends on a series of increasingly implausible stunts. The story, which turns on whether Jolie's Evelyn Salt is part of a Russian sleeper cell about to become active, would have seemed a lot more ludicrous if not for the recent real-life arrest of Russian sleeper agents (including one improbably glam woman), and its corkscrew twists would have looked more clever if they weren't arriving in the wake of the deeply brainteasing Inception.
Salt is not just another sleek summer ride, though. It works because it is the Angie show, an act she pulls off for reasons that are not entirely onscreen and that have nothing to do with being a female action star. (To read some early reactions and online chatter, you'd think no one had ever seen Jennifer Garner's television series Alias, much less Sigourney Weaver in Aliens or Jolie herself in Wanted.)
The screenplay was reworked for Jolie—the original hero was Edwin Salt, and Tom Cruise was reportedly interested in playing him—but any guy could still drop into the role without changing a beat. It's not as if Salt pauses to give birth before she heads for her next shootout or injects someone with spider venom. Edwin Salt had a wife and child; Evelyn has a husband she is desperate to find before the Russians can harm him, but any spouse in peril would do.
That isn't to say any actor would do. In the early scenes Salt has long, attention-getting blonde hair with bangs. When she needs to disguise herself, she dyes it and then has long, attention-getting brown hair with bangs. Forget that spy-on-the-run business; she looks exactly like Angelina Jolie on the cover of the current Vanity Fair. This film isn't foolish enough to waste Jolie's movie-star face in the service of common sense.
Still, her bony frame and that of her slightly less bony stunt double are all about Bruce-Willis-in-Die-Hard action. It's odd to think of Jolie as desexualized, but this film comes close. Salt's marriage even keeps her relationship with her probably smitten CIA mentor, played by Liev Schreiber, on a just-friends basis.
But if being a woman action star is irrelevant, being this particular, very famous woman makes all the difference, because the questions about Salt perfectly echo the mystery of Jolie. As the story progresses, we see that Salt could be a double agent or maybe a triple agent (and so on), in constantly spinning turns that leave us wondering when or if we will ever discover the real Salt. Is she a ruthlessly evil enemy, or the most self-sacrificing superpatriot ever? The questions about the endlessly morphing Salt mirror those about Jolie's own public image. Is she Saint Angelina, U.N. do-gooder and savior of many orphans, or Femme Fatale Angie, home-wrecker and tattoo freak whose wild-woman past could erupt again any minute? She could have her own line of Barbies. Salt and Jolie are wily experts at keeping us off guard and intrigued.
Ever since Mr. & Mrs. Smith became a hit largely because it played off headlines about her blooming romance with costar Brad Pitt, Jolie's offscreen celebrity has overwhelmed her onscreen roles. Her fame was most damaging to A Mighty Heart, a fact-based drama and the most serious film she has made. As the pregnant widow of Daniel Pearl, the reporter murdered by terrorists, Jolie pouted and postured and signaled that she was Angelina Jolie making another humanitarian gesture by bringing us Mariane Pearl's story.
Better acting would have helped, but she does carry a ton of baggage to the screen. Her new movie—with the tagline "Who is Salt?"—knows how to use her outsize fame. Salt becomes the latest gambit in the moneymaking game "Who is Angelina?"