Movie Theater Appears to Use Amazon Prime Video to Show Film, Fails in Viral Video
In a now-viral video, one TikToker said their local movie theater attempted to use Amazon Prime Video to show Dr. Seuss' the Grinch to no avail after receiving the message that the account had reached the maximum number of videos playing at once.
"Movie theatres splitting one subscription like the rest of us," one commenter said on the video now viewed over 2 million times.
Dr. Seuss' the Grinch came out in 2018, as another iteration of the classic Dr. Seuss tale. As some commenters pointed out, going to the theater to see the film was more for "the experience" given it is available to view at home.
National movie theater chain, Regal, offered audiences a chance to catch already-released holiday films in theaters on Saturdays in November and December for $5. Movies included Elf and National Lampoon's Christmas Vacation.
In the viral video, TikToker @rachel.m00re wrote "actual footage from our local movie theatre" in text overlaid onto the video. Muffled voices can be heard as the video is being searched for and selected on Amazon's Prime Video Platform. After the video is set to play, a message appears that read "maximum videos playing," and explained that too many users are accessing the account and attempting to play a video.
A voice is heard off-camera laughing.
"Apparently our movie theatre runs off fire tv & renting Amazon prime movies," the caption read.
A few commented on the legality of a theater using the service to show audiences films on the big screen.
"This is extremely illegal and against Amazon ToS and copyright in general," one commenter wrote. "Also hilarious."
According to Amazon Prime Video's Term of Use, "You may not (i) transfer, copy or display the Digital Content, except as permitted in this Agreement; (ii) sell, rent, lease, distribute, or broadcast any right to the Digital Content; (iii) remove any proprietary notices or labels on the Digital Content; (iv) attempt to disable, bypass, modify, defeat, or otherwise circumvent any digital rights management or other content protection system used as part of the Service; or (v) use the Service or Digital Content for any commercial or illegal purpose."
"Digital Content" as explained in the document, refers to " digital movies, television shows and other video content offered by Amazon Prime Video.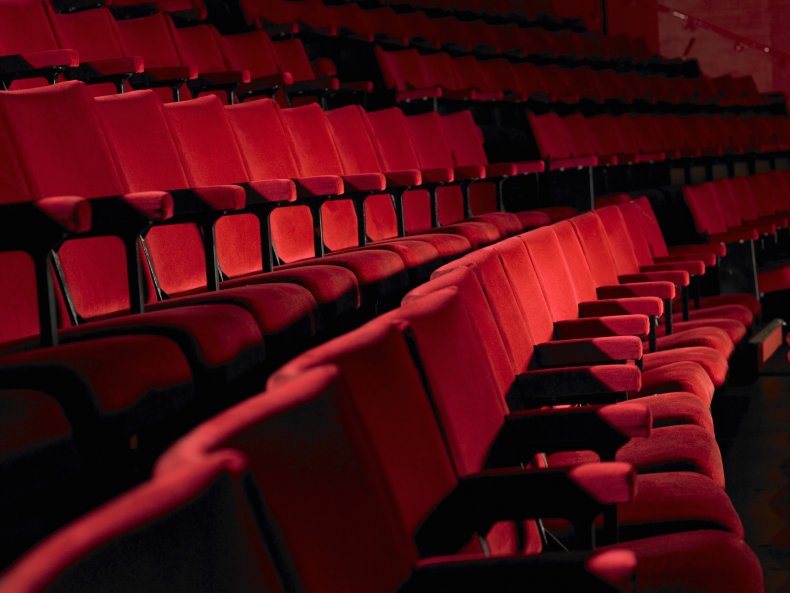 It is unclear from the viral video how much audiences were charged to view the holiday movie.
Newsweek contacted @rachel.m00re for comment.
When the COVID-19 pandemic hit many activities that might have been taken for granted, like a trip to the movies, had to be altered to help stop the spread of the virus. In cities like New York, movie theaters were shut down for months leaving some movies that were set to premiere in 2020 to go straight to streaming services like Amazon Prime.
Esquire reported in November 2020 that one of the first films to be forced to go straight to digital was Trolls: World Tour. Other movies to do so were Sacha Baron Cohen's Borat Subsequent Moviefilm, which premiered on Amazon Prime and Mulan on Disney+.