What Movies Are Coming Out on Christmas Day? 'Vice' and More Films Debuting December 25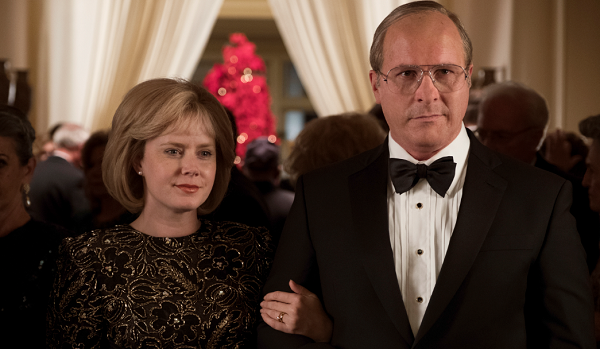 There are still plenty of hours in the day after all the Christmas gifts are unwrapped and the holiday brunch has been devoured. So what exactly should you do with all the remaining free time on Christmas Day? Simple: Go to the movies.
A few films will hit open up at the box office on Tuesday and there are a number of movies in theaters that are worth watching with family on the holiday if you haven't seen them already. Read on for a list of movies premiering on Christmas Day, as well as a few good picks of what's already in theaters.
Christmas Day Releases
Vice: One of the most anticipated films of the season, the biopic—starring Christian Bale as former Vice President Dick Cheney—follows President George Bush's VP and his controversial rise to power in the early 2000s. The cast also includes Amy Adams as Lynne Cheney, Sam Rockwell as Bush and Steve Carell as former Secretary of Defense Donald Rumsfeld.
Holmes and Watson: Will Ferrell and John C. Reilly team up once again for what may be the wildest (and funniest) take on the adventures of Sherlock Holmes.
Destroyer: Only viewers in New York City and Los Angeles will be able to catch the Nicole Kidman thriller when it hits theaters on Christmas Day. Kidman stars as an unhinged detective on an undercover assignment that will bring her haunting past to the surface.
Other December Releases
Marry Poppins Returns: The movie, which stars Emily Blunt as the magical nanny Mary Poppins, is an update to the original released some 54 years ago. It picks up after Mary Poppins first left the Banks children and will follow the family's journey after she pops in a half-century later.
Aquaman: Jason Momoa stars as the underwater superhero, who must defeat his villainous half-brother King Orm (Patrick Wilson) to not only claim his rightful spot on the Atlantis throne but to also save his people from Orm's evil clutch.
Bumblebee: Forget all the rest of the Transformers, this action-packed family film follows everyone's favorite Autobot, starting when he first arrived on Earth in 1987.
If Beale Street Could Talk: For those looking for big screen romance this holiday season, look no further than the James Baldwin adaptation, which follows the unbreakable love story of a Harlem couple in the 1970s. The film is directed by Academy Award winner Barry Jenkins and features an all-star cast including actors Regina King, Stephan James, Brian Tyree Henry and Kiki Layne.
Second Act: Jennifer Lopez does the ultimate finesse in her latest movie release. She plays the role of a woman who fakes her own background in an effort to make some super snazzy power moves in her career. Leah Remini and Milo Ventimiglia also star.