All of the Movies Coming to Cinemas in February 2022
If you felt spoilt for choice at the cinema in January, just wait until you see what is coming to the big screen in February 2022. Not only will Peter Dinklage's long-awaited Cyrano be in the cinemas, but Kenneth Branagh's Death on the Nile will also land alongside Jennifer Lopez's musical-comedy, Marry Me.
Newsweek has the full list of movies coming to cinemas in February so you don't miss a thing.
All of The Movies Coming To Cinemas in February 2022
Jackass Forever — Friday, February 4
The Jackass crew are back with more outrageous pranks, hospital stints, dangerous stunts and more in the fourth Jackass movie.
It comes over 10 years after Jackass 3D and will see the return of Jackass legends Johnny Knoxville, Steve-O, Chris Pontius, Dave England, Wee Man, Danger Ehren and Preston Lacy.
Throughout the film, they will be joined by various famous faces including Danielle O'Toole, Tyler the Creator, Machine Gun Kelly and Tony Hawk.
Jackass Forever will also be the last film Johnny Knoxville will appear in. He told GQ in May 2021: "You can only take so many chances before something irreversible happens. "I feel like I've been extremely lucky to take the chances I've taken and still be walking around."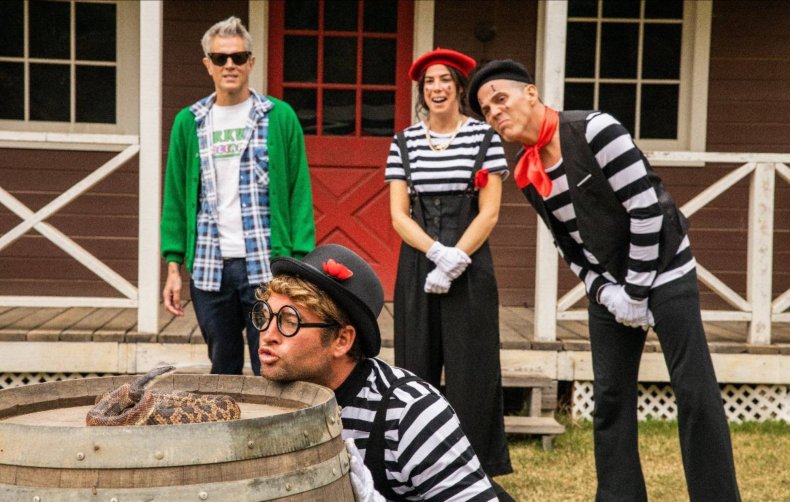 Moonfall — Friday, February 4
If you enjoyed Netflix's Don't Look Up, Moonfall is a movie you will not want to miss.
In Moonfall, a mysterious force knocks the moon from its orbit around Earth, and unfortunately, the moon heads straight for mankind.
To prevent disaster, two astronauts and a conspiracy theorist are forced to work together to stop the collision, and in doing so, uncover that the moon is not what we once thought it was.
Starring in Moonfall is Halle Berry, Patrick Wilson, John Bradley, Michael Peña, Charlie Plummer, Kelly Yu, and Donald Sutherland.
The Long Night — Friday, February 4
Horror fans will want to sink their teeth into The Long Night. The spine-tingling film follows the story of a loving couple who set off for a romantic weekend where they encounter a terrifying cult, which is on a mission to fulfill an apocalyptic prophecy.
Scout Taylor-Compton, Nolan Gerard Funk, Jeff Fahey, Deborah Kara Unger star.
Catch the Fair One — Friday, February 4
Catch the Fair One, is the critically acclaimed movie about a champion boxer who takes on the biggest fight of her life—finding her missing sister.
Boxing world champion Kali Reis takes on the main role of boxer Kaylee. She stars opposite Daniel Henshall as Bobby, Michael Drayer as Danny, Kimberly Guerrero as Jaya, Lisa Emery as Debra and Kevin Dunn as Willie.
Marry Me — Friday, February 11
If you thought J. Lo was done with rom-coms, think again. Ms. Lopez is back with Marry Me, a hilarious, musical movie about pop star Kat Valdez (Jennifer Lopez) who learns just moments before her wedding to her partner Bastian (Maluma) at Madison Square Garden, that he has been having an affair.
In a moment of panic, Kat decides to marry a random guy from the crowd instead (Charlie, played by Owen Wilson), who she spotted holding a "Marry Me" sign.
Joining Lopez, Maluma, and Wilson in the cast are John Bradley, Sarah Silverman, Jameela Jamil, Jimmy Fallon, Michelle Butea and Utkarsh Ambudkar.
Marry Me will be available in cinemas from Friday, February 11, and will also be streaming on Peacock the very same day.
Blacklight — Friday, February 11
Liam Neeson is back with another action movie. This time, it's Blacklight, a story about a government agent who on a day-to-day basis specializes in removing operatives whose covers have been exposed.
However, things take a turn when he uncovers a deadly conspiracy within his own team, that goes far beyond his level of government.
Also starring in Blacklight are Aidan Quinn, Taylor John Smith, Claire van der Boom, and Emmy Raver-Lampman.
Death on the Nile — Friday, February 11
Hot on the heels of the success of Belfast, Kenneth Branagh is back with another movie he has written, directed, and starred in.
Branagh will be reprising the role of Agatha Christie's Hercule Poirot in Death on the Nile, a follow-up to Murder on the Orient Express. Tom Bateman will also reprise his role as Bouc, Poirot's friend and confidant.
Death on the Nile will see the Belgian detective on his holidays in Egypt, where he leads the investigation into a murder.
Starring alongside Branagh is Gal Gadot, Letitia Wright, Annette Bening, Russell Brand, Ali Fazal, Dawn French, Armie Hammer, Rose Leslie, Emma Mackey, Sophie Okonedo, and Jennifer Saunders.
Uncharted — Friday, February 18
Uncharted, starring Tom Holland and Mark Wahlberg is the new action-adventure film you don't want to miss.
Based on the video game series of the same name, the film follows Nathan Drake (played by Tom Holland) and his partner Victor "Sully" Sullivan (Mark Wahlberg) who challenge a fortune hunter and his mercenaries to uncover the greatest treasure ever hidden.
Simultaneously, Nathan and Sully will be tracking clues that may lead to Drake's long-lost brother.
Cyrano — Friday, February 25
Finally, Cyrano has an official premiere date after a few changes to the release schedule.
Cyrano will no longer have a limited release and will hit cinemas worldwide on Friday, February 25.
Directed by Joe Wright and based on Erica Schmidt's 2018 stage musical of the same name and Edmond Rostand's 1897 play Cyrano de Bergerac, Cyrano follows the story of the multi-talented Cyrano de Bergerac, played by Game of Thrones legend, Peter Dinklage.
The film had its original premiere at the 48th Telluride Film Festival and received nominations for Best Motion Picture — Musical or Comedy and Best Actor in a Motion Picture — Musical or Comedy at the 2021 Golden Globes.