Movies: Italy Porn (for Ladies Only)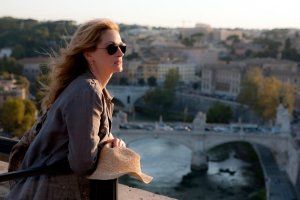 There is a fantasy, spawned by W. Shakespeare, propagated by H. James, embraced by A. Hepburn and the Twins Olsen, that today goes something like this: a sad modern lady, one intimately familiar with the Lean Cuisine family of products, packs white linen pants, slinky black dresses, and several packs of Kleenex. She boards a plane, fed up with her soul-crushing home life. But upon arrival in glimmering Italia—bravissima! She falls in love with the first man she encounters, and the pair consummate their attraction not just with physical love, but with dinners alfresco and molto vino, sipped from these adorable bistro glasses you totally can't find back home. She becomes unmoored from her mores—she might bite into a San Marzano tomato like it's an apple, its juices dribbling down her forearm unchecked, or chop off all her hair. A Vespa—preferably a cream-colored one with caramel leather seats and a tanned, suede-loafer-sporting owner—is likely involved.
Used to be, summers were for travel. Now they're for travel movies—ones that assiduously indulge us right here, in the air conditioning, in a reclinable velour chair, with a 64-ounce beverage. And this summer, we're going to Italy: in May's Letters to Juliet, Amanda Seyfried is Sophie, a sad fact checker for The New Yorker who flees to Verona. In June's I Am Love, Tilda Swinton is a sad mother who flees to San Remo's rural hills. And in August's Eat Pray Love, Julia Roberts is a sad divorcée who treks, firstly, to Rome. We've been to all these places before, of course. Because if the Italian love story is usually the adulterous kind—Seyfried kisses a boy who's not her boy; Swinton bags a man who's not her man—the folklore of these films is deeply faithful.
To wit: our modern living rooms bear no resemblance to the Edwardian parlors of E. M. Forster's A Room With a View, but the formula of Letters to Juliet—a PG movie for Seventeen readers—is Forster's, nearly untouched. Bookish, betrothed girl sneaks snog with blond English chap under Italian moon. More than a half century stretches between Roman Holiday (1953) and director Luca Guadagnino's I Am Love, and yet the two films share the exact same scene: the ladies (Audrey Hepburn and Swinton) get their hair whacked into gamine Euro-cuts, the symbol of womanhood unshackled. The similarities are understandable, considering their common source. For Forster, or Henry James, or Nathaniel Hawthorne, the Italian romantic novel was a shunning of the 19th and early 20th century's twin specialties—social repression and smoggy industrialization. Stationed in Liverpool in the 1850s, Hawthorne wrinkled his nose at the "smoky, noisy, dirty, pestilential" landscape to which he was chained, serving out a consular position. He promptly borrowed Rome's glorious scenery for his next book, 1860's The Marble Faun—today considered something of a Baedeker for bookworms.
Modern Roman romps appear most during periods of social or political distress. The notion of "escape," whether to Italy or Oz, is predicated on fleeing a version of hell—in these tales, a kind of vague Sad White Lady–istan, or its neighboring province, Brooklyn. A dour homeland is defined by political pall, as in Enchanted April, where the women flee interwar England, or internal conflict, as in Eat Pray Love, in which Elizabeth Gilbert escapes divorce, depression, and suicidal thoughts. Heaven is the place of lightness, and also hand-pressed olive oil.
And, yes—the food. The sumptuous I Am Love is one long montage of the keenly intelligent sort, its most aggressively seductive moments centering around food. Emma (Tilda Swinton) is an immigrant from pre-Gorbachev Russia to Milan, where she is a coiffed wife and mother of three in the rich Recchi family. She lives a quiet life of party planning and dry-cleaning retrieving—until she's seduced by a young Italian chef, whose cooking is a jumper cable to her saggy soul. Antonio's first advance is an hors d'oeuvre—a pert dome of salmon mousse topped with a single caper, a riff on the female breast. His next love letter is lunch, a Riesling-paired plate of prawns. The dining room's ambient noise recedes as Emma looks down at her plate, raking the tines of her fork over an erotic tangle of fleshy, pink shrimp. She's been food-wooed.
To some, there's not a squeak of silliness here—of course the road to love is paved with marinated egg yolk over zucchini flowers and pea cream. But any competent cook knows a dish's presentation should never oversell its flavor. In Letters to Juliet, we get a bus-tour-like whirl through northern Italian hamlets, where spindly breadsticks and bistro tables stand in for Culture. Yet, for all the lingering on hillside vineyards, what's missing is a plausible plot. Life back home could be better for the fragile Sophie, but it's not clear how Italy is all that's standing between her and drinking bleach. It's enough to send us back, again and again, to A Room With a View. Forster's Lucy Honeychurch (Helena Bonham Carter) is shoehorned into a whalebone corset, an arranged marriage, and a life of mild parlor prattle. In Edwardian England, her yearning for liberty in unspoiled Italia is pitiable, and real. To Lucy's creator, Italy wasn't a boot-shaped landmass so much as a "glorious limb sliding southward between warming seas," as Forster scribbled in his diary. He was rapturous, with a reason. And cin cin to him—am I right, ladies?