Movies: Natalie Portman in 'Black Swan'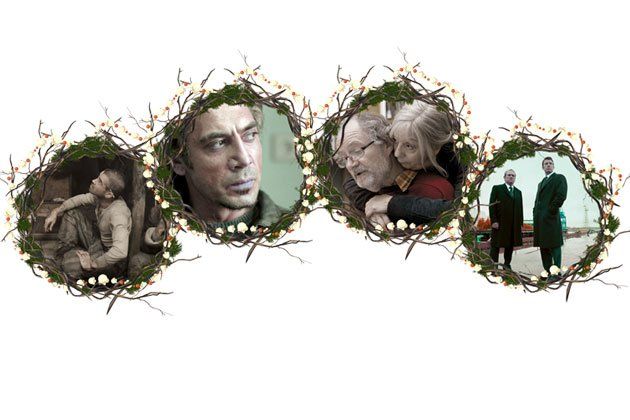 No one in their right mind leaves home to do their holiday shopping anymore—except to shop for a holiday movie. In our ongoing effort to help you save your money formore important things (food, for instance), we've made our annual guide the most user-friendly ever. Just match the headline to your cinematic taste and you're done! (Extra credit for reading the entire review, too.)
Director Darren Aronofsky's darkly enthralling entertainment makes the perfect antidote to too many sugary holiday Nutcrackers. Nina (Natalie Portman), an obsessive ballerina newly made prima for Swan Lake, is endless grace onstage. Offstage she is as tightly wound as the dancer on her childish music box: she retches in the ladies' room, tends her bloodied toes, indulges in fantasies both sexual and paranoid, and is altogether psycho in a delirious Hitchcockian way. With sublime balance, the film combines its high-art subject with the jolt of a sexually charged thriller.
Yes, there is lovely Tchaikovsky music, and tutus. Boyishly thin Portman reportedly trained hard (although you rarely see her feet as she dances). But Black Swan's up-to-the-minute brilliance comes from its blatant use of sex and its Sixth Sense-informed narrative. Vincent Cassel is a manipulative Balanchine-inspired artistic director who seduces then dumps his stars; Winona Ryder plays his latest has-been. He goads Nina into exploring her sexuality—not with him, with herself—so she can inhabit her dual role. She's ideal as the goody-goody White Swan, but unless she can channel her sensuous, sinister inner Black Swan, she may forfeit the part to her free-spirited rival, Lily (Mila Kunis). Assuming Nina's point of view, Aronofsky deftly leads us to wonder, is Lily really stalking her? And does anyone else see Nina's overbearing, failed-ballerina mom (Barbara Hershey)? Portman and Kunis's sex scene is already infamous (although it's tame enough for an R rating), but that doesn't answer the film's wily question: does it really happen, or is Nina's imagination playing seductress? Anything for art!
From the hallucinatory Requiem for a Dream to the gritty The Wrestler and his current project, The Wolverine, Aronofsky has always displayed a taste for pulp. As Black Swan races toward a possibly supernatural, over-the-top ending—a human sprouts swan feathers? really?—he manages to stay just this side of camp. The climax is bloody, terrifying (a sly homage to The Red Shoes), and in its sheer audacity, thoroughly gleeful fun.
>> NEXT: Blue Valentine: The One Not to Take a Date To