Why the Moving Industry Is Filled With Fraudsters and Scam Artists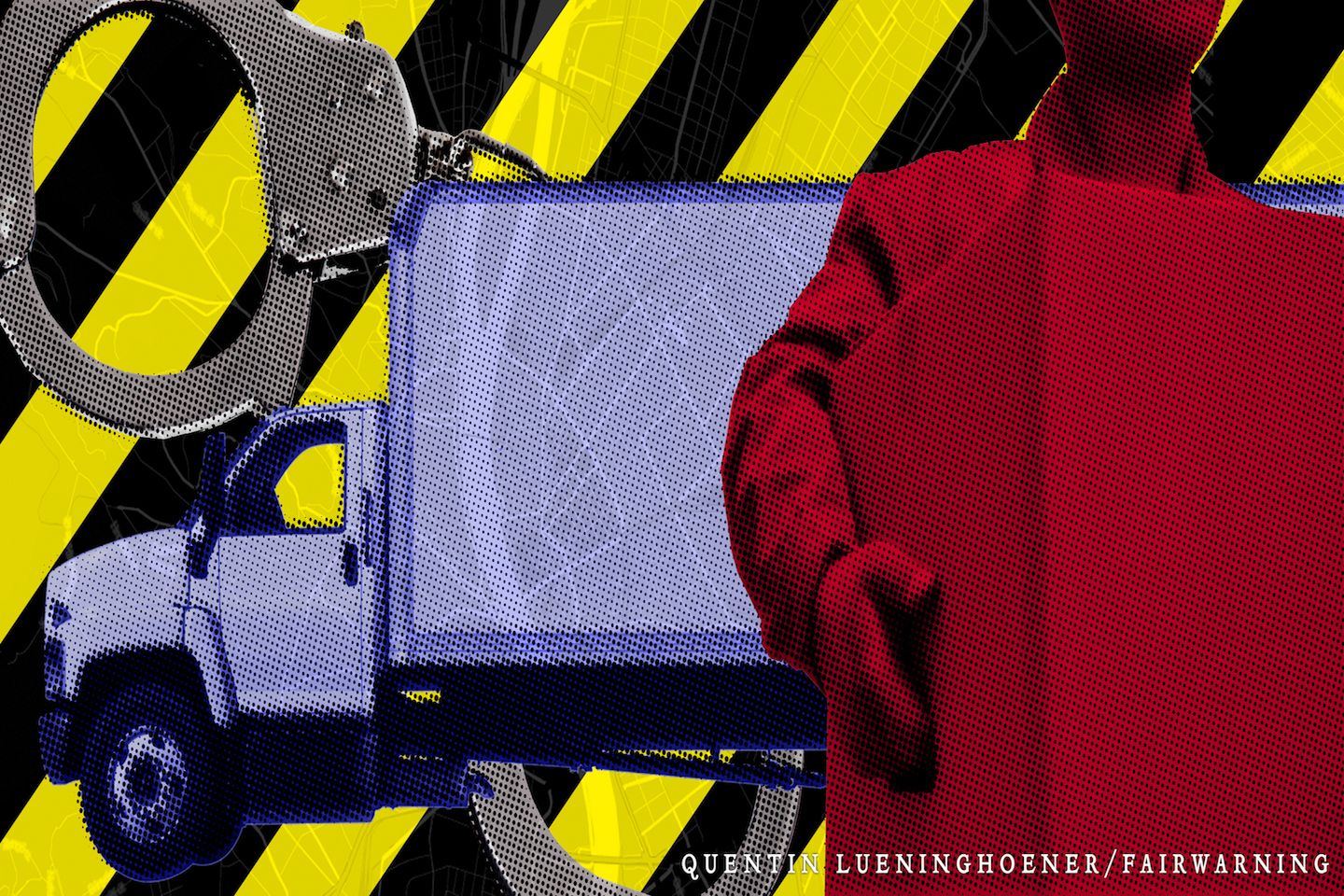 This article first appeared on FairWarning.org
Gwen Caplan's nightmare began with a Yelp search. It was 2012 and the middle-aged mother of two was looking for someone to move her and her kids from California to Arizona. Money was tight, so Caplan scoured the web for a reputable moving company. Her search unearthed several options—one was called America's Best Movers, but it had terrible reviews. "I said to myself, 'It's a good thing I used Yelp,'" Caplan would later tell a criminal grand jury.
Eventually, she found a company in San Jose called Encore Moving, which advertised that it had been in business for 10 years and had an A-plus rating with the Better Business Bureau. She decided to ask for a quote.
Caplan didn't know that Encore was lying. The company was a new entity, established that year as an alternate business name for ASAP Relocations, a San Jose moving company that once had an F rating from the Better Business Bureau. Prosecutors would later surmise that ASAP's owner, an Israeli national with a fondness for gambling and expensive cars, established the company's new name to shed ASAP's poor reputation.
And Encore wasn't ASAP's only alternate business name; it also went by America's Best Movers.
'They Really Don't Want the Job'
Over the next year, about 35 million Americans will relocate, and many are at risk of getting scammed. The problem is more acute for those who move across state lines. States regulate local moves, but the federal government oversees interstate transportation—and devotes few resources to regulation and enforcement. Every year, the feds receive thousands of complaints about interstate moves, some involving so-called hostage goods, when a mover packs up a person's belongings and demands more money before delivery.
The moving industry has long attracted fraudsters, but experts say scamming became more pronounced in the late 1990s, after Congress shuttered the Interstate Commerce Commission. Then, in 2000, oversight of the interstate moving industry fell under the purview of the Federal Motor Carrier Safety Administration, or FMCSA, whose central mission is to reduce truck and bus crashes, injuries and fatalities. It's been an awkward fit. "They're underfunded and they really don't want the job," says Jeff Walker, president of MovingScam.com, a website where consumers can get information about rogue moving companies. For fiscal year 2017, FMCSA has requested $794.2 million in funding. Of that, only $1.73 million is budgeted for interstate moving enforcement activities for the entire country.
Congress has done little to address moving scams, other than to hold an occasional hearing. "If it was happening over and over again to the same people, they would organize and deal with it," says Thomas Petri, a former Republican representative from Wisconsin, who was one of the few on Capitol Hill to focus on the issue. But since there's not a dedicated lobby, it's not a priority on Capitol Hill.
ASAP Relocations is a rare example of a moving scam that was prosecuted. The results were mixed, reflecting the stubborn persistence of these frauds, and some suspects fled the country to escape prosecution. But during grand jury proceedings, former employees and associates revealed the scam's inner workings and that record, never before made public, provides a harrowing glimpse into this kind of widespread fraud.
Bird Droppings and Dirty Mattresses
Shortly after Gwen Caplan emailed Encore, she received a call from a sales representative named Claire. Caplan explained she had three bedrooms and a dining and a living room to move. Claire quoted her a price of $2,449, with a deposit of about half due before the move, according to Caplan's testimony.
On moving day, three movers showed up. Before Caplan had signed anything, they started loading things onto the truck and wrapping her carefully packed belongings.
Caplan and her kids left for Arizona the next day. They hadn't found a new apartment, so her plan was to call Claire as soon as she signed a lease to schedule the delivery. But when she called a couple days later, Claire wouldn't talk to her. She said someone named Linda was now handling the move.
When Caplan reached Linda, she was told the price had gone up because the movers had used extra tape and plastic wrap. Linda demanded another $530 before she would even schedule delivery.
After Caplan forked over the money, Linda said a truck would come sometime in the next three weeks. In the meantime, Caplan slept on a blow-up mattress, and did a job interview in shorts because she didn't have any other clothes.
When the truck finally arrived, Caplan was elated—until she checked her belongings. Mattresses were covered in dirt. A television had bird droppings on it. It looked like her stuff had been left uncovered in a parking lot for weeks.
Caplan shelled out more than $3,500 for the move, about 40 percent more than her initial quote. "I was furious. I was absolutely furious," Caplan says. She remembers thinking: "If there was any way to gain some justice from the person who actually did all of this, God, that would be wonderful."
Hiding Money, Ducking Negative Reviews
That person, prosecutors say, is Roni Hayon, a 39-year-old Israeli immigrant. In 2002, when he decided to open a moving company, he was selling aromatherapy pillows and toy airplanes at a kiosk in malls, according to grand jury testimony. Hayon struggled with reading English, so he needed his wife's help filling out the paperwork to establish his moving company. (Hayon couldn't be reached for comment on this article.)
Yet Hayon had other talents that would prove useful in his quest for wealth. At 6'4" and 220 pounds, he cut an intimidating figure. He also had experience in the business, having worked as a foreman for a moving company, and he spoke some Spanish, in addition to English and Hebrew. And former employees said he was ruthless. "He just thinks he's the most untouchable human being on the planet," Stevie Tausan, a former sales rep, told an investigator. "He really has this demeanor, 'Oh you stupid Americans, I'm just going to take your money and go home with it.'"
Over the next few years, Hayon divorced and remarried, and aggressively expanded his moving business; the sales staff was booking 40 to 50 local and long distance moves per week, which allowed Hayon to make frequent trips to Las Vegas, where he liked to gamble. It also allowed him to purchase a small fleet of luxury vehicles, including three Mercedes, a BMW and a Hummer, according to grand jury testimony.
Prosecutors say Hayon sat at the center of an elaborate network of corporate entities, alternate business names and fake offices, all of which he used to hide money, duck negative reviews and pay employees—some of whom were undocumented immigrants—under the table.
The scam worked in many ways, prosecutors said. One of ASAP's tricks was to start loading its truck as soon as it arrived at a client's home, grabbing the most expensive items first. That way, if there was a dispute over paperwork or costs, the movers had leverage: the valuable goods already on the truck. If customers complained to the sales rep who had promised no hidden fees, they would find their calls redirected to someone else, most likely Hayon's office manager and dispatch manager, Adalinda Reyna-Mendoza. Her job was to defend whatever the movers in the field were doing. (Reyna-Mendoza said in an interview she just did as she was told by Hayon, that she had no authority to make decisions.)
By 2009, some seven years after Hayon had started his company, regulators and law enforcement had heard many complaints of abusive practices. Several local and federal agencies formed a special task force to go after rogue moving companies in Northern California. At the top of their hit list: ASAP and its related companies.
Yet the authorities quickly realized that the complaints against ASAP boiled down to he-said/she-said allegations. So, with no other options, they decided to try to nab ASAP with an undercover sting.
Wearing a Wire
The operation looked like an ordinary move. Norman Levy, an investigator with the district attorney's office in Northern California's Santa Clara County, posed as a customer who needed to move from Las Vegas to San Jose. Lisa Glazzy, a special agent for the Department of Transportation, assumed the role of his wife. The task force rented a storage unit in Las Vegas and filled it with used appliances, curtains, towels and old dishes, to make it look as though it contained the contents of a two-bedroom apartment. Then Levy e-mailed ASAP for a price quote. Wayne Allen, a sales rep, responded.
"I explained to him that I had a new job and had to move…," Levy later testified. Levy told ASAP he had relocated to San Jose, but his wife was still in Vegas and would oversee the pickup from the storage unit. On moving day, Glazzy wore a wire while Levy watched from a car near the storage unit. Three movers arrived in an Enterprise rental truck. The foreman was Noam Israeli, Hayon's friend and office supervisor, although he identified himself to Glazzy as "Nick."
Before Glazzy had a chance to sign anything, two movers started hauling boxes out of the storage unit and taping things up. Glazzy yelled at them to stop—everything was already boxed. Glazzy testified that she tried talking to Israeli, but he made excuses: my manager wants it this way, it's required for interstate moves, things like that.
Playing the role of the upset wife, Glazzy phoned Levy and asked him to call the moving company. Levy tried calling Allen, the sales rep, but he was forwarded to a woman who identified herself as Linda, who told him the company had to take precautions when moving people's stuff, that it was up to the foreman to determine how much packing material was necessary.
Meanwhile, Israeli presented Glazzy with paperwork to sign. It had on it the name America's Best Movers, not ASAP. Glazzy noted that the forms didn't have any information about the cost of packing materials. She also asked Israeli if he thought the price of the move was going to be more than the estimate, but he didn't answer.
Later, when the truck was packed and the movers were ready to leave, Israeli told Glazzy those packing materials would cost her about $829, and that ASAP required 50 percent of the moving price to be paid before delivery. Glazzy had paid Israeli $1,100 when the truck arrived, on top of a $200 deposit Levy had paid to schedule the pickup. But now the price had gone up, and ASAP was demanding that the couple pay the first $330 of the cost of the extra packing materials before it would schedule delivery in San Jose.
On January 11, 2011, about a year after the sting, authorities charged Hayon, Allen and Reyna-Mendoza with five counts of grand theft and attempted grand theft. Twenty-seven months later, a grand jury indicted the trio and five others on a bevy of additional charges. The district attorney's office said thousands of consumers suffered millions of dollars' worth of losses as a result of the scam.
By then, however, Hayon and most of the others who were indicted had fled the country, presumably to Israel, prosecutors say. Only Allen, Reyna-Mendoza and a business associate of Hayon's named Maoz Kadesh have been convicted—they received fines, probation and community service, and none served jail time.
Yen Dang, a supervising D.A. with Santa Clara County, insists the case was not a total loss, because it got all of the defendants out of the moving business. At least, that's what she thought.
The Chameleon
Witnesses told the ASAP grand jury that Kadesh was, at one time, one of Roni Hayon's closest friends. They both had homes in Afula, a small city in northern Israel. For a while, they co-owned a Mercedes Benz. And, for a time, Kadesh worked for Hayon at ASAP.
In 2006, after a state audit found ASAP was underpaying its workers' compensation premium, Kadesh established a company called Champions Movers. Kadesh and Hayon used the company as sort of a pass-through: ASAP paid Champions and then Champions would pay ASAP employees. The scheme, prosecutors said, allowed ASAP to pay its employees under the table, reducing its workers' compensation premium.
Kadesh eventually pleaded no contest to insurance fraud in July 2015. He was sentenced to five years of probation and ordered to pay $160,000 in restitution.
At some point, according to grand jury testimony, Kadesh and Hayon had a falling out, and Champions became a separate operation. But Champions seemed to be run similarly to ASAP; the Better Business Bureau got the same complaints about Kadesh's company as it did about Hayon's. Champions even established alternate names like ASAP did, names such as Mover Pros and California Movers.
Champions as a business, state records show, dissolved in January 2015. But Mover Pros and California Movers continue to solicit customers on their websites, both of which are registered to a Maoz Kadesh. Recent reviews of Mover Pros on Yelp make reference to a "Maoz" running the business. People who answer the phone at numbers listed on the Mover Pros and California Movers websites readily take messages for Maoz Kadesh, but refuse to say where in San Jose their trucks and warehouse are based.
Both Mover Pros and California Movers advertise that they offer local and long-distance moving services, which would require them to register with both the U.S. Department of Transportation and the California Public Utilities Commission. However, neither is registered with the Department of Transportation and only Mover Pros is registered with the commission, although its address is listed as an apartment in San Jose. (When asked if the authorities are investigating these companies, neither the Department of Transportation nor the utilities commission responded in time for publication.)
Numerous attempts to reach Kadesh by phone, email, through his attorney and at residences in San Jose have been unsuccessful.
If Kadesh is still running those moving companies, he would be a classic example of what the authorities call a "chameleon carrier"—someone who secretly returns to the industry after being penalized, prosecuted or put out of business. Chameleon carriers illustrate the never-ending challenge of policing moving scams. No matter how many rules the regulators put in place, the moving scammers always find a way to dodge them.
FairWarning is a nonprofit news organization based in Pasadena, California, focusing on public health, safety and environmental issues.
Read more on Newsweek.com:
- An environmental disaster is destroying black lives in Southwest Detroit
- The George W. Bush White House 'lost' 22 million emails
- What a Trump EPA could look like, with Myron Ebell at helm