Moving Photo Shows Elderly Indian Woman Hugging Doctor After Beating COVID
As the COVID crisis in India continues to escalate and the second wave rips through the country, people around the world are holding onto small glimmers of hope where they can find them.
One example of these glimmers of hope is a heartwarming picture of a 75-year-old woman hugging the doctor who helped her beat COVID, which has made its way from the Medical College and Hospital of Kolkata, India straight into people's hearts.
The picture was taken by Doctor Avisikta Mallick, a second-year postgraduate trainee at the department of surgery at the Medical College and Hospital, Kolkata, using the medical ward's tablet computer.
The 75-year-old woman, identified by Mallick's colleague Dr. Dey as Kalpana Chakraborty, a resident of Kolkata, was waiting in her wheelchair to be discharged from the hospital after successfully recovering from COVID.
Chakraborty was admitted to the COVID treatment ward on April 21, after she developed breathlessness.
Dr. Mallick, who treated her for five days, was on duty and working nearby when Chakraborty was overtaken by emotion. She held the hands of Dr. Mallick, the doctor who had helped her win her battle against COVID, and embraced her in a hug as happy tears rolled down her cheeks.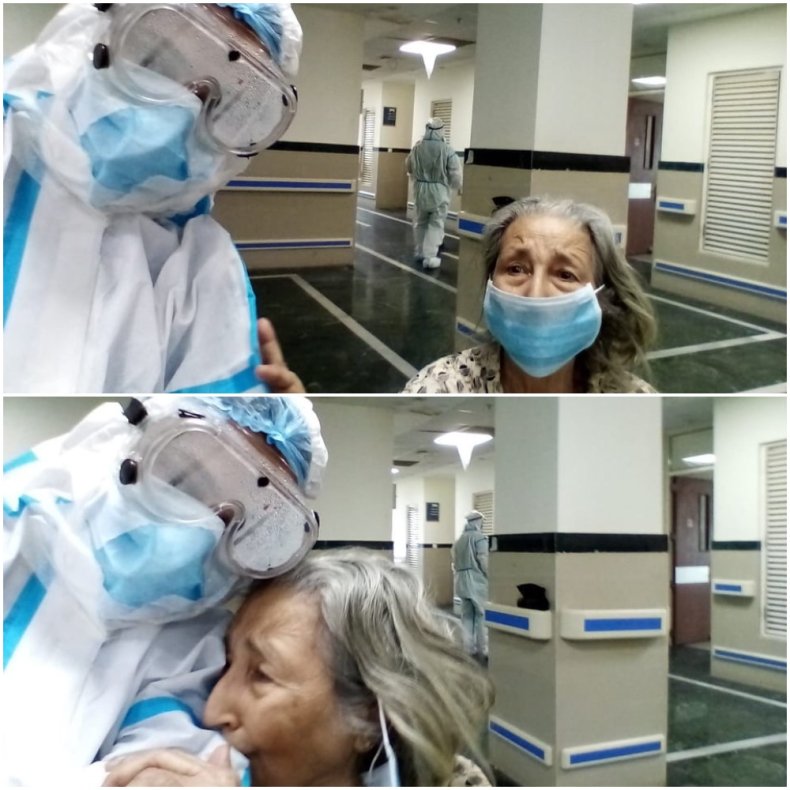 "It was actually a proud happy moment because everyone at this age does not survive this dreadful pandemic but this lovely dida (grandmother) could," Dr. Mallick told Newsweek.
"She was eagerly waiting to return to her home where her grandchild was waiting. It was a very touchy moment indeed!" she added. Dr. Mallick can be seen taking precautions and wearing full PPE in the pictures.
Doctor Tanmoy Dey, who works in the Critical Care Unit at the same hospital and has been seeing COVID patients for the past year, shared the pictures on his Facebook page.
"When she (Chakraborty) came here, she was in so much pain and distress," Dr. Dey told Newsweek. "Then she was walking home, defeating the deadly virus. [She] was emotional because all the doctors and the nurses and other health care workers here helped her with winning this war."
Medical College Kolkata Resident Doctors' Association took to Twitter to share the triumphant moment.
Chakraborty initially presented symptoms of a fever and started treatment in home isolation after taking a COVID test, shared Dr. Dey. After experiencing breathlessness, she was admitted to the hospital.
"Initially, the oxygen requirement was more but, gradually, she responded well and the requirement reduced with time," he added. "HRCT and all other necessary tests were done and she was given treatment as indicated, then, after she tested negative for COVID and all other symptoms disappeared, she was discharged."
"She was emotional and held the hands of Dr. Avisikta and was crying with joy," Dr. Dey said.
India saw over 40,000 new COVID-19 cases and 3,780 confirmed deaths on Wednesday, according to data from India's Health Ministry. India's top science adviser has warned of an 'Inevitable' third wave, even as the country continues to struggle with the second one.
Speaking on his experience working in the hospital amidst the pandemic, Dr. Dey shared his frustration with what he believes was a "lack of planning" on the government's part and asked people not to wait until severe symptoms develop to seek medical attention.
"We live in a country like India where very little of the country's budget is spent in the health sector," he said.
"Where, amidst the second wave of COVID, the government easily allows religious festival gatherings like Kumbha Mela, conducts election campaigns with [hundreds of thousands] of people attending it, even when a new record hits above [300,000] daily, and where there has been a severe crisis for resources like hospital beds, medicines, oxygen, vaccines, health care staffs, I believe people need to be more cautious."