'Moxley' Trends After John Moxley Announces MRSA Infection Has Returned
"Moxley" trended as news spread that wrestler Jon Moxley won't be fighting against Kenny Omega at the All Out pay-per-view event on August 31 due to another case of MRSA.
Moxley, a former WWE Champion known as Dean Ambrose and new competitor for All Elite Wrestling (AEW), tweeted on Friday: "I'm absolutely gutted to have to deliver this news but I'd rather it come directly from me. In a nightmare scenario, a serious case of MRSA has returned in my elbow. The timing couldn't be worse. In this circumstance I am forced to pull out of the fight 8/31 vs Omega at All Out."
In a second tweet, he continued: "I'll have surgery this week to remove the bursa sac in my elbow and be done with it for good. Should be a quick recovery so I will be 100% for AEW Wednesday nights on TNT."
Some users took to Twitter on Friday to write well wishes to Moxley. Others guessed who would be poised to replace him.
"Jon Moxley vs Kenny Omega would've been an awesome match. What a shame. Hopefully you get better and return to us soon, @JonMoxley. #AEW #AllEliteWrestling," one user wrote.
PAC, who was called Neville in WWE, will wrestle in Moxley's place, All Elite Wrestling announced Friday evening. Several users expressed excitement for the new matchup.
"As MUCH as I really wanted to see @JonMoxley Vs. @KennyOmegamanX at #AllOut next week I care more about Jon's safety/health. PAC will replace Moxley spot I'm heartbroken but excited for this match. Get Well soon Jon," a user tweeted.
Another wrote: "Def the best alternative with Moxley out [sic]."
In a third tweet, Moxley seemingly agreed that the event is poised to be a good one, saying that he is "looking forward to watching as a fan."
But in a fourth tweet, he said, "This f***ing sucks."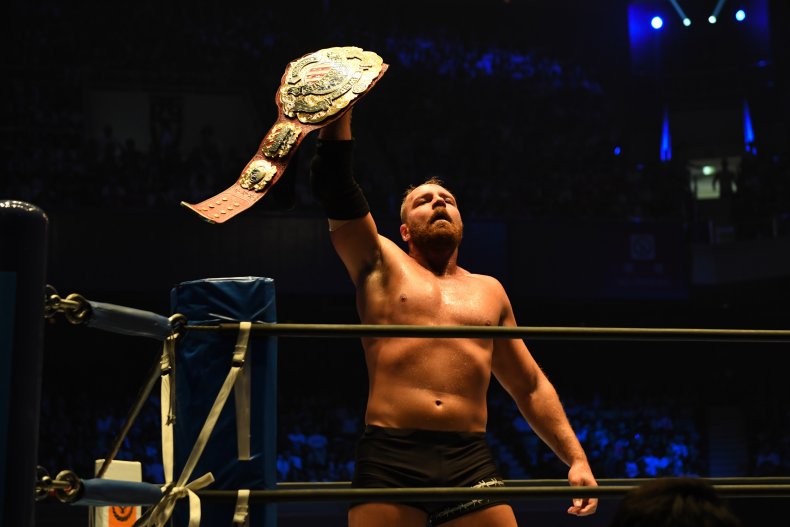 The professional wrestler was first injured in December 2017 and stayed sidelined for about nine months in order to recover. According to Sports Illustrated, he had two surgeries after tearing his triceps. One of the surgeries was supposed to fix the structural damage and the other was to eradicate a MRSA staph infection. Reports have said the wrestler never fully bounced back.
According to the CDC, MRSA, stands for methicillin-resistant Staphylococcus aureus, a strain of bacteria that is resistant to several antibiotics.
The bacteria most often causes skin infections, though in some cases it can cause pneumonia. If left untreated, the CDC warns that MRSA infections can become severe and cause sepsis—the body's extreme response to an infection that can quickly lead to tissue damage, organ failure and death.
To prevent an infection, the CDC recommends washing your hands and your body regularly, especially after exercise; keeping cuts, scrapes and wounds clean and covered until healed; not sharing personal items such as towels and razors; and getting care early if you think you might have an infection.