A few years ago, I wrote a history of the jet set. Writing this book reminded that me that at one time flying was glamorous. Now, of course, ubiquity has leeched the pleasure out of it, and the carousels laden with interchangeable, body-bag-sized nylon wheeled luggage are dreary testimony to the aesthetic dullness of it all—hard-sided suitcases and wardrobe trunks plastered with the labels of grand resorts are to be seen only in period films or TV adaptations of Agatha Christie novels.
It is a pity because, historically, advances in travel have tended to yield interesting luggage. The rise of the railway bequeathed us the women's handbag and straight-sided luggage that could be stacked one atop the other or slotted under seats. Motoring too brought a delicious array of specialized luggage—footrest trunks, running board trunks, spare tire trunks and more.
The branded airline bags of the early jet era had a certain cachet about them, as that literary master of product placement Ian Fleming recognized when writing the short story For Your Eyes Only, equipping two assassins with "that new holdall of the tropics—a Pan American overnight bag."
Today, the glamour and novelty of travel have passed into history. Therefore, I believe we owe it to ourselves and our fellow passengers to do what we can with our cabin luggage, at least for as long as airlines permit us to take any on board—which is why I was happy to come across Moynat a few years ago.
Just as they have haute cuisine and haute couture, so the French have a word for what they do at Moynat: They call it haute maroquinerie. Moynat began, as did so much of the French luxury goods industry, during the reign of Napoleon III, by far the best Napoleon, to my mind. Anyone who has read later Honoré de Balzac and Émile Zola will be aware of the orgy of consumption that France embarked upon then, and Pauline Moynat helped to meet the growing demand for beautifully made bags, suitcases and other forms of luggage.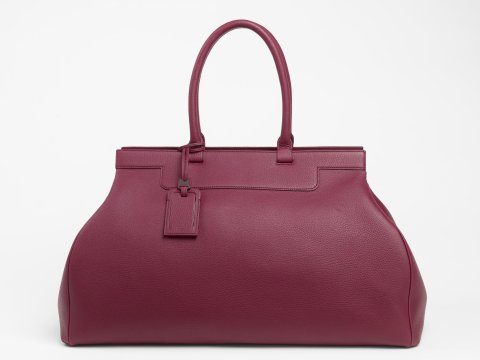 At its height, the firm had 250 craftsmen working in a factory in Montmartre and ticked all the boxes on the 19th- and early 20th-century luxury brand checklist: winning medals at the great World's Fairs and exhibitions (five gold, six silver and two bronze at the Exposition Internationale des Arts Décoratifs et Industriels Modernes—hence the term art deco); identifying itself with the newly fashionable motor car (exhibiting at the Paris motor show from 1905 onwards); creating extravagant bespoke orders; and devising such ingenious things as the motorist's mobile kitchen, which included a stove and place settings for six. In the days of coach-built motor cars that required bespoke luggage, when crossing the Atlantic by ocean liner took almost a week and required several changes of clothes packed carefully into wardrobe trunks, and when an ever-present army of uniformed porters and chauffeurs could be relied upon to do the heavy lifting, Moynat flourished.
But by 1976—in the age of the jumbo jet and mass air travel—Moynat had closed its doors, and they were not to reopen until 2011, when, like a human being awaking from a 35-year coma, it found the world much changed. And it recognized the need to adapt to that world. Opening in a crowded marketplace at the nadir of the global economic crisis may not have been in its favor, but Moynat had a trump card: Its new owner is Bernard Arnault, the richest person in France. Arnault, whose holding company is the major investor in dozens of celebrated luxury brands, has made Moynat into what is in effect a laboratory of luxury luggage, a very haute skunk-works division under the creative eye of Ramesh Nair.
Nair is an engagingly eccentric figure. He has a dry, almost cynical English sense of humor and a boyish enthusiasm for the job of making a very small number of very expensive bags to the highest standards he can envisage. This all happens in a workshop just off the Rue St.-Honoré.
His task has been to address the needs of people who need nothing while simultaneously performing a sort of Jurassic Park–style resurrection of a house style, taking signature elements from the past and placing them in the present. Thus, he has brought back the distinctive cat's tongue lock and the poignée pont Moynat—a signature leather-covered metal handle.
But these visual quotations would mean little were it not for the care with which things are made. It is not just the use of exotic skins that defines Moynat—textured Taurillon and glossy box calf leathers are the favored materials—but rather the execution. Things are done with a forensic, almost fanatical attention to details that the customer will never see. Instead of rubber hose, the handles of the soft luggage are built around a core of cord. The more rigid handles are built upon the metal hoop using layers of leather, skived to translucence, that taper until the desired, comfortable rounded profile is achieved. Zip tabs are hand-stained even on interior faces, which are stitched together. Piping is built around not a nylon filament but a piece of cotton thread—a detail that will become apparent only when you have had your bag for many years and it starts to show its age.
I mention that because you will want to use your Moynat bag until it needs to be returned for repair, as it is so cleverly thought out. The Moynat holdall is a miracle that, with the exception of the zip and a discreet steel buckle, dispenses with extraneous metalwork. (For me, the absence of metallic bling tends to denote quality.) Even the handles are secured to the bag without using visible metal fitments; instead, the leather of the handles loops through slots in the top, which is reinforced with a pair of slender metal rods concealed between the lining and leather, to stop deformation.
Instead of clunky metal D rings onto which the shoulder strap is normally fitted, there are discreet leather loops, one of which is tucked behind the side pocket. There is also a slit-like opening between the main body of the bag and the outer pocket, into which can be slotted a passport or telephone for ease of access. The outer pocket, by the way, is called a poche officier and was taken from an old Moynat military holdall Nair found at a flea market.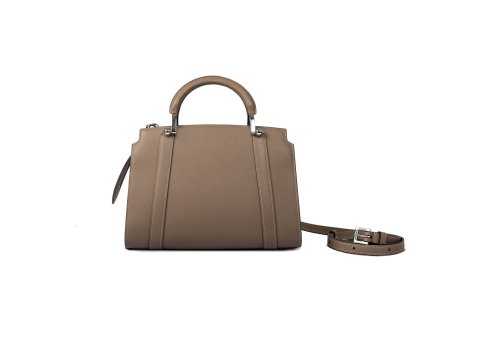 This ingenious construction has been taken one step further in the holdall clutch—a piece that is somewhere between a man bag and a document case—which in effect sees the front panel of the holdall removed and turned into a triumvirate of pockets: zipped, open and strap-fastened military.
I am not one for man bags, but I immediately fell for the Moynat holdall clutch when I saw it in Paris recently. It was Fashion Week (isn't it always?), and it seemed purpose-built for the fashionista on the run: a zip pocket for the iPad, a pouch pocket for a phone and personal effects, and a slit for marshaling invitations.
I keep a fairly close eye on Moynat but clearly not close enough, as this item had passed me by. I asked if it had launched officially and was told that launch was not really in the Moynat vocabulary. Such is the company's minimal production that as soon as one is made, it goes into the shop and then out under the arm of a customer.