'Mr. Corman' Release Date, Cast, Trailer, Plot for Joseph Gordon-Levitt's Apple TV Series
Mr. Corman is the upcoming comedy series on Apple TV, starring Joseph Gordon-Levitt, Arturo Castro, and Debra Winger. Gordon-Levitt created, wrote, directed and stars in the series, which follows the story of a 30-something teacher and aspiring rock star, Josh Corman, as he struggles with achieving the "perfect life." Newsweek has everything you need to know about Mr. Corman including the show's release date, cast, trailer, plot, and more.
When is 'Mr. Corman' out on Apple TV+?
The wait for Joseph Gordon Levitt's return to the small screen is almost over.
The first two episodes of Mr. Corman will premiere on August 6 on Apple TV+.
There are 10 episodes in the series, with the remaining eight airing every Friday on Apple TV+.
To watch Mr. Corman, you can sign up to Apple TV+ for $4.99 per month after a seven-day free trial.
Who is in the cast of Mr. Corman?
Joseph Gordon-Levitt leads the cast of Mr. Corman on Apple TV+.
He plays Josh Corman, a musician turned public school teacher working in the San Fernando Valley who is struggling to deal with long-term anxiety.
Arturo Castro takes on the role of Victor, Josh's best friend and roommate.
American rapper and producer Logic stars in the series as Dax, alongside Juno Temple as Josh's ex-fiancée Megan.
Oscar-nominated actress Debra Winger portrays Josh's mother and best friend Ruth in Mr. Corman.
Also starring in the cast is Jamie Chung, Veronica Falcon, Shannon Woodward, and Hugo Weaving.
What is Mr. Corman about?
Mr. Corman follows the story of Josh Corman, an aspiring and self-perceived failed musician who appears to be on the verge of a midlife crisis.
He is struggling with anxiety, the feeling of failure whilst trying to balance his happiness and dreams.
The series takes a deep dive into the life of Josh, his friends, his family, his highs and lows as he falls headfirst into everything from awkward sexual encounters to full-scale panic attacks.
The synopsis for the series reads: "Mr. Corman follows the days and nights of Josh Corman (played by Gordon-Levitt), an artist at heart but not by trade. A career in music hasn't panned out, and he teaches fifth grade at a public school in the San Fernando Valley.
"His ex-fiancé Megan has moved out, and his high school buddy Victor has moved in. He knows he has a lot to be thankful for but finds himself struggling nevertheless through anxiety, loneliness, and a sinking suspicion that he sucks as a person.
"Darkly funny, oddly beautiful, and deeply heartfelt, this relatable dramedy speaks for our contemporary generation of 30-somethings: rich with good intentions, poor with student loans, and yearning to become real grown-ups sometime before they die."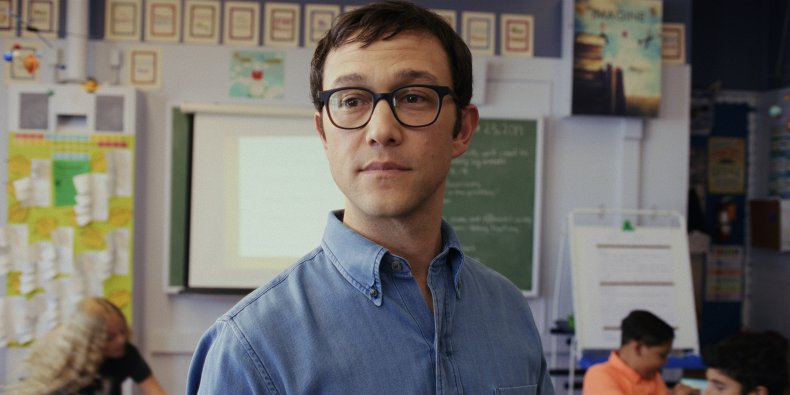 Is there a trailer for Mr. Corman?
Yes, there is a trailer for Mr. Corman ahead of the show's premiere.
The 90-second trailer begins with Joseph Gordon-Levitt as Josh Corman, teaching his class of fifth graders asking them if they feel "lucky," granting a snapshot into his daily life.
The trailer then flashes the unfortunate things that have happened recently in Josh's life from a breakup to a panic attack, getting into a fight dressed as a blue rabbit all while the ones closest to him tell him that striving for the perfect life is unrealistic.
As the trailer draws to a close, the tag line: "Between dreams and reality lies your story."
Mr. Corman premieres Friday, August 6 on Apple TV+