'Mr. Corman' Release Date: How Many Episodes Are in Joseph Gordon-Levitt's Apple TV Series?
Mr. Corman is the new Apple TV+ series created by and starring Inception's Joseph Gordon-Levitt. The series follows the trials and tribulations of 30-something Grade 5 teachers, Josh Corman.
How many episodes are in the comedy-drama?
Newsweek has everything you need to know about the Joseph Gordon-Levitt series.
When Is 'Mr. Corman' Out On Apple TV+?
After more than two years of waiting and delays due to the coronavirus pandemic, Mr. Corman has landed at Apple TV+.
The first two episodes of Mr. Corman will premiere on Friday, August 6 on Apple TV+.
To watch Mr. Corman, you can sign up for a seven-day free trial of Apple TV+. After the trial has expired, you can subscribe to Apple TV+ for $4.99 per month.
How Many Episodes Are in 'Mr. Corman'?
There are 10 episodes in Mr. Corman on Apple TV+.
The first two episodes will be available to stream on Friday, August 6, with the remaining eight dropping every Friday on Apple TV+.
Each instalment of Mr. Corman varies between 20 and 35 minutes long, with the finale scheduled to air on Friday, October 1.
Each episode follows the journey of Josh Corman (Joseph Gordon-Levitt) a 30-something-year-old man living in a world which feels a little heavy on his shoulders.
An aspiring musician, he is not where he wants to be, and is currently teaching 5th Grade. He's lonely, having split up with his fiancée, and ultimately feels like a failure.
Across 10 episodes, viewers go on the rollercoaster ride of adulthood with Josh Corman, where he learns striving for perfection is an unrealistic goal to achieve.
For a taste of what is in store, the episode title for Episode 1 is Good Luck, whilst Episode 2 is titled Don't Panic.
The official synopsis for the series teases: "Mr. Corman follows the days and nights of Josh Corman, played by Gordon-Levitt, an artist at heart but not by trade. A career in music hasn't panned out, and he teaches fifth grade at a public school in the San Fernando Valley.
"His ex-fiancé Megan has moved out and his high school buddy Victor has moved in. He knows he has a lot to be thankful for but finds himself struggling nevertheless through anxiety, loneliness, and a sinking suspicion that he sucks as a person.
"Darkly funny, oddly beautiful and deeply heartfelt, this relatable dramedy speaks for our contemporary generation of 30-somethings—rich with good intentions, poor with student loans and yearning to become real grown-ups sometimes before they die."
Who Stars In 'Mr. Corman' On Apple TV+?
Emmy-winner Joseph Gordon-Levitt returns to the small screen as Josh Corman in Apple TV's Mr. Corman.
In Mr. Corman, Gordon-Levitt portrays troubled 30-year-old, Josh Corman suffering from anxiety, loneliness, and feeling like he hasn't quite found his place in the world. Gordon-Levitt grew up on the small screen and shot to fame for his performance as Tommy Solomon in NBC's 3rd Rock from the Sun.
He then went on to star in 10 Things I Hate About You, 500 Days of Summer, Inception, Snowden, and The Trial of the Chicago 7.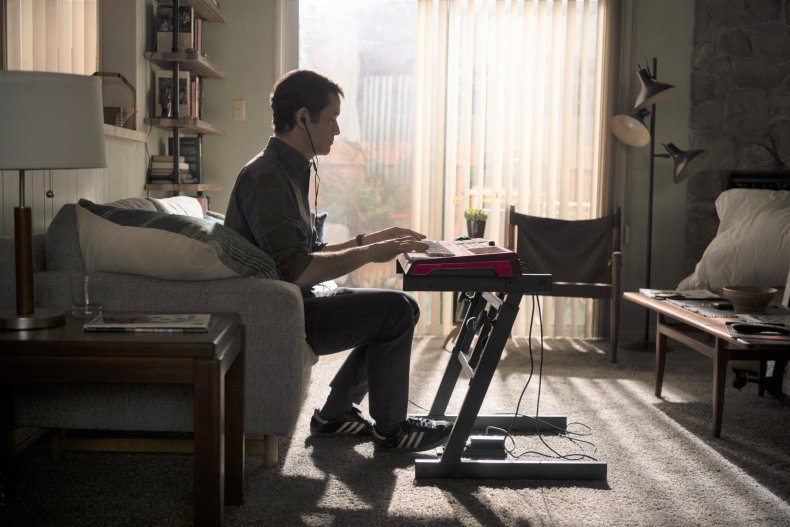 Starring opposite Gordon-Levitt is Arturo Castro as Victor, his best friend, and roommate.
Castro is best known for playing David Rodríguez on the Netflix series Narcos and for portraying Jaimé Castro in Broad City.
Oscar-nominated actor Debra Winger takes on the role of Gordon-Levitt's mother, Ruth.
Rapper Logic, real name Bobby Hall has taken a shot at acting and will make his debut as producer Dax in Mr. Corman.
Also starring in the series are Maleficent's Juno Temple and Lovecraft Country's Jamie Chung as Josh Corman's love interests.
Fans will also see Alexander Jo, Hector Hernandez, and Hugo Weaving in Apple TV's Mr. Corman.
Mr. Corman premieres Friday, August 6 on Apple TV+