Meet the Cast and Characters of Joseph Gordon-Levitt's 'Mr. Corman'
Mr. Corman dives deep into the days and long nights of aspiring musician turned public school teacher Josh Corman. Suffering from anxiety, Josh has pretty much hit rock bottom and can't quite see that the only way out is up. Across 10 episodes, Josh embarks on an anxiety-fueled rollercoaster as he strives to find total happiness.
Newsweek has everything you need to know about the cast and characters of Mr. Corman.
Meet the cast and characters of 'Mr. Corman'
Josh Corman — Joseph Gordon-Levitt
Joseph Gordon-Levitt stars as Josh Corman in Apple TV's Mr. Corman. Not only does Gordon-Levitt lead the cast, but he is also the show's creator, director, and writer.
Mr. Corman marks Gordon-Levitt's return to scripted TV in over six years. He last appeared in a 2015 episode of The Mindy Project.
Speaking to Newsweek, Joseph Gordon-Levitt described Josh as somebody who has "a lot to be grateful for." Nevertheless, 30-something-year-old Josh is having an existential crisis. He's swallowed by feelings of loneliness and failure, often failing to live in the present.
"He does his best to be grateful and be happy," said Gordon-Levitt. "But let's face it, not everyone can be happy all the time and that can be sad but it could also be funny. Sometimes, if you have a certain kind of sense of humor, which I do."
To tell the story of Josh, Gordon-Levitt drew on real moments from his own life as well as close friends of his.
He explained: "It's based on many true stories. The origin of where I came up with this character was starting with myself and then changing a few big things."
"I've experienced some feelings sort of similar to what the character does, not exactly. then I have various close people to me that that have experienced feelings like the character does."
Gordon-Levitt's other well-known credits include 500 Days of Summer, Inception, 50/50, 10 Things I Hate About You, Snowden, The Trial of the Chicago 7, and 3rd Rock from the Sun.
Victor — Arturo Castro
Arturo Castro stars as Josh Corman's best friend and roommate Victor in Mr. Corman.
Victor is the complete opposite to Josh, cool, calm, and collected, he balances Josh out and is a sounding board for Josh's anxieties.
However, Victor also has some issues of his own. He is a divorced father to a teenage daughter and struggles with feeling like he isn't quite doing it all right.
Victor is loosely based on Gordon-Levitt's best friend Hector, who Gordon-Levitt describes as "a sweetheart you can't help but love."
Just like Victor, the real Hector works for UPS but there are some differences amongst all the similarities. For example, in Mr. Corman, Victor is divorced and has a daughter whereas the real-life Hector is not divorced and does not have a daughter.
Castro is best known for playing David Rodriguez in the Netflix series Narcos.
He is also well known for portraying Jaimé Castro on the Comedy Central series Broad City.
Ruth Corman — Debra Winger
Debra Winger portrays Josh's mother and best friend Ruth in Mr. Corman.
Gordon-Levitt described Ruth as an "amalgamation" of both of his parents Dennis Levitt and Jane Gordon.
Winger starred in the films An Officer and a Gentleman, Terms of Endearment, and Shadowlands, earning an Oscar nomination for Best Actress for her role in all three films.
She is also well-known for playing Maggie Bennett in Netflix's The Ranch.
Artie Corman — Hugo Weaving
Hugo Weaving stars as Josh's estranged and "problematic" father, Artie in Mr. Corman.
Artie is not based on Gordon-Levitt's father and is instead a mix of his friend's parents.
Weaving is best known for playing Agent Smith in The Matrix trilogy, Elrond in The Lord of the Rings and The Hobbit trilogies, and Red Skull in Captain America: The First Avenger.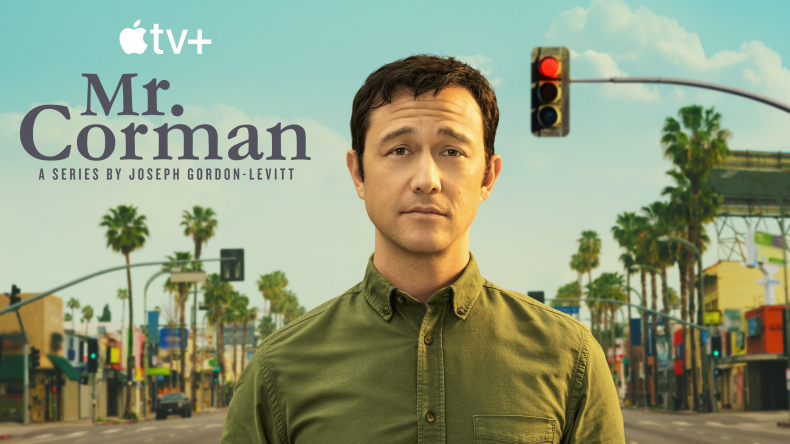 Elizabeth Corman — Shannon Woodward
Shannon Woodward stars as Josh's sister, Elizabeth in Mr. Corman.
Josh and Elizabeth do not see eye to eye on a lot of things, particularly in regards to her marriage and faith.
The pair fight over Elizabeth's conversion to Christianity, with Josh believing she only believes in God because her husband does. He also seriously disagrees with her pushing her religion on her children.
Viewers will most likely recognize Woodward from her role as Elsie Hughes in HBO's Westworld and as Sabrina in Raising Hope.
Megan — Juno Temple
Juno Temple takes on the role of Megan, Josh's ex-fiancée Megan.
When audiences meet Josh in episode one of Mr. Corman, he is still struggling to come to terms with his relationship ending.
Gordon-Levitt described Megan as the love of Josh's life but "then it fell apart."
Since the break-up, Josh has had a negative view of love and relationships, rejecting almost everybody who shows a slight interest in him.
Temple is best known for her role as Jane Parker in The Other Boleyn Girl, Keeley in Ted Lasso, and Deborah Hussey in Black Mass.
Emily — Jamie Chung
Emily, played by Jamie Chung, is one of the very few women Josh meets who he is able to connect with.
Chung is a former reality television star turned actress, who appeared in the MTV reality series The Real World: San Diego.
Since turning to acting, Chung's career has gone from strength to strength appearing in Samurai Girl, Once Upon a Time, The Hangover Part II and most recently as Ji-Ah on the HBO series Lovecraft Country.
Dax — Logic
Grammy-nominated Rapper Logic plays the role of Dax, a music producer who helps Josh rediscover his love for music.
Mr. Corman is Logic's first acting role to date.
Episodes of Mr. Corman drop every Friday on Apple TV+.