How YouTuber MrBeast Pulled off a Real-Life Battle Royale in Three Weeks
On March 6, three dozen of the most successful YouTube celebrities, representing a combined 200 million subscribers, gathered in a muddy field in Los Angeles to do battle. Not with traffic, but with airsoft rifles. Players like Pokimane, Odd1sout and FaZe Adapt each had three balloons attached to them, and had to pop everyone else's balloons to be the last content creator standing. The winner would go home with $100,000. There's only one person who could convince that much influencer firepower to slosh around in the mud for prize money: Mr. Beast.
"I wanted to make an event that would engage the whole creator community," MrBeast, a.k.a. Jimmy Donaldson, told Newsweek. "As a YouTuber, I've been able to meet a lot of the creators online, but we don't have many opportunities to meet in person and share our personalities."
Who is MrBeast? On Getting Clicks/Views, Making Money and Finding His Calling
MrBeast ranks among the most successful and creative entrepreneurs on YouTube, but his success has been hard-won. Starting off his "MrBeast6000" channel at age 13, Donaldson slogged through the algorithm until he found the content that worked for him.
"What do people want to see?" Donaldson told YouTuber Casey Neistat in a video interview. "If it gets the most views, it's because people click on it and I want to give them what they want."
For years, the MrBeast channel failed to catch on. Donaldson tried everything popular with the algorithm: from Minecraft and Call of Duty Let's Plays to videos estimating the wealth of otherYouTubers. These videos would barely pull in a thousand views each, but that didn't stop him from creating. He felt that eventually his content would rise to the top since he was willing to put in more effort than his competitors..
He struck viral gold in January 2017 when he posted a video of himself counting to 100,000, which earned tens of thousands of views in just a few days. Then he counted to 200,000. He also spun a Fidget Spinner for 24 hours, and nearly lost his mind watching Jake Paul's "It's Everyday Bro" music video for 10 hours straight. Dropping out of college, he committed to YouTube full time.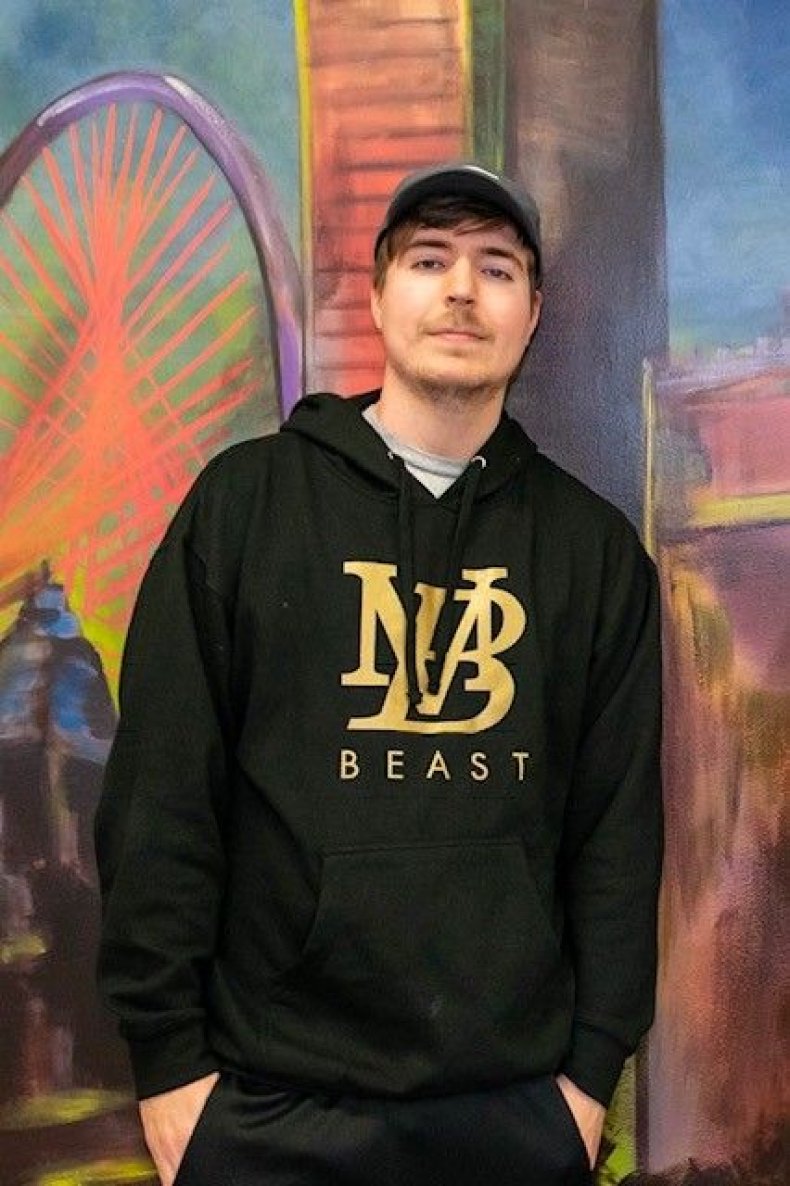 Over the past year, Donaldson has cemented himself as YouTube royalty by spending or donating large amounts of money on his videos, including everything from giving $10,000 to an unknown live streamer with zero viewers, to trying to lift himself off the ground using only leaf blowers. To fund these ventures, Donaldson doesn't rely on ad money and merchandise sales alone. The YouTuber has worked tirelessly to secure six-figure brand deals with major companies. His management company, Night Media, brings Donaldson offers from companies like Honey, Quidd and Seatgeek that are willing to spend tens of thousands of dollars to get a 30-second advertisement in the middle of a video. These companies want access to the following Donaldson has and is willing to pay for it.
As his empire grew, Donaldson hired a group of childhood friends to help him implement his outlandish ideas in their hometown of Greenville, North Carolina. They pulled off feats like spending a whole night in a mental ward, putting 100 million Orbeez in a pool and spending the whole day in slime. Chris, Chandler and a host of other faces are regulars in MrBeast videos, which resulted in followings of their own.
To Battle! How MrBeast Pulled Off His Real-Life Battle Royale
Donaldson's idea for a real-life battle royale first surfaced during a brainstorming session with his crew. With games like Fortnite and PlayerUnknown's Battlegrounds dominating the multiplayer game space, what better idea than to bring the format into the real world? Like most MrBeast video ideas, it seemed impossible, but his team made it happen in record time.
Just two short weeks after conception, Night Media secured a sponsorship deal with Respawn's battle royale video game Apex Legends, which put up the $200,000 in prize money. Hollywood Sports Park, a paintball and airsoft park in Los Angeles, agreed to host the event. YouTubers began to petition Donaldson for a spot on one of the teams, reaching out to him on Twitter and social media. It only took three weeks to make the battle royale idea a reality.
"There was a lot of teamwork involved in planning the event," Donaldson said. "All the people on my team worked hard and diligently to ensure all aspects of the production were thought-out and rehearsed."
Every contestant had a GoPro camera on their chest and cameras circulated the perimeter, giving the whole event a reality television vibe. Alliances were created and shattered, while BBs zipped through the air. A group of editors went through dozens of hours of footage, piecing together a 26-minute video which has pulled in more than 15 million views.
"Everyone was having a blast doing something unique and fun," Donaldson said. "There were lots of smiles and personal relationships that we'll all take forward in supporting what we do—creating original content for our subscribers."
Even through the mud, sweat and tears, Donaldson claims there wasn't any "drama" on the field. Players were genuinely happy to be a part of this experience and "left their subscriber count at the gate." wEven though these are some of the biggest Youtubers in the world, Donaldson said, "there were no egos on display."
For YouTube hopefuls who dream of meeting their favorite content creators in mindless combat, Donaldson says the future is bright. As "technology" grows, it will be "easier to interact and play games with your favorite content creators. For us, it will be even closer interaction with our subscribers."