Mrs. Santorum's Abortion Doctor Boyfriend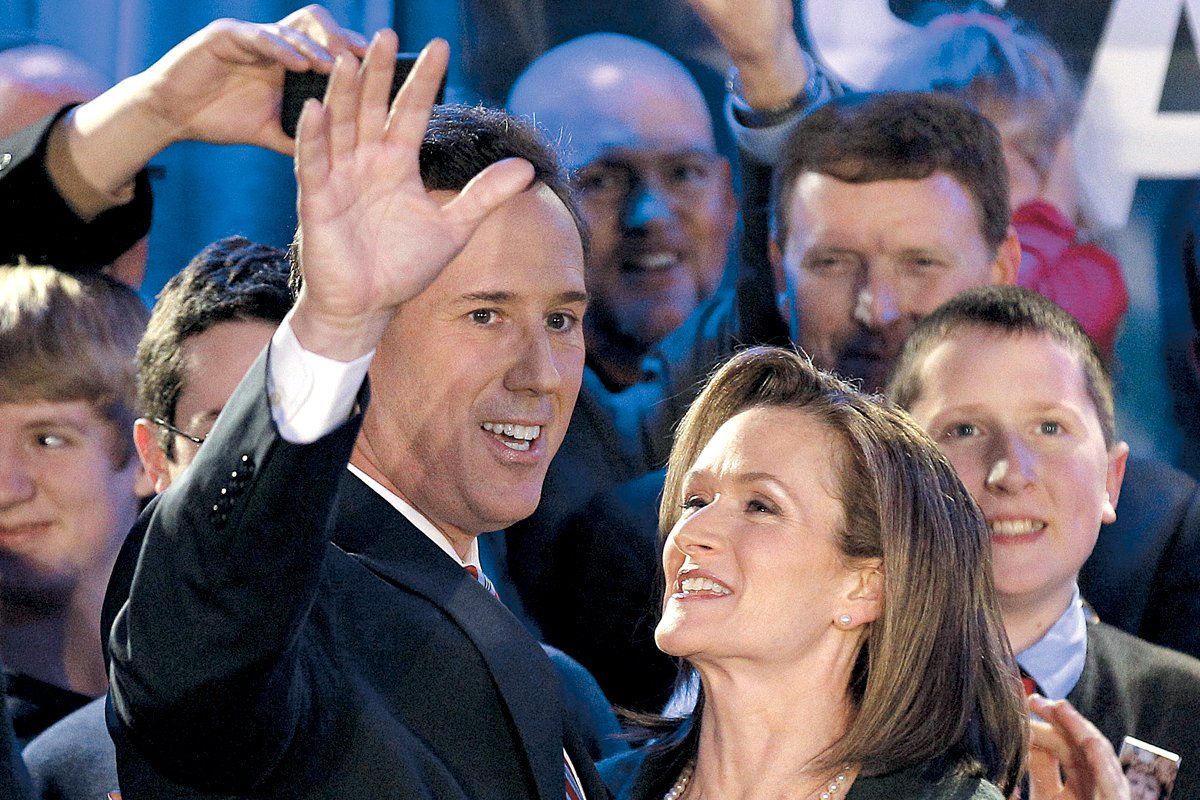 Karen Santorum, the ultra-pro-life wife and mother of seven home-schooled children, has been the perfect complement to her husband, Rick, as he chases the Republican presidential nomination. On the campaign trail, the candidate often refers to her book, Letters to Gabriel, the story of the devoutly Catholic couple's traumatic late-term 1997 miscarriage (the 20-week-old fetus lived two hours outside the womb). The couple opposes birth control as well as abortion, even in cases of rape.
But Mrs. Santorum, 51, apparently wasn't always committed to the cause. In fact, her live-in partner through most of her 20s was Tom Allen, a Pittsburgh obstetrician and abortion provider 40 years older than she, who remains an outspoken crusader for reproductive rights and liberal ideals. Dr. Allen has known Mrs. Santorum, born Karen Garver, her entire life: he delivered her in 1960.
"Karen was a lovely girl, very intelligent and sweet," says Allen, who at 92 uses a walker but retains a sly smile. A wine aficionado who frequented the Pittsburgh Symphony and was active in the local chapter of the ACLU, he lives with his wife of 16 years, Judi—they started dating in 1989, soon after he and Garver split—in the same large detached row house where he lived with the woman who would become Santorum's wife. He and Garver also lived for several years in another house a few blocks away. "Karen had no problems with what I did for a living," says Allen, who helped start one of the first hospital-sanctioned abortion clinics in Pennsylvania. "We never really discussed it." (The Santorum campaign did not return repeated requests for comment on the relationship.)
The six-year-long May-December affair, which was always out in the open, began in 1982, when Garver was a 22-year-old nursing student at Duquesne University. Allen was then 63. He was well known for delivering babies and helping to start a "therapeutic abortion" clinic at Magee-Womens Hospital in Pittsburgh years before Roe v. Wade. As at most such clinics, sympathetic psychiatrists of the era attested to women's fragile mental health as a way to skirt restrictions on the procedure. Rick Santorum has lampooned the notion that abortion statutes should contain exceptions in cases where women's health is at risk.
Although they had technically known each other since Karen's birth, Allen doesn't remember having contact with her as she was growing up; they reconnected when she called him looking for an apartment to rent near Duquesne. Her parents, Catholic with 11 other children, who lived in the nearby suburbs, were well acquainted with Allen; her father was a pediatrician who got many of his patients through referrals from the obstetrician. They knew he owned the building that housed his large practice and that there was a basement apartment. Allen, divorced for several years at that point with six grown children, had been living on two upper floors.
Garver moved into the basement apartment, but she wasn't there long, says Allen. "That first night, as soon as it got dark, she called to say she was scared and asked if she could come up. I figured it was a come-on, but that was OK." Karen, he says, came upstairs, permanently.
Unusual though the affair may seem now, Allen says it "really wasn't that big a deal, at least to me." It was the '80s, after all, and he'd had a number of young girlfriends before Garver; his wife Judi is 30 years younger than he. "My first marriage didn't do very well because of that behavior," he concedes.
He and Karen lived above the office together for nearly five years, until the house in which Allen now resides was finished after a lengthy renovation (the couple broke up a few months after they moved into the house). Photographs of them together throughout those years show her as a fresh-faced, freckled young woman with wavy hair and a shy grin that grew more confident after Allen paid to have her teeth straightened.
"He was very well known and respected in town, and pretty dashing," says Curt Katz, who owned the local Mercedes dealership. Garver often came in to get the doctor's car serviced, says Katz. "They were quite the couple."
Garver's parents were scandalized by the pairing, which strained their relationship with their daughter, according to Allen's youngest daughter, Candy, who, at 51, is the same age as Mrs. Santorum. (Karen's parents did not return calls requesting comment.) His own children weren't too happy either but bore it largely in silence.
"We knew Dad was just going to be Dad," she says. "We were respectful of his relationship with Karen, but we didn't become close friends with her or anything."
Mary and Herbert Greenberg, longtime friends of Allen's through Herbert's job as concertmaster of the Pittsburgh Symphony, recall that Karen had seemed entirely familiar and comfortable with the subject of abortion when the couples socialized. In October 1983, Mary Greenberg (who had moved to Baltimore with her husband) flew to Pittsburgh to consult Allen about an abortion. He directed her to colleagues at the Women's Health Center; Karen, recalls Mary, immediately offered to accompany her to the clinic. "She told me it wasn't that bad, that I shouldn't be worried," says Mary, who ultimately went on her own, and met Allen and Garver for dinner later that night. "She was very supportive."
The Greenbergs say Allen happily gave Karen a cultural education. When she told him she wanted to learn to play the piano, he bought her a Steinway upright (which still stands in his living room). He took her to Europe several times as well as to Hong Kong for the wedding of one of his friends. In 1983, the couple went to France to visit Candy and one of her older sisters, who were traveling around Europe after college.
He also took Karen on a group antiques-and-music week in London in the mid-'80s with several promi-nent local supporters of the arts. His future wife, Judi, then host of a classical-music radio show on WQED, the local public-broadcasting affiliate, led the group. She, Allen, and Garver shared a chatty, boozy night in the hotel, trading confidences. "Karen told Tom he should probably be dating me, that he and I had a lot in common."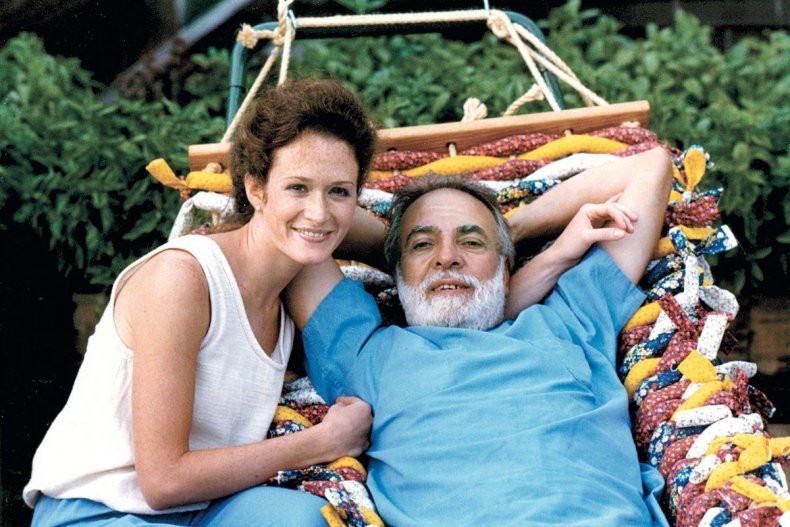 By then, Garver, who had been working as a neonatal nurse, had enrolled in law school at the University of Pittsburgh; Herbert Greenberg wrote her a recommendation. A classmate who now works on social-justice issues in New York describes her as "just another smart, nice girl with a Channel 13 tote bag, someone who seemed like an average progressive. We knew she had a much older doctor boyfriend, but we didn't really talk about it."
The unlikely couple broke up in 1988. "Karen wanted to have children, and that was something I had already done," Allen says. There were no hard feelings; she told him to keep the piano.
Around that time, she met her future husband when he recruited her as a summer intern for his law firm; he too hadn't been much of a practicing Catholic, but that changed soon after they married in 1990. They immediately started a family; Karen never practiced law. Her husband ran for Congress, and by the mid-1990s he was among the most fervent anti-abortion legislators in the House of Representatives. Her law-school friend the social-justice lawyer ran into Karen Santorum on Capitol Hill around then. "She greeted me warmly," he recalls, "but I got the idea that she wasn't allowed to embrace me or anything. By that point she was dressed like Hester Prynne."
Among the final times Tom Allen heard from Karen was a Christmas card in 1988. "I miss you," it read.