MS-13, Barrio 18 Gangs Allegedly Employ More People in El Salvador Than Country's Largest Employers
MS-13 and Barrio 18, two of El Salvador's most feared gangs, may have hired close to 60,000 people to work as "lookouts, collectors and assassins," compared to the 20,000 Salvadorans working for two U.S. underwear companies that are considered the Central American nation's biggest employers, according to a report citing local officials.
The Wall Street Journal reported Friday that local authorities wielded little power in 248 of the 262 of the country's municipalities. Both MS-13 and Barrio 18 compete fiercely to gain control over neighborhoods and regions, and even politicians have to ask permission to gang members for rallies or canvasses in certain localities. In addition to extorting business owners and commuters, gangs operate in rural areas where they threaten to set sugar crops ablaze if farmers don't pay up.
Organized crime has become a profitable business across El Salvador, Honduras and Guatemala, a region known as the "Northern Triangle." In El Salvador alone, MS-13 earns as much as $600,000 a month by extorting bus companies and retailers, the report noted. Both MS-13 and Barrio 18 could be employing as many as 60,000 people to run their operations, compared to the 20,000 who work for two of the country's largest employees, Hanesbrands and Berkshire Hathaway-owned Fruit of the Loom, according to El Salvador's defense ministry.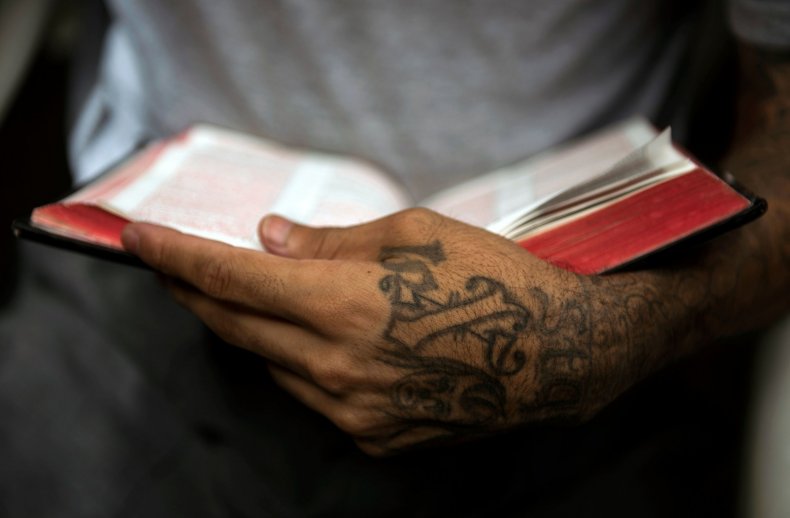 Recruiting people for criminal activities does not occur in El Salvador only. "I've seen an estimate across the Northern Triangle which exceeds 100,000 people," Adam Isacson, director for defense oversight at the Washington Office on Latin America, told Newsweek.
The report came amid news of Central American asylum seekers heading toward the U.S.-Mexico border. When asked about the root causes of the migrant caravan, Isacson said, "It's like looking at a Venn diagram, so there are a few causes. One, people being threatened by violence, but a lot of people whose crops are failing migrate because of climate change. Another reason is the number of people, around 15 to 30 percent, who go to school but can't find a job afterward, or people who want to be reunited with relatives in the U.S."
In 2016, the homicide rate in El Salvador was 83 for 100,000 people, the world's highest. To Isacson, that is one symptom of the reigning chaos in these countries.
"How bad does it have to be? What the migrant caravan tells us is that if all it takes is a Facebook message or a Whatsapp note to spark a massive movement, this means that there is a lot going on in their countries," he said.
Meanwhile, President Donald Trump has used MS-13 as political weapon to toughen his stance on undocumented immigration. On May 21, the White House issued a statement calling MS-13 "violent animals."
"Recent investigations have revealed MS-13 gang leaders based in El Salvador have been sending representatives into the United States illegally to connect the leaders with local gang members. These foreign-based gang leaders direct local members to become even more violent in an effort to control more territory," the White House said at the time.
However, most of the MS-13 members are U.S. citizens, according to a Univision report citing statistics from the Immigration and Customs Enforcement early this year. "Of the 1,095 detainees who were alleged members of the gang or had links to the gang, 933 were U.S. citizens (85 percent). In a similar operation in 2016 in which it arrested 1,133 individuals, 894 turned out to be citizens (78 percent)," the report said.