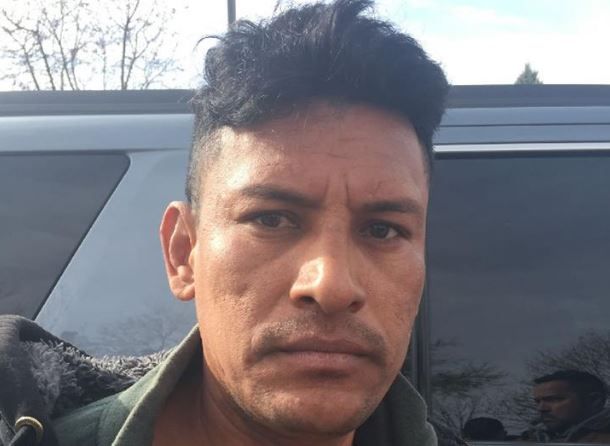 Updated | A MS-13 gang member who was arrested and charged with stabbing a woman with a screwdriver last week had been deported from Texas to El Salvador last year after he was arrested for domestic violence, authorities said Monday.
Angel Ramos, 36, is accused of stabbing the woman in his moving car several times with a flathead screwdriver in northeast Colorado on November 4, Deputy U.S. Marshal Brian Fielman told Newsweek. The woman jumped out of the moving car, which ran over one of her legs. "He jumped out of the car and tried to wrestle her into the trunk," Fielman said. "She was able to fight him off, and he fled."
Law enforcement agents searched Ramos's house, where they said they found assorted phony documents and his real passport, which they used to determine his true identity.
"It was determined Ramos is a confirmed MS-13 gang member and is currently wanted for homicide in the country of El Salvador," the sheriff's office in Fort Morgan, where Ramos allegedly attacked the woman, said on its Facebook page. Ramos was an undocumented immigrant in Texas and had been deported to El Salvador several years ago, Fielman says.
Ramos was arrested in Texas on assault and domestic violence charges in 2015, transferred to Immigration and Customs Enforcement custody and deported in 2016, ICE spokesman Carl Rusnok said. He said the agency does not know when or where he illegally re-entered the U.S.
Officers and agents from the Fort Morgan Sheriff's Office, ICE and the U.S. Marshals Service conducted interviews and surveillance until they learned Ramos was in Fort Collins, Colorado.
Ramos was arrested without incident at a Fort Collins construction site where he was working at about 1 p.m. on November 10, Fielman said. He was charged with crimes including attempted murder and kidnapping. Court records don't yet list an attorney for Ramos, according to a judicial assistant at the Morgan County Combined Courts.
"We've noticed a lot of people that have been fugitives that are hiding out here because they think they are not going to stick out," Morgan County Sheriff Jim Crone told the local Fox news station. "Nobody is going to know them, which is just the opposite—that just brings more people to our attention."
The MS-13 gang is not new to Colorado. Twenty members of the gang were indicted there in 2009 on a series of drug and gun charges, with police seizing 10 pounds of methamphetamines and five pounds of cocaine, according to CNN.
The gang has been a focus of U.S. Attorney General Jeff Sessions. In September, the Department of Justice announced charges against 3,800 gang members across Central America and the U.S.
MS-13 is the only gang ever designated by the U.S. government as a "transnational criminal organization," with 10,000 members in the U.S. and 40,000 members in Central America, according to papers federal prosecutors have filed in court.
This article was updated with details from an ICE spokesman about Ramos's sdeportation.