MS-13 Seen as Threat to U.S. by Majority of Donald Trump Voters: Poll
A new poll released this week showed that a majority of Donald Trump voters considered MS-13 to be a national threat to the United States.
The poll, commissioned by Huffington Post and YouGov, showed that 85 percent of Trump's voters saw the gang as a very serious or a somewhat serious threat. By comparison, only 32 percent of Hillary Clinton voters found the gang to be as serious a threat.
MS-13, or Mara Salvatrucha, is a criminal gang often referenced by Trump and his administration. The gang's origins can be traced to 1980s Los Angeles; it was formed by Salvadorian immigrants in Southern California, many of whom were fleeing civil strife in Central America.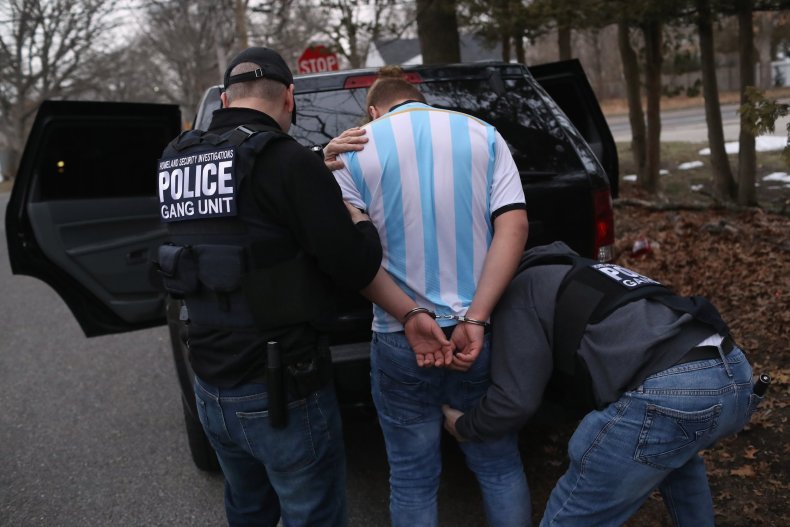 The U.S. government started deporting gang members in the 1990s, creating a foothold for MS-13 in El Salvador. The gang is active in several states including California, Massachusetts and New York.
The Justice Department estimated that worldwide there were around 30,000 members of MS-13, and 10,000 in the U.S., the same number as around 12 years ago.
Assessments by several federal organizations concluded that MS-13 was only loosely organized internationally.
The gang is a point of emphasis for the Trump administration. In May, the White House released a controversial advisory called "What You Need to Know About the Violent Animals of MS-13." Critics charged that the language used in the release was racist.
The gang is known for its brutally violent crimes, especially murders, and the administration has publicized their violence and used it as justification for certain policy aims.
"Every day, the brave men and women of ICE are liberating communities from savage gangs like MS-13. We will NOT stand for these vile Democrat smears in law enforcement. We will always stand proudly with the BRAVE HEROES of ICE and BORDER PATROL!" Trump tweeted earlier this month.
The tweet suggested that MS-13 had complete control over towns or cities, a claim Politifact deemed false.
Trump also conflated MS-13 with illegal border crossings.
"45 year low on illegal border crossings this year. Ice and Border Patrol Agents are doing a great job for our Country. MS-13 thugs being hit hard," Trump tweeted earlier this year.
Several law enforcement officials disagreed with the response to MS-13, according to The New York Times, stating it was disproportionate to the threat. The victims of MS-13 activity in the U.S. tended to be "young immigrants, many of them undocumented," according to ProPublica.