When Do New 'Ms. Marvel' Episodes Come Out on Disney+?
Ms. Marvel is Disney+'s latest show set in the Marvel Cinematic Universe, whose first episodes are coming this June to the streaming service.
The Marvel show stars newcomer Iman Vellani as Kamala Khan, a high schooler whose obsession with superheroes has led to her writing fan-fiction about them—and, of course, because this is an MCU movie, she quickly gets superpowers of her own. Though the show lacks the starry cast of something like Loki or Moon Knight, the show is set to break ground by having Ms. Marvel be the MCU's first Muslim superhero.
Disney+ is releasing the first episode of Ms. Marvel on June 8, just one month after the previous chapter of the Marvel Cinematic Universe, Doctor Strange in the Multiverse of Madness. Here's when all episodes of the new Marvel TV show will be streaming.
Ms. Marvel Episode Release Schedule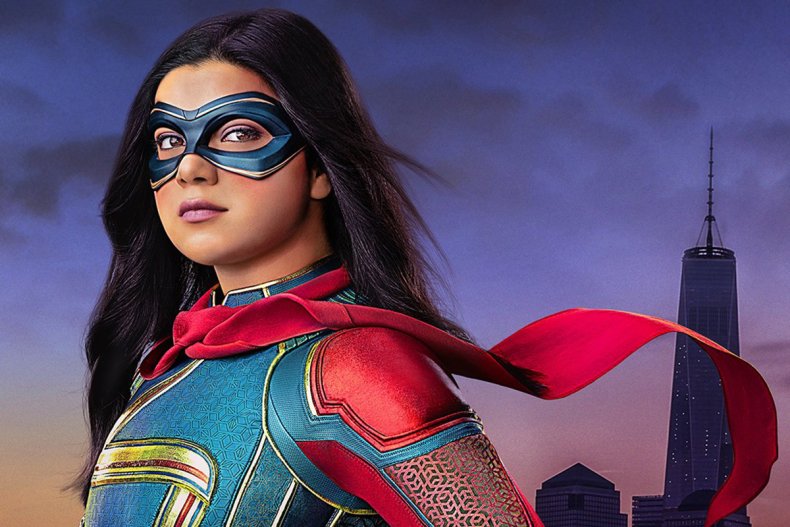 Ms. Marvel is following the exact same release schedule that Moon Knight did before it. That is, the show will have six episodes, which will air one a week on Wednesdays.
This means that the show will run from its premiere date on June 8 through to its season finale on July 13:
Episode 1: June 8
Episode 2: June 15
Episode 3: June 22
Episode 4: June 29
Episode 5: July 6
Episode 6: July 13
As with most Disney+ releases, each episode of Ms. Marvel will be released on Wednesday at 3:00 a.m. ET/midnight PT. When the episode is available where you are will depend on your time difference from America's east coast, which is currently four hours behind GMT/UTC.
As has become the norm for the spoiler-conscious Marvel, Disney+ is not releasing episode titles or synopses before the episodes air. However, they have released an official plot synopsis which reads: "Marvel Studios' Ms. Marvel is a new, original series that introduces Kamala Khan, a Muslim American teenager growing up in Jersey City. An avid gamer and a voracious fan-fiction scribe, Kamala is a Super Hero megafan with an oversized imagination—particularly when it comes to Captain Marvel. Yet Kamala feels like she doesn't fit in at school and sometimes even at home—that is, until she gets superpowers like the heroes she's always looked up to. Life gets better with superpowers, right?"
Can I Watch Ms. Marvel Online for Free?
Unfortunately, Disney+ is among the increasing number of streaming services that no longer offers free trials. This means that to watch the show on the streamer, viewers have to pay at least $7.99, the cost of one month of the service.
You may, however, have free Disney+ and not even realise it. For example, new customers to some Verizon Wireless plans get the Disney+/ESPN+/Hulu with ads bundle for free, as do some US Mobile customers. Delta Air Lines also occasionally offers its SkyMiles customers two-week trials for the service.