'Ms. Marvel' Episode 1 Post-Credit Scene Explained
Ms. Marvel Episode 1 is now streaming on Disney+. The first installment mostly introduces us to the world of Kamala Khan (played by Iman Vellani) and her Pakistani-American family.
The episode's post-credit scene, however, seems to set up the threat that Kamala will be facing throughout the show's six episodes.
The Ms. Marvel Episode 1 post-credit scene takes us to a fairly nondescript office, where a woman is watching a video of Kamala accidentally letting her new powers off at AvengerCon.
A man dismisses the video as "a cosplayer with too much time on their hands." But when the woman shows him the video and says she's "never seen powers like that," he says they should "bring her in."
Bring her in where? Who are these people? The answer is crucial to the plot of the rest of Ms. Marvel.
Who Are the People in the 'Ms. Marvel' Episode 1 Post-Credit Scene?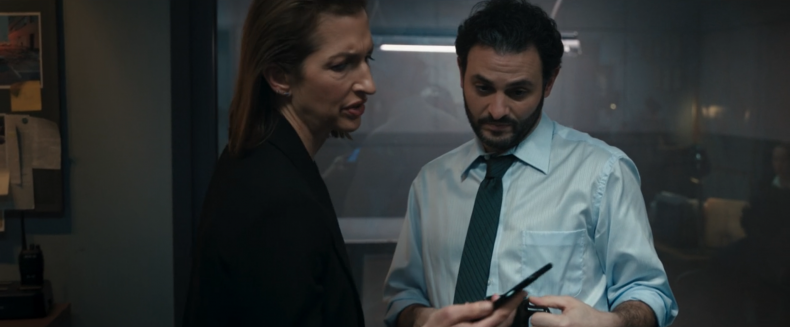 The actors playing the two speaking characters are a pair of Netflix alums—former Orange is the New Black warden Alysia Reiner and Arian Moayed, last seen playing Anna Sorokin's lawyer in Inventing Anna.
In the Ms. Marvel cast list, their character names are given as Agent Sadie Deever and as Agent P. Cleary. So clearly, they are agents with an interest in speaking to those with superpowers.
In fact, we have seen one of these agents before. In Spider-Man: No Way Home, Cleary was one of the agents who arrested Peter Parker (Tom Holland) for his involvement in the death of Mysterio (Jake Gyllenhaal) in Spider-Man: Far From Home.
In No Way Home, the agent announced he was part of the United States Department of Damage Control.
The agency has been part of the Marvel Cinematic Universe (MCU) since its beginning—it gets a mention in 2008's Iron Man. Initially part of S.H.I.E.L.D., it has since become its own federal law enforcement agency, of which the job it is to apprehend what it calls "enhanced individuals" and confiscate dangerous superpowered artifacts.
Seeing as Kamala has a dangerous superpowered artifact in her mysterious bangle, you can see why the agency would be interested in her. And with no other antagonists in site on the show, they look set to cause big trouble for the teen.
Reiner's involvement in the show was revealed in February 21, when Sheikh Abdullah actor Laith Nakli posted a photo with her on set, captioned: "And that's a wrap for #msmarvel what an experience. Just when I thought it couldn't get better it did when @alysiareiner joined the cast. 16 years of friendship and working together."
So far, the United States Department of Damage Control has been fairly ineffectual—after all, Peter Parker was able to outsmart them pretty quickly. It remains to be seen whether they have learned their lessons from that, and exactly how much of a threat they will be to Kamala as she discovers the powers of the bangle.
Ms. Marvel airs Wednesdays on Disney+.