What is MS-13? Trump's Long Island Speech to Focus on Gangs He Wants to Wipe Out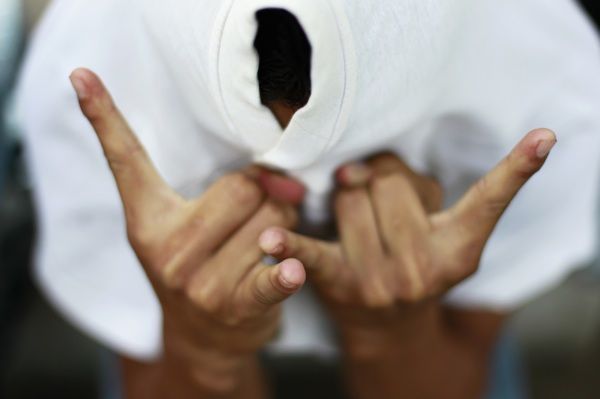 The Mara Salvatrucha, or MS-13 gang, has been operating in and around the U.S. for more than two decades. Although the majority of its estimated 30,000 members are based in Central America, U.S. officials believe that 6,000 members are scattered across 46 states in cities like Los Angeles—where the gang originated—Washington, D.C., and on Long Island in New York.
And on Friday, President Donald Trump will unveil his plans to wipe them out.
The president is expected to meet with a members of House Representatives and law enforcement officials on Long Island, where more than 15 members of the transnational gang were arrested a week ago in connection with the murders of four Latino men in April. In his speech, Trump will lay out a plan of action to defeat the group, which was established by immigrants from Central American countries including El Salvador, Honduras, Guatemala and Mexico.
Trump's plan, according to a White House official and reported by The Hill, focuses on heavy policing of immigrants and an overall crackdown on illegal immigration. To help with that, the administration is requesting an additional 10,000 more Immigration and Customs Enforcement officers, as well as a "substantial amount" of immigration judges.
The president will seek tougher legislation that will allow undocumented Central Americans to be removed from the U.S. more quickly, as well as a bill supporting a crackdown of sanctuary cities. This is in addition to his repeated campaign pledge to build a border wall, which Trump says will prevent migrants from illegally entering the country.
Since his campaign, the president has advocated for the complete removal of street gangs such as MS-13. While Trump has blamed former President Barack Obama for not implementing tighter immigration regulations, which Trump has suggested has led to the rise of gangs like MS-13, he recently praised Attorney General Jeff Sessions for the "new steps" he has taken to dismantle the group. In April, Sessions visited Long Island and issued a warning to gangs such as MS-13, stating, "We are targeting you. We are coming after you."
Many of the first members of MS-13 were impoverished youths looking to avoid recruitment in the El Salvador military in the 1980s. When they arrived to Los Angeles, they grouped together in efforts to protect themselves from Mexican gangs that ruled certain zones of the city. Over the years, the gang's criminal enterprise has spread across the U.S. generating millions of dollars from drugs, human trafficking and extortion.
The gang is implicated in the deaths of hundreds of people. Since January 2016, police on Long Island have linked MS-13 to 17 murders, according to The New York Times.
Gang members are known for their ornate tattoos, which are intended to identify members for life, and the "devil's horn" hand symbol, which was created in the 1980s when many of the members would attend rock concerts in Los Angeles.
The gang's name comes from the words Mara, which means "gang" in Spanish, Salva, in reference to El Salvador, and trucha, slang for "street smarts." The 13 represents position of the letter M in the alphabet.