Safety Measures like Parkland's Clear Backpacks Don't Work for All Schools: Expert
The students at Marjory Stoneman Douglas in Parkland, Florida returned from spring break to new school rules. Its nearly 3,000 students were instructed to go through security checkpoints, carry around their school ID and use transparent backpacks for their personal items.
The measures were taken to increase security at the school following the February 14 shooting that left 17 dead, according to a letter from district Superintendent Robert W. Runcie. While the backpacks and the IDs are an attempt to make the students safer, some Parkland attendees feel quite the opposite.
"It's making a lot of people feel less safe because it's a daily reminder that school isn't school anymore—it's a war zone where anything could happen at any moment," Lauren Newman, a MSD senior and member of the student newspaper, told Newsweek.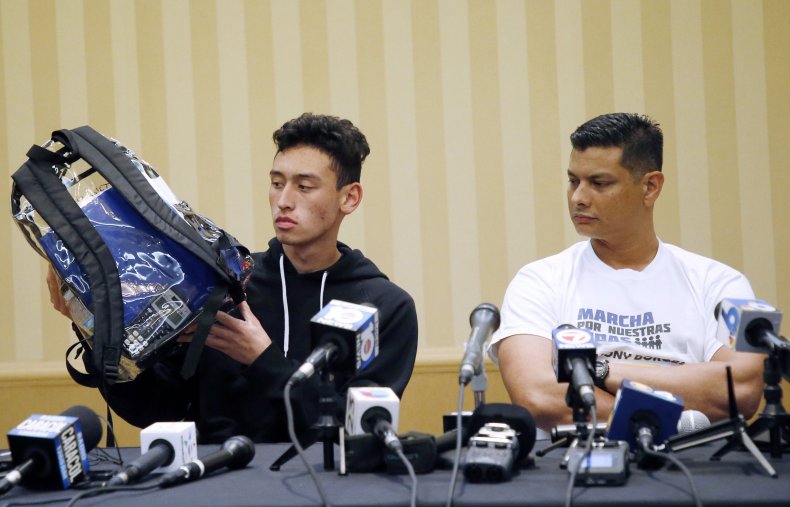 Both the backpacks and the school IDs are tactics schools across the country have used over the years to prevent violence, but school safety is not a one size fits all approach.
"You really have to look at a lot of factors to determine what measures make the most sense for every school," Michael Dorn, the executive director of Safe Havens International, a company that works with schools to come up with safety plans, told Newsweek.
Whether or not clear backpacks and ID programs can actually prevent or limit violence on school campuses is situational and varies from school to school and MSD is no exception.
"If it sounds like a simple solution, it's probably not that effective," Dorn said.
Safety requirements like clear backpacks can be a response to pressure from a concerned community, though rules instituted without really assessing the safety concerns at the school can be ineffective.
"The worst thing we can do is put immense pressure on our school officials to solve centuries-old problems overnight," Dorn said. "These are not simple problems, these are very longstanding very complex problems."
Newman agreed that safety can be "a very polarizing issue that does not have one simple solution." Safety solutions such as metal detectors, lock systems and bulletproof windows are, for the most part, "greeted with strong criticism from the student body."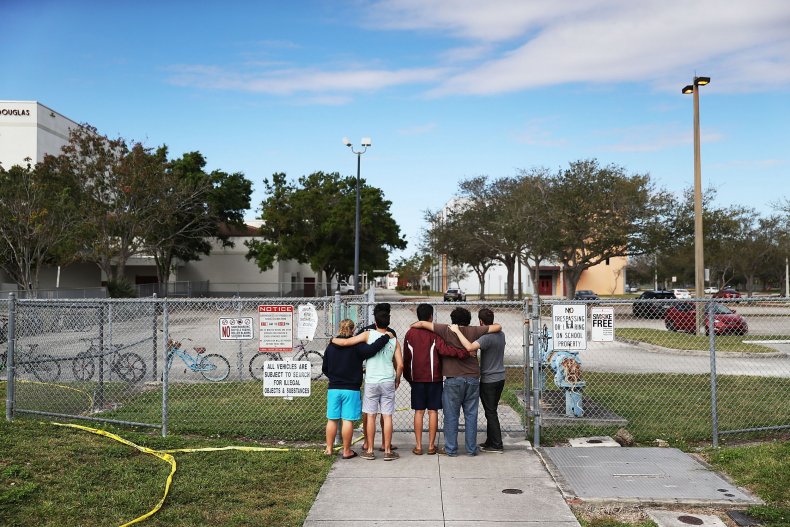 These solutions are often more complicated than they seem. For example, a properly run metal detection program can cost schools hundreds of thousands of dollars, Dorn noted. While metal detectors could secure a particular checkpoint, "There's ways around it."
To truly prevent bringing contraband property onto school grounds, such a system would require extra personnel, other secured entrances and exits, secured windows and more.
Newman believes that even if the clear backpack rule was instituted before February 14, the outcome of that day likely would have been the same. Fellow students have also mentioned this fact on social media.
The alleged Parkland shooter, Nikolas Cruz, was a former student and knew when the gates around the campus would be unlocked to give him a way in, the Sun Sentinel reported. Cruz was able to flee the scene with students who were fleeing the school.
What happened at MSD, while shocking, is not common. "Is it logical to focus almost exclusively on the events that are most catastrophic," said Dorn, adding that most homicides committed at schools are not part of mass shootings. The number of school shootings per year has actually decreased since the early '90s in America, research found.
What's more important than the physical objects like IDs, backpacks, metal detectors or bulletproof glass, is how they're used and the behaviors around safety, Dorn said. Mass shootings and day-to-day violence in schools will be "prevented with behavioral approaches."
While the decision to make transparent backpacks and IDs regulation came from the top down at MSD, Newman said that Principal Ty Thompson did talk with his students about the measures. Thompson did not respond to Newsweek's request for comment.
"I think Mr. Thompson has been really understanding throughout this transition and is truly trying his hardest to do what is best for the students," Newman said. Thompson met with Newman and other students on the school's Eagle Eye newspaper to discuss the safety protocol, she said.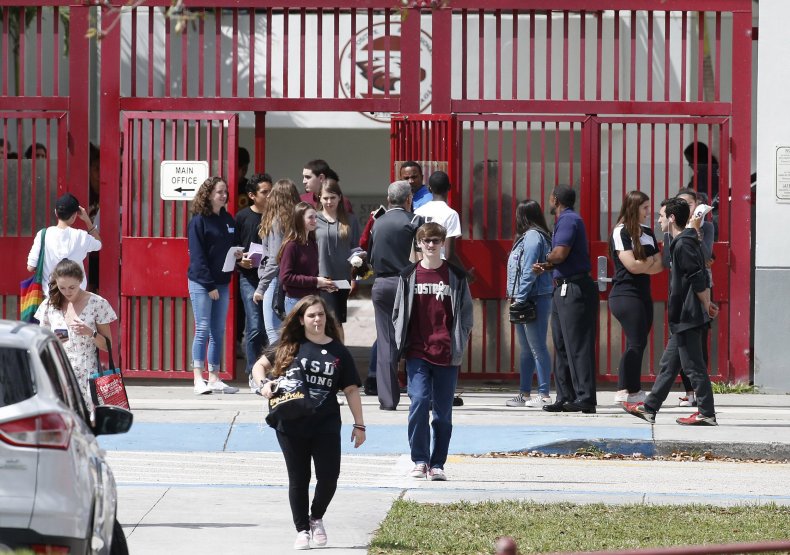 Involving students in the creation of such protocol isn't standard at all schools, but Dorn said schools could benefit from including student voices when revising safety procedures. Students may have a different understanding of their school and how their peers think than staff.
"There's some real powerful ways to involve students, there's some things you have to be careful of," Dorn said, adding that sometimes the solutions students suggest are simply unrealistic.
While Newman and other students don't feel safer with their new transparent backpacks, they're using them anyway. Many, including those who arranged the massive March for Our Lives protest, have bigger issues they want to address.
"I speak for myself and many others at my school, although not all, when I say that we need to see some legislative action at the root of the problem: guns," Newman said.