MSF Calls for Greek Refugee Camps to Be 'Evacuated Immediately' Amid Coronavirus Outbreak
Médecins Sans Frontières (MSF) is calling on Greek officials to evacuate the country's overcrowded island refugee camps amid the coronavirus outbreak, with experts warning that the lives of migrants, asylum seekers and refugees are being put at risk.
Speaking with Newsweek on Friday, Apostolos Veizis, the director of MSF's medical operational support unit in Greece, said the country's island refugee camps, which have struggled with severe overcrowding and poor access to sanitation and medical care for years, are the perfect places for the coronavirus outbreak "to become catastrophic."
Across five of Greece's islands, Lesbos, Chios, Samos, Kos and Leros, camps designed to collectively hold just under 6,200 people currently have a total of 42,000 migrants, asylum seekers and refugees forced to live on their grounds.
With limited access to sanitation, clean water and health services, Veizis said the already-desperate situation could become a disaster were the coronavirus disease to spread to island camps.
Currently, there have been no cases of COVID-19 identified across Greek island refugee camps. However, the recent confirmation of a case among a local resident of Lesbos, where the overcrowded Moria refugee camp is based, has raised concerns over what might happen if the virus were to spread to Greece's overcrowded camps.
Many migrants, asylum seekers and refugees, Veizis said, already struggle with chronic health conditions, as well as weakened immune systems. Meanwhile, there are thousands of children and pregnant mothers living at the overcrowded camps.
With little access to sanitation or medical assistance, the outbreak of a disease like coronavirus could end in devastation for some of the world's most vulnerable, with many asylum seekers and refugees fleeing violence and persecution in their home countries.
"In the case of a coronavirus outbreak, it would be quite difficult to manage," Veizis said.
"All of us are sharing messages using social media or the radio for people to stay at home," he said, but, when you are a migrant or asylum seeker living at an overcrowded camp, "which home" are you supposed to remain at, he questioned. "A tent? A cardboard box?"
"We say to 'wash your hands' but how do you wash your hands when there's no access to water and soap or when it's limited?" Veizis asked.
"In some parts of Moria camp there is just one water tap for every 1,300 people and no soap available," Dr. Hilde Vochten, MSF's medical coordinator in Greece, said in a separate statement shared with Newsweek.
"Families of five or six have to sleep in spaces of no more than three square meters," Vochten said. "This means that recommended measures such as frequent hand washing and social distancing to prevent the spread of the virus are just impossible."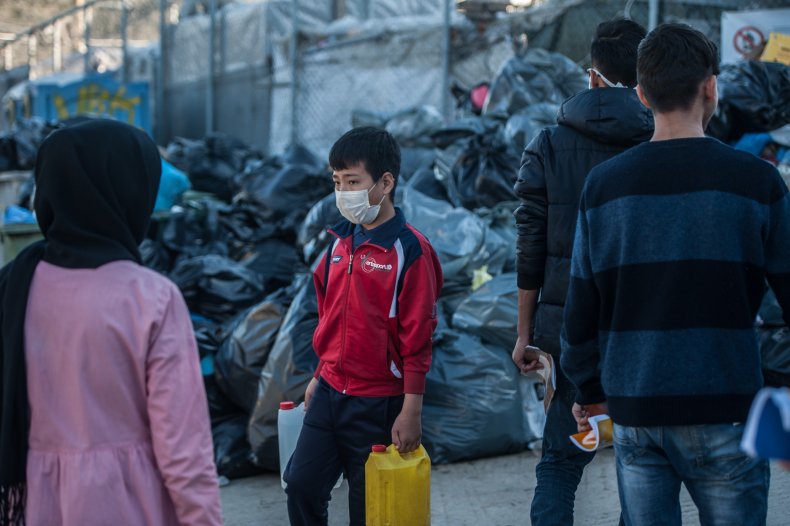 Instead of keeping migrants, asylum seekers and refugees at camps, the MSF medical operations chief said the organization was advising the government to relocate those living at overcrowded camps to facilities across the islands and on the mainland.
MSF has also said that health authorities should be implementing a plan that includes measures to prevent infection and control the spread of disease, including the rapid identification of cases and treatment of severe and critical cases.
Instead, Vochten said, "we have not seen a credible emergency plan to protect and treat people living there in case of an outbreak."
"We are in contact with the National Public Health Organization in order to coordinate actions, including health information and case management for local residents and asylum seekers alike," Vochten said. "But we need to be realistic: It would be impossible to contain an outbreak in such camp settings in Lesbos, Chios, Samos, Leros, and Kos."
Currently, there have been just 133 cases of coronavirus confirmed in Greece, with one of those resulting in death, according to an online tracker maintained by Johns Hopkins University. Worldwide, there have been nearly 137,000 cases confirmed, with 5,058 resulting in death.