Médecins Sans Frontières is sounding the alarm on the life-threatening situation faced by young migrants and asylum seekers attempting to reach the U.S. border through Mexico. The humanitarian organization said it has had to assist numerous young people who have faced kidnapping, sexual assault, and extortion at the hands of criminal gangs.
In a statement published on Twitter early on Thursday morning, MSF International warned that "in just 24 hours" its teams in Tenosique, a town located in the southeastern corner of the Tabasco state near the Guatemalan border, had assisted 11 young migrants from Honduras who were kidnapped as they fled the National Guard.
"The migrants were subjected to beatings, threats, torture, sexual assault and extortion at the hands of criminal gangs operating with impunity in Tabasco, Mexico," MSF said.
Noting that "thousands of people continue to flee violence and poverty" in Central America, MSF warned that Mexico's efforts to help the U.S. deter migration to the American border are only making migrants and asylum seekers "even more vulnerable."
"Thousands of people continue to flee," MSF said. Yet, "once in Mexico, they are exposed to yet more violence. Far from enabling people to migrate safely, Mexico's repressive border policy condemns them to greater suffering."
In a statement sent to Newsweek, a Department of Homeland Security spokesperson said that while migrants traveling with caravans to the U.S. border may face violence, "many members of the caravan have already incited violence and lawlessness [themselves,] putting countless lives at risk."
That claim appeared to be in reference to recent clashes between migrants and asylum seekers and Mexican authorities, with the former trying to push through border barriers between Mexico and Guatemala in a bid to make their way to the U.S.
The DHS spokesperson added that "migrants should not trust the criminal networks they pay to illegally smuggle them into a country."
"These bad actors prey on vulnerable populations and often exploit them along the way," they said.
"Being part of a caravan provides no protection nor special treatment; if anything it only exacerbates the risk of an already dangerous journey," the spokesperson said.
"The governments of Guatemala and Mexico and the [United Nations' International Organization for Migration] are all providing free transportation for migrants to go back to their home countries," they added.
The fact that migrants and asylum seekers making their way through Mexico to reach the U.S. border are at great risk of being targeted by criminal groups is nothing new.
The Trump administration has received widespread warnings from immigration and human rights groups that the lives of countless Central American asylum seekers are in danger, not only in their home countries, but also during the difficult journey to the U.S.-Mexico border.
The government has also been warned of the dangers that its own "Remain in Mexico" policy poses to those forced to stay in Mexican border towns, with some areas having a level 4 travel advisories from the U.S. The policy has forced tens of thousands of migrants and asylum seekers to wait in Mexico while their U.S. immigration claims are processed.
Tabasco state has a "level 2" travel advisory from the State Department, suggesting Americans "exercise increased caution" in the area due to crimes. The Tamaulipas state has been given a "level 4" travel advisory, telling Americans "do not travel" to the state "due to crime and kidnapping.
"Organized crime activity—including gun battles, murder, armed robbery, carjacking, kidnapping, forced disappearances, extortion, and sexual assault—is common along the northern border and in Ciudad Victoria," the State Department warns.
"Criminal groups target public and private passenger buses as well as private automobiles traveling through Tamaulipas, often taking passengers hostage and demanding ransom payments."
"Heavily armed members of criminal groups often patrol areas of the state in marked and unmarked vehicles and operate with impunity particularly along the border region from Reynosa northwest to Nuevo Laredo," it continues, adding that "in these areas, local law enforcement has limited capability to respond to crime incidents."
Newsweek has contacted MSF for more information and contacted the White House and the Mexican government for comment.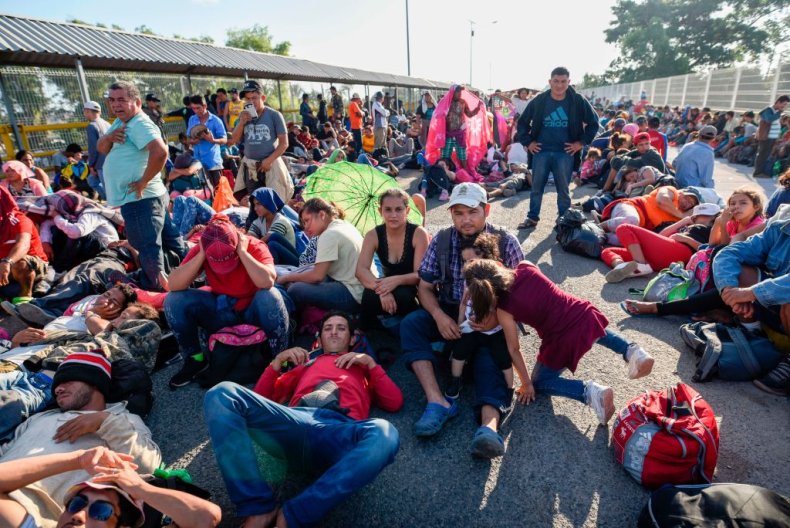 Updated: This article has been updated with a statement from the DHS.