MSI Prestige 15 Is a Nearly Perfect Portable Powerhouse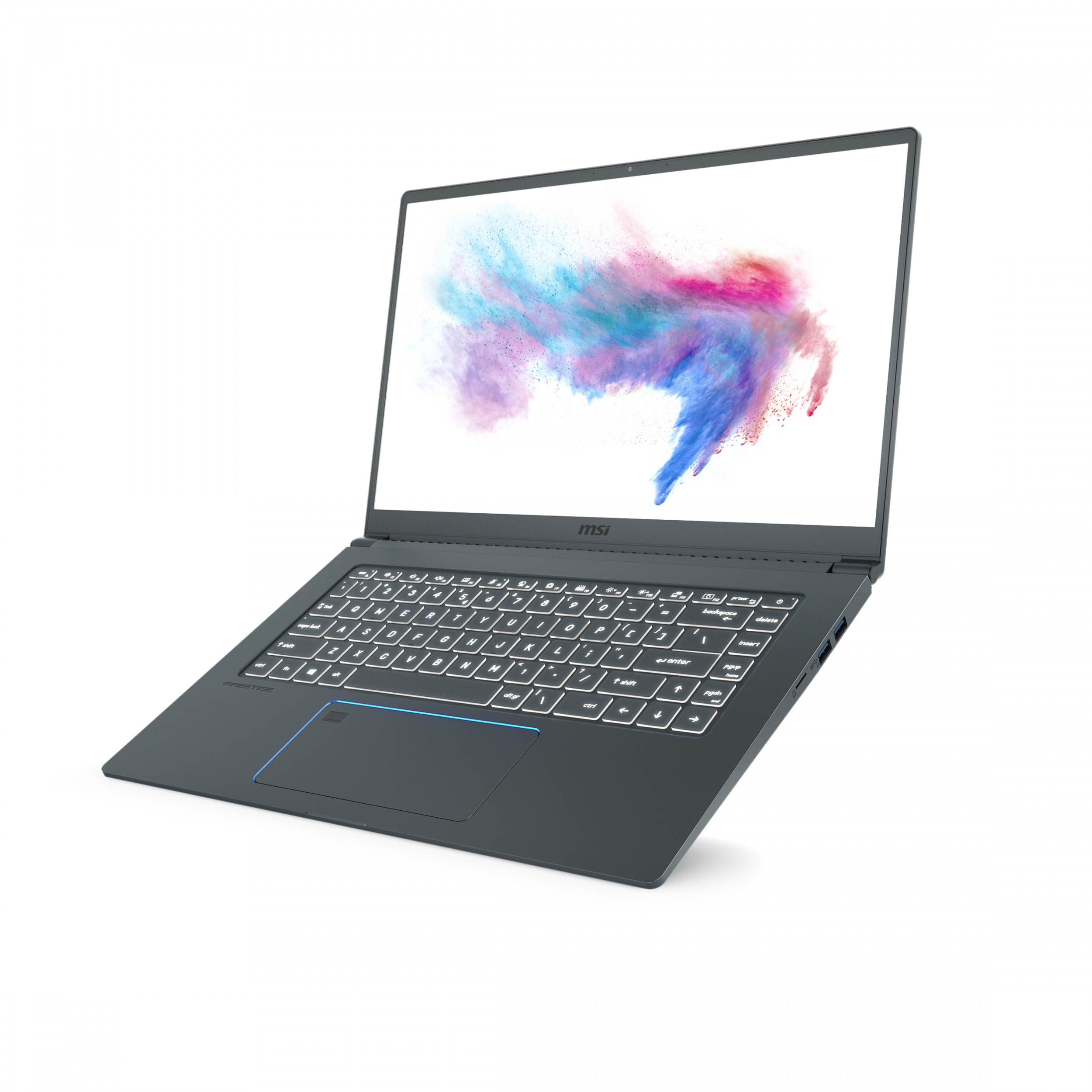 The MSI Prestige 15 takes on the MacBook Pro, Dell XPS 15 and other notebooks with the power creators need in a slim, light package that is easier on your budget.
With a 4K display, a top-tier price of $1,799.99 as tested and enough power to tackle photo and video editing, it's a tempting option that users need to pay attention to.
With an Intel Core i7 10th Gen 6-core processor, NVIDIA GTX 1650 GPU and 32GB of DDR4 RAM, the Prestige 15 A10SC-010 that we tested zipped through photo editing tasks and video editing in DaVinci Resolve.
This option stands out even more with a thin and light design, that feels sturdy and includes a quite capable keyboard.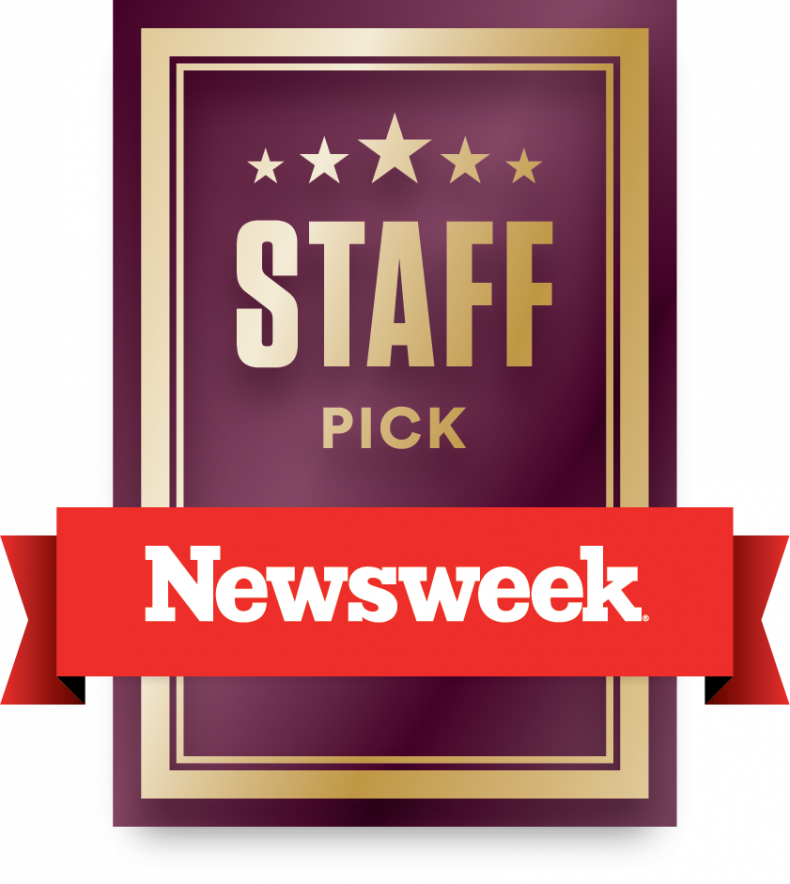 What You Get for the Price
For $1,799 you get a very powerful laptop. This includes a 15.6-inch 3,840 x 2,160 color-calibrated display, Intel Core i7-10710U 10th Gen processor, GTX1650 MAX-Q graphics, 32GB DDR4 RAM, a 1TB NVMe SSD, and Windows 10 Pro. MSI also includes a laptop sleeve and an Ethernet adapter with this model.
While you cannot configure this with a more powerful 8-core processor like you can with the Dell XPS 15 or Apple MacBook Pro, the value is quite incredible.
It's also lighter than the competition at 3.6 pounds, while the Dell XPS 15 starts at four pounds, and the MacBook Pro 16 starts at 4.3 pounds. If you're hauling the laptop around from meetings or using this as the launch of your side-hustle, you will appreciate the portability, power, and price of the MSI Prestige 15.
Design & Features
Despite the thin and light design, the MSI Prestige 15 feels quite sturdy. The base does not flex and even with pressure applied to the back, the display is solid. The hinge does a good job of keeping the display steady on a lap, and it folds flat if you want to share the screen with someone without swiveling the laptop back and forth.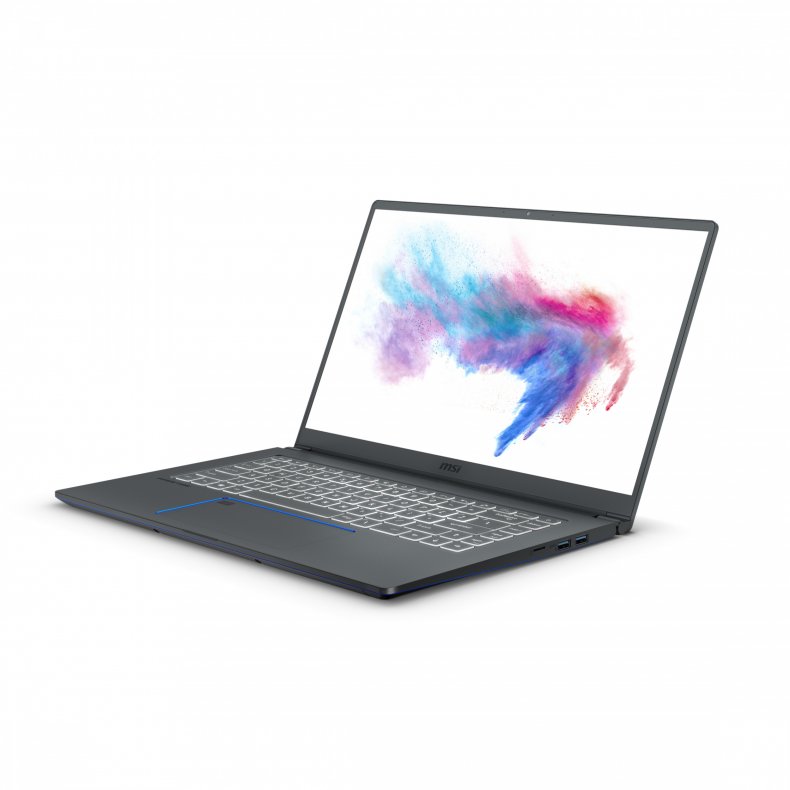 The laptop is cheaper than the competition, but it looks the part of an expensive laptop with an aluminum top, shiny beveled edges and clean design.
A good keyboard is as important as any other spec or feature, and MSI delivers here with a great typing experience. There is plenty of travel, the distance a key moves when you press it, and the keys have a good spring to them. The key layout took a little adjusting to, but it was a quick adaptation to be back at full typing speed. The keys are also backlit, so it's easy to use in a dim room.
The touchpad is very wide, which is handy for moving a cursor across the large display. We would love to see a little more height to the touchpad, but it's not a dealbreaker. It's smooth, responsive and easy to use.
A fingerprint sensor is built-in to the touchpad that you can use to sign in to Windows. There is a decent webcam at the top of the display, but it does not support Windows Hello.
MSI offers a Creator Center application that allows you to easily toggle on and off settings that you may need when working in creative apps. This works with many photo editing and 3D-design applications. When you turn these options on, the laptop optimizes the power for supported apps.
The Creator Center also allows you to see system performance, change screen settings, battery settings and toggle other system options on and off easily. One of the battery options is silent if you need to keep the laptop's fans quiet.
We were pleased with the overall performance of the MSI Prestige 15 for everyday tasks including browsing and editing documents and spreadsheets. Installing Adobe Photoshop we were able to quickly edit, apply filters, and exported photos. Using DaVinci Resolve, we edited a 4K video file recorded at 60 frames per second and were able to export as a 1080P file quickly.
While using the laptop in balanced battery mode with the display set at 50 percent brightness this laptop will easily last a full day of web and office work. Taxing tasks like video editing will shorten the battery life, but you can expect to get through most busy days with power to spare.
The down-facing speakers aren't remarkable with little bass and a slightly muted sound, especially when you are using the Prestige 15 on your lap. They will get the job done for short sessions but plan on external speakers or headphones if you are jamming out or creating.
Display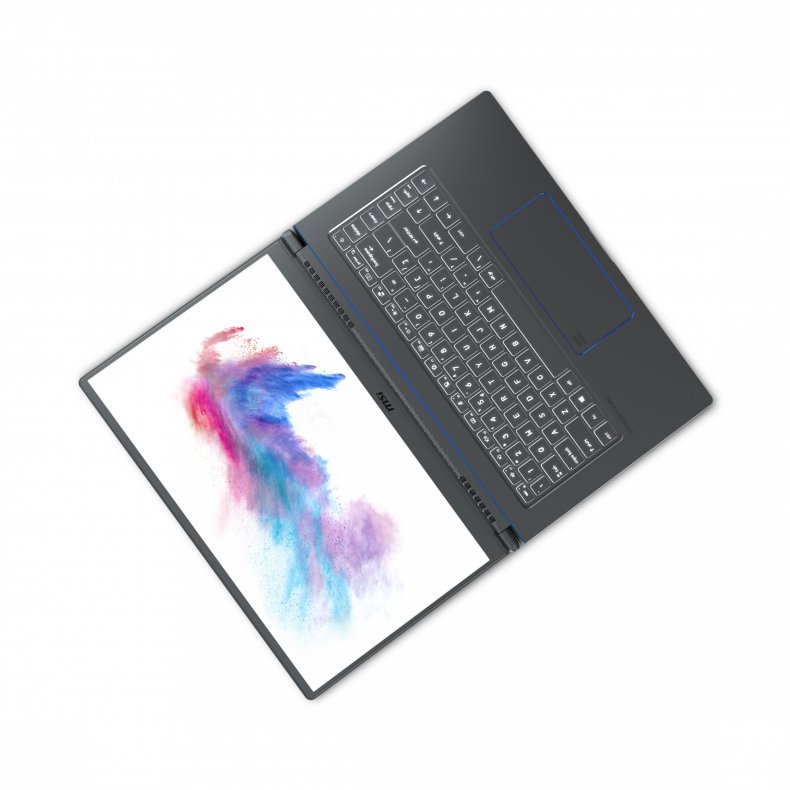 The 15.6-inch 4K display is great. Details are sharp and the brightness is good enough that we can even use it outdoors at 50 percent in the shade and at full brightness in the sun with little glare. It isn't a touchscreen, but you can fold it flat and press F12 to flip the screen if you are sharing across a desk or a table.
In the Creator Center or settings, you can adjust the display options to toggle between Adobe RGB, sRGB, movie, office, gamer, and anti-blue-light. The display is factory calibrated to AdobeRGB 100 percent, Delta E<2 and it features True Color technology. These terms essentially mean that the color you see on your screen is accurate and very close to the color that other people will see on properly calibrated displays. This level of accuracy is important when working on photo and video projects.
Ports & Connectivity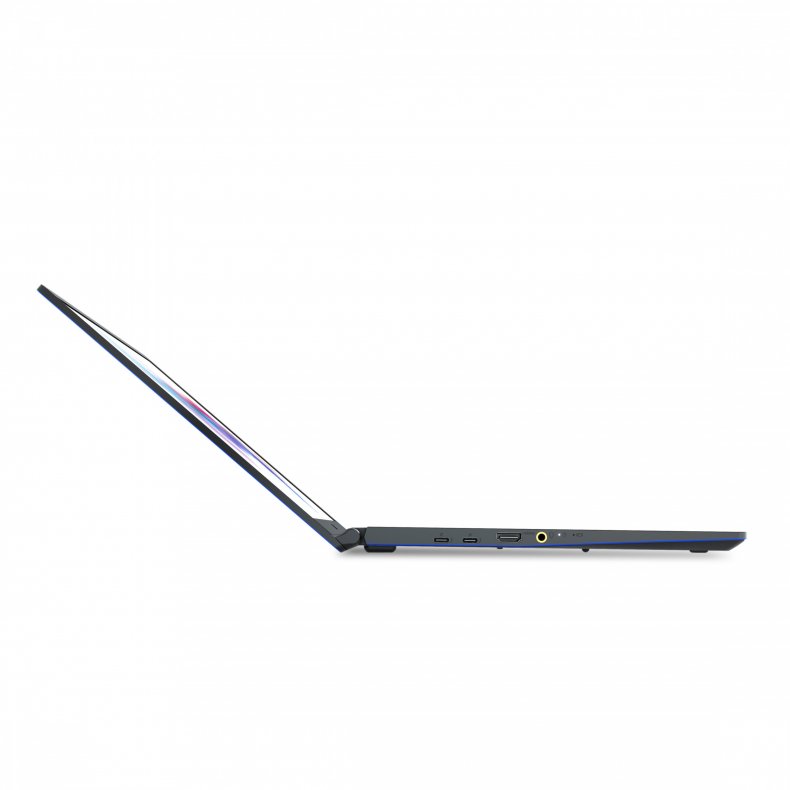 The MSI Prestige 15 includes the connectivity options that creatives need. You get;
2 Thunderbolt 3 ports
HDMI out
3.5mm headphone jack
2 USB 3.2 ports
microSD card slot.
You'll need to use one of the Thunderbolt ports for charging the laptop. MSI includes a free sleeve and Ethernet adapter, so despite the lack of an Ethernet port, you don't need to buy anything else to use a wired connection.
There is no security lock slot included, so if you need to secure the laptop to a specific spot you will need to find an alternate solution.
Is the MSI Prestige 15 Worth Buying?
The MSI Prestige 15 is an excellent choice for creators, especially on a budget. There are some concessions to speed, but ultimately you have plenty of power to take on photo editing, video editing, and other creative tasks for hundreds less than the competition.
With a 4k display that is color accurate and usable in a range of lighting conditions, plus a thin and light design you can take the Prestige 15 wherever you need it, and still be productive.
Whether you are an established creator looking for a budget-friendly upgrade, starting a side hustle or working on upskilling in 2020, the MSI Prestige 15 A10SC-010 is a great notebook.