MSNBC Anchor Ridicules Jeanine Pirro For Praising Flynn Judge: I'll Donate $500 If Fox News Replays Clip
MSNBC anchor Nicolle Wallace offered to donate $500 to charity if Fox News aired a Jeanine Pirro segment where the former judge praised U.S. District Judge Emmet Sullivan and suggested he could throw out Michael Flynn's guilty plea.
"On Tuesday, the parties will appear again before Judge Emmet Sullivan. A jurist unafraid of the swamp," Pirro said on Fox News' Justice with Judge Jeanine. "A judge who has a track record of calling out prosecutorial misconduct. A man who does not tolerate injustice or abuse of power. Judge Sullivan can throw out this guilty plea if he concludes the FBI intentionally interfered with their target, Flynn's constitutional right to counsel."
Pirro's views were proven wrong today, when Sullivan harshly criticized Flynn and warned Trump's former National Security Adviser that he will likely face jail time for lying to the FBI.
"All along, you were an unregistered agent of a foreign country while serving as the national security adviser to the president of the United States," Sullivan said, according to CNN. "That undermines everything this flag over here stands for. Arguably you sold your country out."
"I'm not hiding my disgust, my disdain, for this criminal offense."
Following a recess, Flynn's lawyers accepted a delay in his sentencing. The retired Army lieutenant general will not be sentenced after his cooperation with special counsel Robert Mueller in another case in Virginia comes to an end.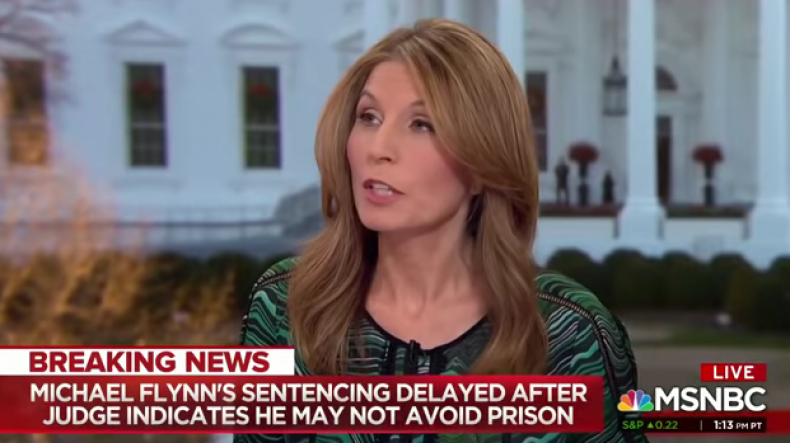 During a segment on MSNBC's Deadline: White House, White House correspondent for Associated Press Jonathan Lemire pointed out that White House Press Secretary Sarah Huckabee Sanders was asked to comment on Fox New's argument.
"She was asked about what we heard over the weekend from Fox News, from Judge Jeanine Pirro and others, who have suggested this sort of conspiracy that Flynn was railroaded by the FBI agents—he pressed into this. They feel like that would come out today and perhaps be an argument they can use to undermine the [Robert] Mueller probe," Lemire said. "Of course, none of that did transpire today, despite Sarah in a morning interview suggesting she, again, thought Flynn had gotten a raw deal."
"She still did not walk back any of the president's praise of Flynn, suggesting it was appropriate for him to still consider him a good man because of the crimes that he's alleged to have committed, did not have anything to do with him."
Wallace then aired Pirro's opening statement from Saturday's Justice With Judge Jeanine, before challenging Fox News to replay the segment in exchange for a donation to charity.
"I will donate $500 to charity if that clip of Jeanine Pirro airs on Fox News in primetime," she said.
Watch the MSNBC segment below: