MSNBC Contributor Mocks Trump: 'You're Going to See Unhinged Like We've Never Seen Unhinged Before'
MSNBC contributor Donny Deutsch mocked President Trump's defiant response to federal prosecutors' Friday court filings.
On Monday morning, Trump tweeted in two posts that "Democrats can't find a Smocking Gun tying the Trump campaign to Russia after James Comey's testimony. No Smocking Gun...No Collusion." @FoxNews That's because there was NO COLLUSION. So now the Dems go to a simple private transaction, wrongly call it a campaign contribution,.......which it was not (but even if it was, it is only a CIVIL CASE, like Obama's - but it was done correctly by a lawyer and there would not even be a fine. Lawyer's liability if he made a mistake, not me). Cohen just trying to get his sentence reduced. WITCH HUNT!"
Deutsch derided the president's latest tweets. "He knows a 'smocking' gun is pointing at him. These tweets are going to become more and more imbecilic. They're going to make less and less sense," he said. "You're going to see unhinged like we've never seen unhinged before."
The commentator joined a chorus of critics who scoffed at Trump's reaction to the sentencing memos from the Southern District of New York and special counsel Robert Mueller.
The New York legal filing suggested that Trump directed the illegal hush payments his former lawyer, Michael Cohen, made to two women who said they'd had affairs with the president.
Newsweek subscription offers >
Last month, Cohen pleaded guilty to lying to Congress about Trump's attempts to build a tower in Moscow. Mueller says that Cohen tried to receive Russian government support for the construction project. The president said in 2016 that he did not have business ties to Russia, but Cohen said he informed Trump and his family about ongoing efforts to construct the building, according to The Guardian.
The legal filings also said that Trump's former campaign chairman, Paul Manafort, lied to federal agents about his interactions with Konstantin Kilimnik, who is reportedly connected to Russian intelligence. The scope of Manafort's interactions with pro-Russian individuals has not been revealed.
"Any finding by Mueller that Trump's campaign chief was complicit in Moscow's efforts to sway the election to Trump could be devastating for the president," The Guardian reported.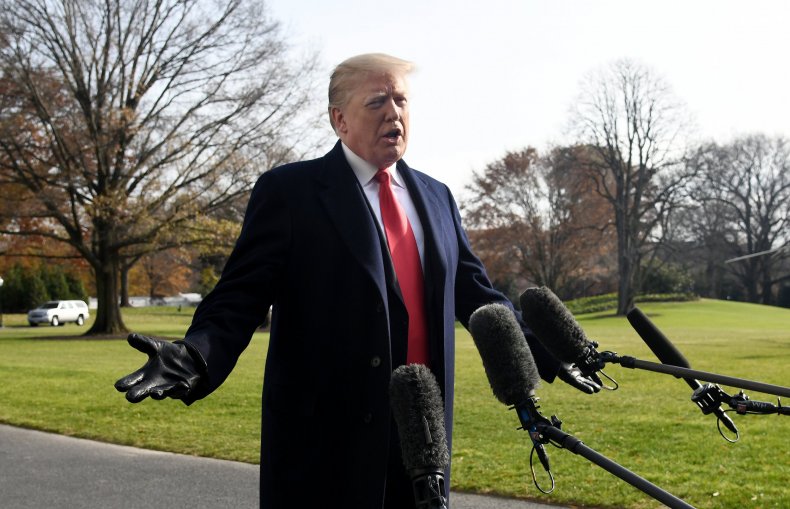 The president dismissed the filings. "Totally clears the President. Thank you!" he wrote after the memos were filed.
But legal experts and former government officials dismissed Trump's claims that the court documents absolve him.
"The president and his lawyer violated campaign finance laws to influence the outcome of the election while his campaign chair was meeting with an intelligence asset of a foreign government that was trying to influence the outcome of the election. Not very legal and very cool," former Justice Department spokesman Matthew Miller tweeted.
Adam Schiff, the ranking member of the House Intelligence Committee, said that Trump could be imprisoned after departing office.
"There's a very real prospect that on the day Donald Trump leaves office the Justice Department may indict him. That he may be the first president in quite some time to face the real prospect of jail time," Schiff said on Sunday.
MSNBC Contributor Mocks Trump: 'You're Going to See Unhinged Like We've Never Seen Unhinged Before' | U.S.