Joe Biden Not A 'Me Too' Moment, Targeted For Not Being Progressive Enough, MSNBC Hosts Say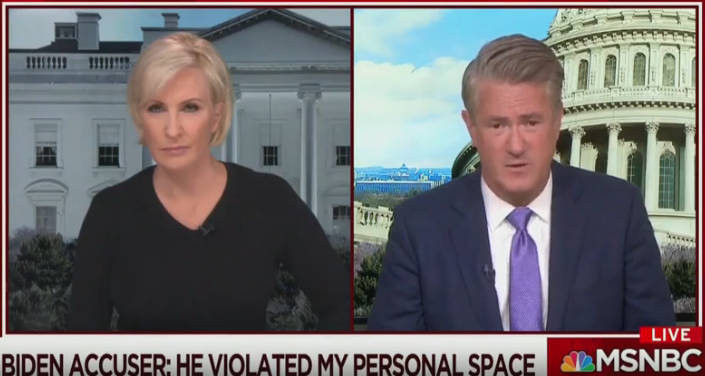 MSNBC's Morning Joe hosts both derided Lucy Flores' inappropriate touching accusation against Joe Biden, accusing his "crazy" left-wing critics of trying to force a "Me Too" moment.
Joe Scarborough and Mika Brzezinski defended the former vice president as "extremely flirtatious in a safe way" as they rebuffed his critics for piling on former Nevada Assemblywoman Flores' allegation against Biden. Scarborough claimed Biden was only being attacked by the left for not being "progressive enough." And Brzezinski asked Democrats "are we really going to do this?" as she mocked those trying to bring Biden down through the "Me Too" movement. Both MSNBC hosts gushed over Biden's service to the Democratic Party throughout his long political career.
"And suddenly, because he's not sufficiently progressive enough, an article is written suggesting that he's a misogynist and a racist," Scarborough said Monday morning. "I mean, that's. In my opinion, as somebody that left a crazy party, that looks like crazy elements of a crazy party. I know there are majority of good Democrats in America don't feel that way about Joe Biden."
"How outrageous when you're running against Donald Trump to call a man who served for eight years as Barack Obama's vice president a racist and a misogynist in an article? It's just beyond," Scarborough added.
Adrienne Elrod, a Democratic Congressional Campaign Committee former chief of staff, agreed with the MSNBC co-host, and flatly rejected the Biden accusations as "simply not true." She accused progressive factions of the Democratic Party of preemptively targeting Biden's potential candidacy.
Brzezinski described her personal interactions with Biden over the years, saying she understands how his physical actions could be "misconstrued."
"There's a lot of things I know about Joe Biden," said Brzezinski. "I've known him for a long time. He is extremely affectionate, extremely flirtatious in a completely safe way. I am sure that somebody can misconstrue something he's done. But as much as I can know what's in anyone's heart, I don't think there's a bad intent on his part at all. And I read the account and I was like, 'yeah, that's Joe Biden,' but never thought for a second that he meant anything from it except to be nice, to be kind."
"And here it is all about a friendly exchange, Joe Biden, when she had a very bad day when she fell down and he put his hands on her shoulders and was sort of holding her up and, I think, gave her a kiss and thanked her for helping," Brzezinski continued. "It was completely misunderstood and she finally had to take to pen and paper saying this did not happen to me. This is not a 'Me Too' moment, this is not the Joe Biden that I know."
On Twitter, Scarborough joined a chorus of political pundits including Bill Kristol who reminded Trump supporters and conservatives about the billionaire businessman's infamous "grab her by the p***y" remarks caught on audio tape.
Scarborough ridiculed one particular article from New York Magazine's "The Cut," the same publication where Flores' accusation was printed last week, which described the former vice president's fall from "beloved goofy national uncle" to "pro-Trump."
"This is quite a look for the Revolution," Scarborough tweeted, mocking the "Joe Biden Isn't the Answer" article. "A man who dedicated his life (through tragedy) to his party is now trashed as a racist and misogynist because he is insufficiently liberal. Good luck with that, folks. Why don't you just send your checks directly to Trump?"