MSNBC Panel Passionately Defends Joe Biden, Mocks Donald Trump Divorces: 'We're Not Snowflakes'
An impassioned MSNBC panel defended former Vice President Joe Biden from accusations of inappropriate touching, with guest Claire McCaskill ripping President Donald Trump's multiple divorces and co-host Mika Brzezinski exclaiming, "we're not snowflakes!"
Former Missouri Democratic Sen. McCaskill appeared on Thursday's "Morning Joe," where several guests and Brzezinski offered a passionate defense of Biden's character, declaring "Joe Biden is no predator." Despite several accusations and a Wednesday apology swirling around the longtime Delaware senator, the MSNBC panel explained why his physical pushes into some women's personal space has been misconstrued. McCaskill and Brzezinski, both longtime acquaintances of Biden, 76, stressed they "respect" his accusers but demanded another way forward for women as a whole.
"I understand why this has happened. And I understand how it's happened. Those of us who know Joe Biden and have known him for a long time, it's a little hard because this is Joe," McCaskill said. "He never is one of those, you know, shake your hand and look to the next person -- which by the way, is the norm in politics for people who have achieved what Joe Biden has achieved in the political realm. He never looks past you to the next person. He wants to look inside of you and really hear you. And he used physical contact to do that with men and women. Joe Biden is no predator. This is not sexual."
Soft-spoken MSNBC contributor Mike Barnicle thanked McCaskill for proving proof "Joe Biden is a human being." Barnicle noted the National Rifle Association is currently holding up the Violence Against Women Act in Congress and urged women and Americans as a whole to help push women's rights forward.
McCaskill agreed and took the opportunity to highlight Trump's past problems with women.
"Let's talk about stuff like how we're going to help women going forward in this country," McCaskill suggested. "Let's start talking about the stuff that is really going to matter in this presidential election. By the way, we got a guy in the Oval Office who changes wives like other men change shirts."
One guest questioned why the Biden team wasn't better prepared for what she called an "open secret" in Washington that Biden is a "little handsy."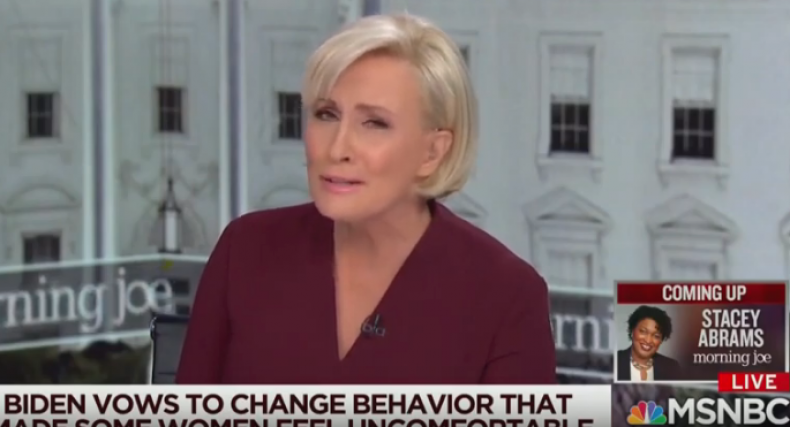 Brzezinski launched into passionate defense of Biden's personality and family history, including the death of his wife and daughter in a car accident just six weeks after he was elected senator from Delaware in November 1972.
"In this climate I feel like a lot of men have nowhere to go when something like this happens. And what seems unfair about this is again, we're not talking about sex. We're not talking about harassment. None of these women have said it felt sexual, they've said it was a little weird ...This is a man who lost his wife and baby in a car accident. This is a man who lost his son to brain cancer. This is a man whose family has faced challenges ..."
The "Morning Joe" co-host then took a swipe at Biden accusers Lucy Flores, Caitlyn Caruso, D.J. Hill and Lucy Flores.
"And I have got to tell you," said Brzezinski. "If you can go on national television and talk about Joe Biden putting his hands on your back, and now you're demanding an apology from him because what he said on Twitter is not enough, you probably could have told him in real time. And he probably would have said, 'I'm sorry, I was just trying to be nice.' And it probably would have been finished right there!"
"Like come on! We're not snowflakes," Brzezinski continued. "Okay, are we? Are you a snowflake, Claire?"
"Pretty sure I'm not," replied McCaskill.