MSNBC Contributor Trolls Donald Trump With Fireside Chat, Reads Portion of Ukraine Call Transcript
Opinion columnist Jonathan Capehart didn't wait on President Donald Trump to hold a fireside chat. He held his own.
Capehart, who writes for The Washington Post and serves as a contributor for MSNBC, stepped in to guest host the cable news network's AM Joy this weekend. During a segment of Saturday's show, Capehart aired a clip of President Donald Trump defending a July 25 call between himself and Ukranian President Volodymyr Zelensky.
"It was a good call. Not a good call, a perfect call," Trump said in the clip.
Following the brief video, Capehart appeared sitting next to a simulated fireplace, holding a binder containing the redacted transcript of the call released in October by the White House.
"The phone call was so perfect, according to Trump, that he told The Washington Examiner that he wants to read it—that is, the edited notes of the call—in a live televised fireside chat," Capehart said.
The Examiner published its interview with the president on Thursday, where Trump said that if Americans heard the call read aloud, they would agree there is nothing inappropriate contained within.
"This is over a phone call that is a good call," Trump told the Examiner. "At some point, I'm going to sit down, perhaps as a fireside chat on live television, and I will read the transcript of the call, because people have to hear it. When you read it, it's a straight call."
Capehart said that Trump wants to do chats like former President Franklin D. Roosevelt did in the 1930s and 1940s, "minus the live television and minus the allegations of using his presidential powers to force a foreign country to interfere in American elections."
Capehart then read from the transcript, highlighting the section of the call where Trump asks Zelensky for a favor.
"I would like you to do us a favor, though because our country has been through a lot and Ukraine knows a lot about it," Trump said on the call, according to the transcript. "I would like you to find out what happened with this whole situation with Ukraine, they say Crowdstrike...I guess you have one of your wealthy people...the server, they say Ukraine has it. There are a lot of things that went on. The whole situation. I think that you are surrounding yourself with some of the same people. I would like to have the attorney general call you or your people and I would like you to get to the bottom of it."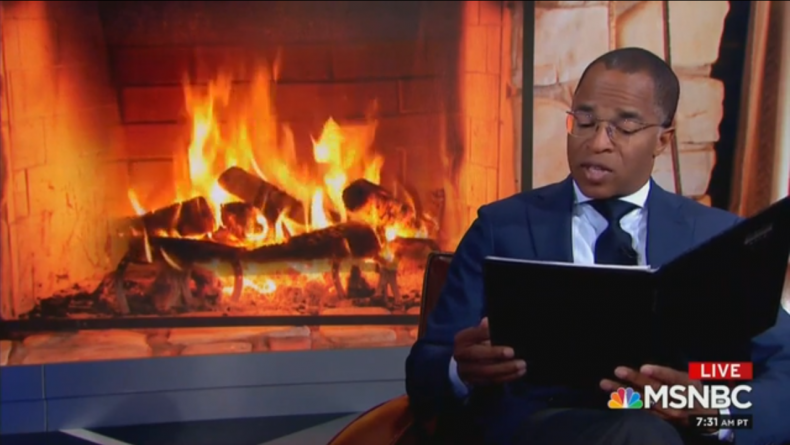 Crowdstrike, a cybersecurity firm, was hired to determine just what had been hacked, and who had done the hacking, to servers owned by the Democratic National Convention. Ultimately, the investigation determined that Russia was behind the hack of approximately 140 servers, but the circumstances surrounding the Californa-based company have become conspiracy theory fodder.
Those theories, which the president has regularly tweeted or spoken about publicly, began just before Trump entered the White House in 2017. According to Vanity Fair, then-Breitbart reporter Lee Stranahan published a story detailing that some Ukranian government officials had been working to help Hillary Clinton secure the presidency while Russia had been doing the same for Trump.
Since then, far-right bloggers and media outlets have floated various versions of the story, including that Dmitri Alperovitch, the co-founder of Crowdstrike is Ukrainian. However, Alperovitch was born in Russia and is now an American citizen.
Members of Trump's administration have also dismissed the theories, and the president's former homeland security adviser, Tom Bossert, told ABC News anchor George Stephanopoulos that the assertion of Ukrainian interference is debunked.
"It is completely debunked," Bossert said during a September appearance on the network's Sunday morning news show This Week. "I am deeply frustrated with what he and the legal team is doing and repeating that debunked theory to the president. It sticks in his mind when he hears it over and over again, and for clarity here, George, let me just again repeat that it has no validity."
However, the president has repeated the idea that Ukraine has "the server" on several occasions, and some of his allies have also made similar claims.
During Capehart's fireside chat, the MSNBC contributor went on to read another section of the transcript between Trump and Zelensky where the Ukranian president assures Trump that "all the investigations will be done openly and candidly."
Trump follows up by asking that the country also investigate Hunter Biden, the son of former Vice President and 2020 presidential candidate Joe Biden.
"The other thing, there is a lot of talk about Biden's son, that Biden stopped the prosecution and a lot of people want to find out about that. So whatever you can do with the attorney general would be great. Biden went around bragging that he stopped the prosecution, so if you can look into it...it sounds horrible to me,'" Trump says according to the transcript.
Trump has maintained that the call did not entail quid pro quo. However, the president's acting Chief of Staff Mick Mulvaney admitted in a September press conference that Trump did engage in quid pro quo and that people should "get over it." Mulvaney also stated that the favor had nothing to do with the Bidens and was instead related to "the corruption" around the DNC server.