MSNBC Panel Baffled by Elizabeth Warren's 'Brutal' Poll Numbers, Say Joe Biden 'Helped' by Allegations
Thursday's Morning Joe MSNBC panel appeared shocked and confused as to why Massachusetts Senator Elizabeth Warren's campaign has failed to take off, citing recent polls showing her trailing far behind frontrunners Joe Biden and Bernie Sanders.
Co-host Joe Scarborough offered high praise for Warren as a 2020 Democratic candidate who "knows what she stands for and delivers her message." But Scarborough and former Missouri Senator Claire McCaskill pointed to a New Hampshire poll this week showing Warren with only single-digit support and in fourth place behind Biden, Sanders and South Bend, Indiana, Mayor Pete Buttigieg. McCaskill, who has been critical of both Sanders and Warren in the past, said such "brutal" early poll numbers could already signal the demise of the Massachusetts Democrat's campaign.
"I just have to say again, I saw Elizabeth Warren on TV last night, I will tell you, I still don't understand why she's not connecting," Scarborough said during the Thursday Morning Joe panel. And every time I say that people are like 'well, it's because of this blah blah.' She should be doing a lot better in that state for a lot of different reasons, that's the same media market," Scarborough added, noting her home state of Massachusetts neighbors New Hampshire.
"That's brutal for her, that's a brutal poll for her," McCaskill chimed in. "If she's not in the top three in New Hampshire? That is devastating."
The Saint Anselm College poll conducted last week showed Biden in the lead with 23 percent of New Hampshire Democratic voter support. Bernie Sanders is in second with 16 percent and Pete Buttigieg pulled in 11 percent versus. Warren failed to crack 10 percent.
"So far this is a mystery to me why Elizabeth Warren is not doing better in some of these early polls," Scarborough said.
The MSNBC panelists said Biden is most likely in the lead primarily because of his name recognition and ties to former President Barack Obama. McCaskill and Morning Joe co-host Mika Brzezinski joined a pollster in saying they think the inappropriate touching accusations against Biden actually "helped him" maintain his lead atop nationwide polls.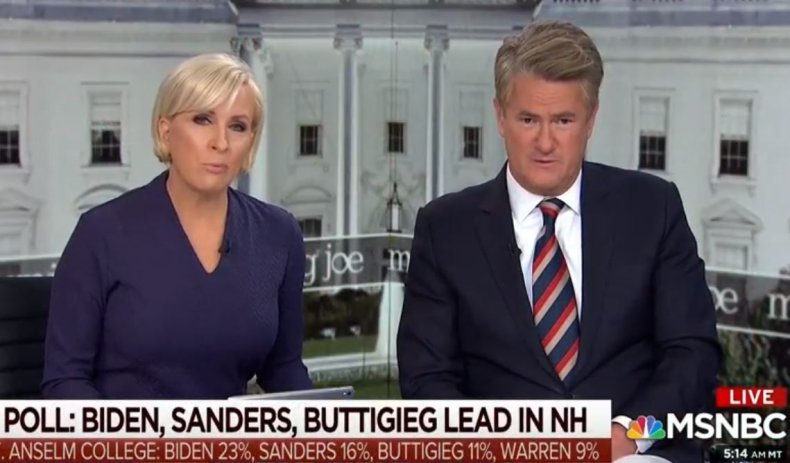 Brzezinski quipped Biden has kept his lead despite reports about "the way he hugged people."
The Thursday MSNBC segment then showed a Quinnipiac poll of California Democratic voters with Biden and Sanders leading with 26 and 18 percent, respectively. Kamala Harris, a senator from California, trailed just behind Sanders in third place with 17 percent, prompting Scarborough to wonder if, like Warren, her campaign is already in trouble.
Warren and Buttigieg tied for fourth place each with 7 percent of Democrat and Democratic-leaning voter support.
"Third place in your home state? There's another person, Kamala Harris. Great launch, great political athlete like Elizabeth Warren is," Scarborough said. "She's got a good social media following she's doing everything she needs to do and she's still in third place in her home state."
Jim Messina, founder of Washington political strategy group, The Messina Group, said he believes Harris has the campaign stamina and fight to surge ahead among the nearly 20 Democratic candidates. "If she was a stock right now, I'd buy her," he said.
The MSNBC panel said Beto O'Rourke's single-digit poll numbers are a result of the former Texas Democratic representative being overshadowed by Buttigieg, who they labeled as the "real" second coming of Robert Kennedy, referencing his recent Vanity Fair cover story. Brzezinski said O'Rourke should begin taking on the South Bend mayor with direct criticism to get ahead in the crowded field.