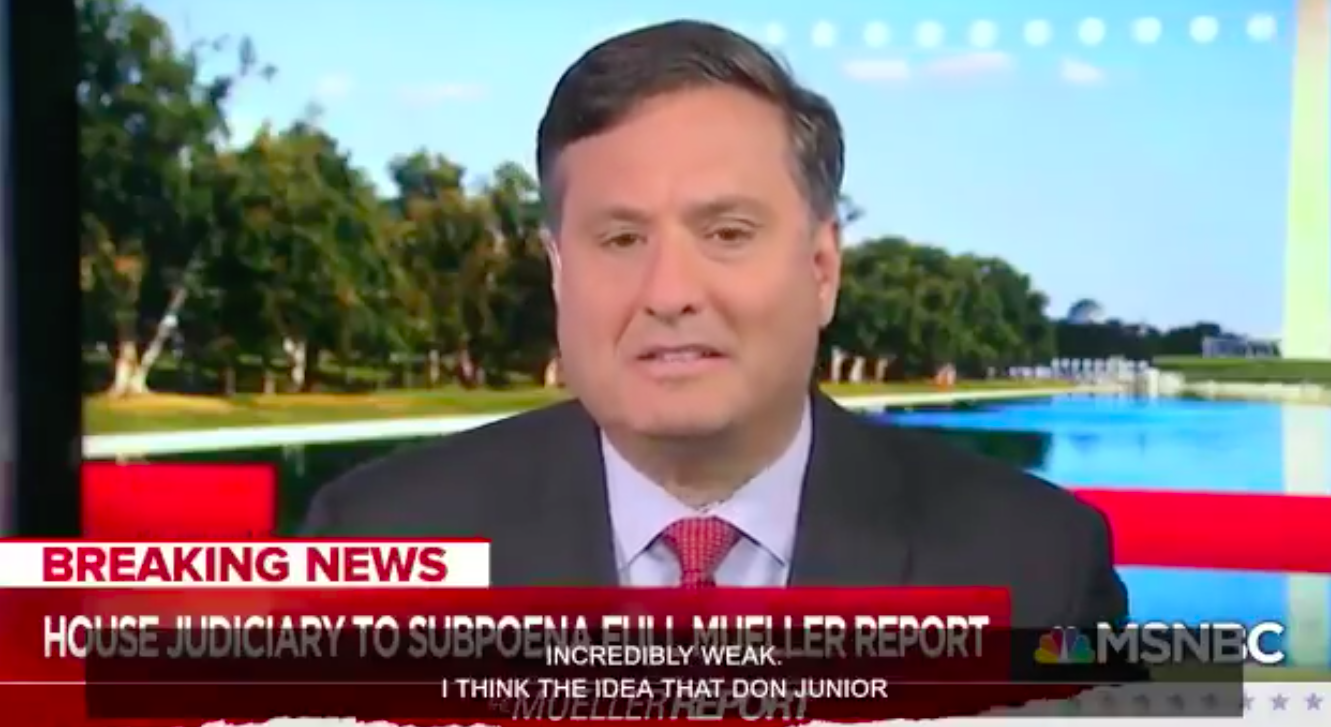 After the release of Robert Mueller's highly anticipated report on the Russia investigation, former White House Chief of Staff Ronald Klain took aim at the special counsel for failing to indict Donald Trump Jr. for "conspiring" with WikiLeaks.
The 448-page report, with redactions, which was released by Attorney General William Barr on Thursday morning, detailed the nearly two-year investigation into Russian interference in the 2016 presidential election and possible coordination between the Trump's campaign and the Kremlin to sway the election. The investigation resulted in 199 criminal charges and 34 individuals and organizations facing indictments or pleading guilty—including six former Trump associates and three Russian companies.
Although the investigation didn't indict Donald Trump Jr., it included correspondence between the president's eldest son's and WikiLeaks before the organization dropped hacked emails from Hillary Clinton's 2016 presidential campaign chair John Podesta.
During a segment on Thursday's MSNBC's Deadline: White House, Klain, a former chief of staff to Vice Presidents Joe Biden and Al Gore, told host Nicolle Wallace that he believed Mueller "wimped out" when he decided not to bring charges against Trump Jr. "I want to disagree with the idea the Bob Mueller did a great job," he said. "I think he wimped out here a bit."
Klain continued: "I think that the case against Don Jr. on campaign finance violations that's in the Mueller report, I think the analysis of why that wasn't indicted wouldn't be a passing grade in a first-year election law class."
The American political operative and lawyer called Mueller's analysis of Trump Jr.'s involvement "incredibly weak."
"I think the idea that Don Jr. wasn't indicted for coordinating with WikiLeaks, for conspiring with WikiLeaks, really slides past the collusion—if you want to call it that—the conspiracy, that I think this document proves out," Klain said. "I think there was plenty of indictable conduct with regard to both the coordination between the Trump campaign and WikiLeaks and with regard to the campaign finance violation by the Trump Tower meeting that Mueller did not press charges on, and I think that's disappointing."
Mueller's report found that WikiLeaks had sent Trump Jr. a Twitter direct message in September 2016 notifying him of PutinTrump.org, an anti-Trump website that was scheduled for imminent launch. Trump Jr. then emailed prominent members of his father's 2016 campaign team, telling them about the "weird Twitter DM from wikileaks [sic]," according to the special counsel's findings. "Off the record, l don't know who that is but I'll ask around. Thanks," Trump Jr. replied to WikiLeaks in the Twitter thread.
When WikiLeaks encouraged Trump Jr. to help spread word of an allegation that Clinton had attempted to target WikiLeaks founder Julian Assange by using drone technology, the president's son told the organization that "he already 'had done so,' and asked, 'what's behind this Wednesday leak I keep reading about?'" according to Mueller's report.
Weeks after their first exchange, WikiLeaks again messaged Trump Jr., this time to express the group's gratitude to his father over his recent shoutouts to the organization. "WikiLeaks, I love WikiLeaks," Trump said in October 2016. "This WikiLeaks is like a treasure trove," the presidential candidate added later that month. Trump referred to WikiLeaks again in November 2016, saying he loved to read the website.
In the same chat thread, WikiLeaks also encouraged Trump Jr. to get his father to tweet a link promoting the group. Trump Jr. shared the link days later on his personal Twitter account.