MSNBC Host Appears to Suggest Donald Trump's Youngest Son Isn't His
MSNBC host Mika Brzezinski appeared to suggest that President Donald Trump's youngest son, Barron Trump, isn't actually his during Friday morning's broadcast of Morning Joe.
The conversation started when Brzezinski, her co-host Joe Scarborough and a panel of guests were critiquing former Vice President Joe Biden's performance during Thursday night's third Democratic debate. The two showed a clip during which Biden made a gaffe while going over on his time talking about education. In his response to racial inequality in schools, Biden said a helpful way to educate kids is to "make sure the record player is on at night."
Scarborough then joked that Morning Joe was going to introduce a new segment called "Adventures in Syntax" in reference to a recent gaffe by President Trump during a White House meeting on the dangers of teen vaping.
During the meeting, the president told reporters that First Lady Melania Trump got involved in the vaping issue when teenagers began using it. Earlier this week, the White House announced that it was going to be banning flavored e-cigarettes from the U.S. market for targeting young people. The ban comes amid a recent surge of vaping-related illnesses around the country.
"And that's how the First Lady got involved. She's got a son — together — that is a — a beautiful young man. And she feels very, very strongly about it," Trump said. The president was talking about his 13-year-old son Barron.
"Maybe it is Melania's son," Brzezinski said. Scarborough agreed, seemingly confused as he repeated that Barron Trump was Melania's son.
"That's what he was saying, it was just her son. That's not — that's just what he said," Brzezinski said.
"Let me get back to Biden because I don't know exactly what you're saying," Scarborough said.
Brzezinski quickly shot back, saying it "seemed like [Trump] couldn't remember Barron's name." Scarborough told his co-host to "just stop" and "let the tape play itself."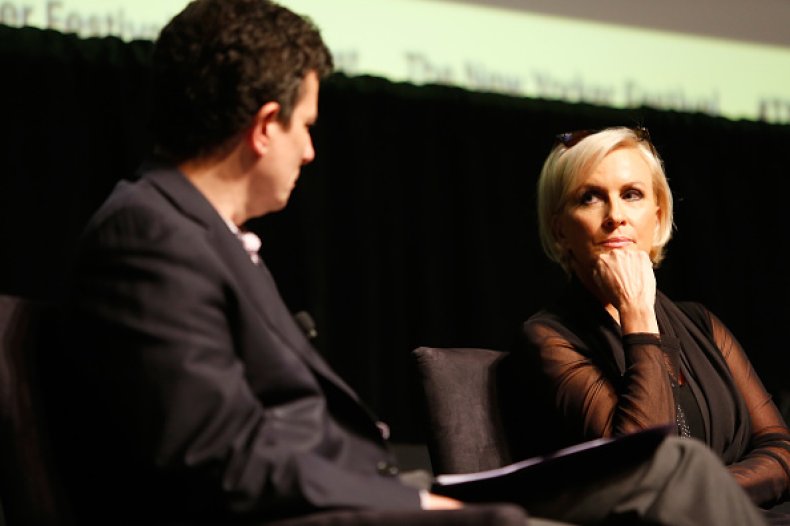 Trump's strange statement was also ridiculed by late-night talk show hosts. Trevor Noah played the clip on his show, pausing for a few seconds before saying to the audience: "She's got a son? You mean the son she made with you?"
"How on Earth does Trump forget that he has a son? He's like the world's worst dad," Noah said, before comparing Trump to Darth Vader. "At least Darth Vader claimed his son. If Trump was the Dark Lord, he would be like, 'Luke, she is your mother.'"
Stephen Colbert, impersonating Trump, delivered this monologue during his show on Wednesday night: "The first lady has got a son — together. It's a mutual son. Of course, I'm very involved with the doings of it, and so is the first lady, who is a lovely mother, together, who I love and know her name. So well that I won't waste your time saying it out loud."