MSNBC Host Argues With GOP Rep. Mark Meadows Over Whether Trump Seeking Biden Probe Was 'Proper': 'Not a Hypothetical'
MSNBC host Ari Melber rebuked the suggestion of GOP Rep. Mark Meadows that President Donald Trump allegedly pressuring Ukraine into announcing an investigation of former Vice President Joe Biden was a "hypothetical" scenario during an appearance on the network Thursday.
Melber asked Meadows if he thought it was "a good idea to have Ukraine investigate the Bidens," which Democrats allege Trump attempted to pressure Ukraine into doing in exchange for foreign aid. He also asked if the North Carolina congressman thought it would be "proper" for Trump to continue pressing for a Biden investigation if he is not convicted in the Senate trial.
"You're asking me a hypothetical," said Meadows. "And when we start to look at that, that hypothetical is not something that is at question here and it's not something that's on trial over in the Senate.
Melber took issue with the congressman calling Trump seeking an investigation hypothetical, saying that the impeachment had happened because Trump attempted to prompt an investigation.
"I would suggest to you, sir, that it is not a hypothetical for the reasons that we've been discussing," said Melber. "The president made the request, he released the transcript, other members of his staff confirmed it, he spoke again about it to Rudy Giuliani, he spoke to Gordon Sondland about it. That is to say, it's not a hypothetical he made the request."
"If he gets away with this, can he go back and do it again?" Melber continued. "I just want to get clarity from you, in your view can he appropriately still pursue this and other foreign investigations of American citizens?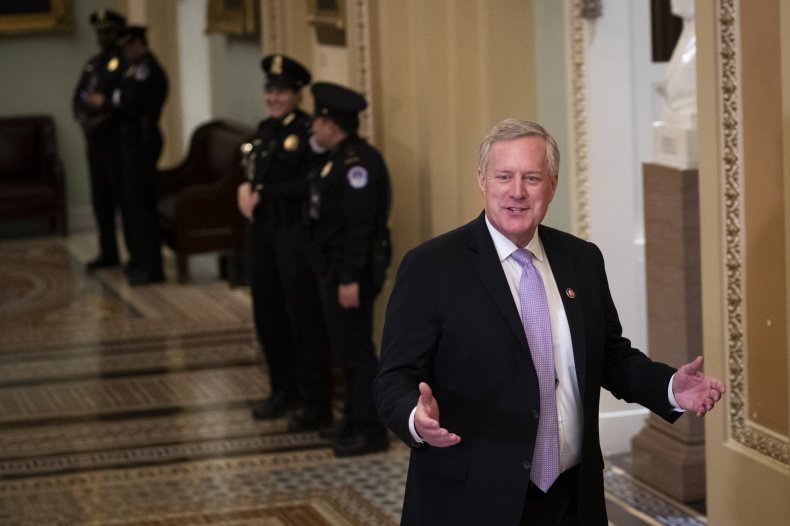 Meadows responded by repeating a debunked conspiracy theory concerning Biden and his son, attorney Hunter Biden, who had served on the board of a Ukrainian energy company.
"Are those the kind of things we need to be looking at? Absolutely," said Meadows. "I think your viewers would agree with that if this was President Donald Trump's son serving on a board, I can tell you most of your viewers would be saying 'why are we not investigating it?"
The discussion had begun with Meadows being asked whether agrees with the current position of Trump's lawyers, who say abuse of power is not an impeachable offense, or the 2018 opinion of Attorney General Bill Barr, who indicated that it was.
Meadows did not directly answer the question, but later said that impeachment for abuse of power must "rise to high crimes and misdemeanors," suggesting that the allegations against Trump were not in that category. He also warned actions against Trump mean impeachment "becomes very political and puts at risk every president that will follow this president in the administration."
Meadows is staunch supporter of Trump and a member of the president's impeachment trial defense team. He announced his retirement from the House on December 19, but vowed that his work with Trump was "only beginning."
The trial continues Friday, with Democrats expected to wrap up their opening arguments. Trump's defense will be launched soon after.