MSNBC Host Blasts Trump for Calling American Jews Disloyal: 'This is Exactly How Jews' Were 'Attacked' in Nazi Germany
MSNBC host Joe Scarborough slammed President Donald Trump's Tuesday accusation that American Jews who vote for Democrats somehow show "disloyalty," calling the remark anti-semitic and arguing that it was the same kind of language used to slander Jews in Nazi Germany and the Soviet Union.
"That lies right at the heart of anti-Semitic tropes," Scarborough, a former Republican congressman who now identifies as an independent, said on Wednesday morning on his MSNBC show Morning Joe.
"Again, for decades, for generations, for centuries – for centuries, this is exactly how Jews have been attacked not only in the Soviet Union, in [Nazi] Germany, across the world, that they are quote, insufficiently loyal," he said.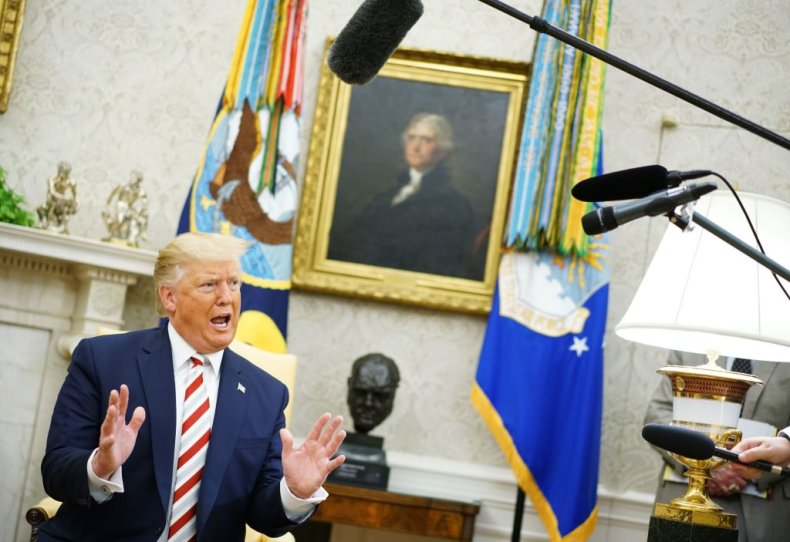 During the segment, Scarborough and his guests also highlighted the numerous instances when Trump has been accused of using anti-Semitic tropes and has been seen as providing cover for white nationalists and neo-Nazis. They reminded viewers about an image shared by the president during the 2016 presidential campaign that ominously suggested his Democratic opponent Hillary Clinton was being funded by Jewish money. The host and his guests also pointed to the 2017 white nationalist rally in Charlottesville, during which demonstrators chanted "Jews will not replace us." After the violent demonstration, Trump insisted that there were "very fine people" within the white nationalists' ranks.
Trump's controversial comment about the loyalty of American Jews came on Tuesday as he spoke with reporters in the White House about the Israeli government decision last week to ban Democratic Congresswomen Rashida Tlaib of Michigan and Ilhan Omar of Minnesota from entering their country. Both representatives have been highly critical of Israeli government policies towards Palestinians and support the Boycott, Divestment and Sanctions (BDS) Movement, which calls for a cultural and economic boycott of Israel to draw attention to human rights abuses.
"Any Jewish people that vote for a Democrat — I think it shows either a total lack of knowledge or great disloyalty," Trump told reporters at the White House.
The comment was quickly condemned by many Jewish American leaders and Jewish groups. According to polling, the vast majority of American Jews did not support Trump in the 2016 presidential election, and the majority identify as Democrats. A Gallup survey found that as of last year, 71 percent of Jewish Americans disapproved of Trump and his policies, while 52 percent identified as Democrats and only 16 percent as Republicans.
Many Jewish groups and lawmakers also slammed the president for using an anti-semitic trope when he suggested that Jews had "dual-loyalty."
"This is an explicit dual loyalty charge wielded by the President of the United States against 80 percent of American Jews who voted against him," progressive American Jewish group IfNotNow told Newsweek in a Tuesday statement. "It is not merely an antisemitic dog whistle, it's a bullhorn to his white nationalist base."
2020 Democratic presidential hopeful Senator Bernie Sanders of Vermont, who is Jewish, blasted the president's comments as well.
"Let me say this to the president: I am a proud Jewish person and I have no concerns about voting Democratic," Sanders said at a rally in Iowa on Tuesday. "And in fact, I intend to vote for a Jewish man to become the next president of the United States," he quipped.