MSNBC Host Calls Out Trump's Impeachment Legal Team for Being 'Associated' With 'Pedophile' Epstein
MSNBC host Joe Scarborough strongly criticized the defense team for President Donald Trump, arguing that it was "associated with a pedophile," referring to deceased financier Jeffrey Epstein.
Scarborough, a former Republican congressman who now identifies as an independent, made the remark during his MSNBC show Morning Joe on Monday. The host's criticism arose due to Trump's legal team members Ken Starr, who led the independent counsel investigation into former President Bill Clinton, and Alan Dershowitz, a retired Harvard law professor, both previously having worked for Epstein.
"Let's talk about the selection of a legal team, and talk about a president who has such trouble finding legal representation that he actually got the legal team that helped put together the plea deal, and helped represent Jeffrey Epstein," Scarborough, who regularly criticizes Trump and his administration, said on Monday.
"I can't imagine another president at any time having to select a team that would be associated with a pedophile, who according to recent reports trafficked in young girls as young as 11-years-old," he said.
Epstein died in prison last year after being indicted on charges of sex trafficking. Although he died before being convicted of the alleged crimes leading to the most recent charges, the prominent businessman had previously in 2008 managed to get a plea deal from prosecutors in Florida for related charges, which Dershowitz and Starr helped him secure. Starr has since defended the lenient prosecution his former client Epstein received in Florida.
Virginia Roberts Giuffre, a victim of Epstein's, has also accused Dershowitz directly of abusing her. But the lawyer has denied the allegation and filed a lawsuit against her.
Dershowitz told The New York Times in 2015 that he regretted representing Epstein. "I think I do regret having taken the case in light of everything that has happened since," he said. "If I could give back the money I made in this case and have this episode of my life erased, I'd do it."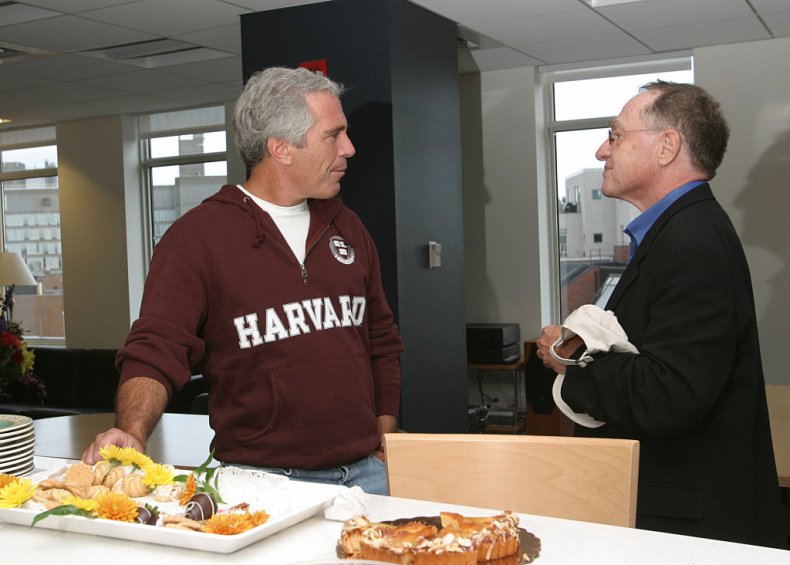 Although Dershowitz has said publicly that he voted for former Democratic presidential candidate Hillary Clinton in 2016, he has regularly defended Trump publicly in the wake of numerous investigations into his actions. Speaking to ABC's This Week and CNN's State of the Union on Sunday, the legal scholar argued that Trump should not be removed even if he did all of the things outlined in the Articles of Impeachment.
"They are not articles of impeachment. The articles of impeachment are two non-criminal actions," he asserted to This Week.
"You can't charge a president with impeachable conduct if it doesn't fit within the criteria for the Constitution," the lawyer said. He explained, that in his view, the Constitution only allowed for impeachment for explicitly criminal behavior.
But in a resurfaced video of a 1998 interview on Larry King Live, Dershowitz made precisely the opposite argument ahead of Clinton's impeachment. At that time, he argued that an impeachable offense "doesn't have to be a crime" if the president is "somebody who completely corrupts the office."