MSNBC Host Chris Hayes Calls Out Own News Organization After Allegations That NBC News Killed Harvey Weinstein Story
In a surprising move, MSNBC journalist and news anchor, Chris Hayes, ended his Monday night show with a monologue aimed at his MSNBC bosses and those who choose the path of least resistance.
Hayes spoke on the NBA enforcing silence on its players and management for fear of offending the Chinese government and in turn, losing their lucrative connections in that market.
He then drew parallels between the NBA deflecting political confrontation and what "Republican members of Congress do every day when confronted with the bile, bigotry, and rank corruption, and abuse of power of the man who is the head of their party."
"But it's important to note that it is not limited to them," he said.
"In fact, the insidious destructive force of the path of least resistance is everywhere you look. Heck, I feel the tug of it myself as my own news organization is embroiled in a very public controversy over its conduct."
Hayes went on to talk about Ronan Farrow's new book Catch and Kill, where Farrow contends that NBC News killed his reporting on the Harvey Weinstein sexual assault and harassment allegations because the organization was intimidated by Weinstein.
"Most distressingly, Farrow suggests NBC News was worried about the allegations of sexual assault and harassment against Matt Lauer coming out as a result of reporting on Weinstein, and desperately wanted to avoid that," Hayes said.
In Farrow's view, Hayes said, he was unable to break through what was effectively a conspiracy of silence from NBC News management.
NBC News has forcefully denied this account.
Hayes reported that Noah Oppenheim, the president of NBC News, called Farrow's book a conspiracy theory in a memo sent out today, citing an internal NBC investigation that concluded that "the extremely upsetting allegations against Lauer were not known internally at NBC."
NBC has called any suggestion it did know about the Lauer allegations "false and offensive." Oppenheim and has also maintained since Farrow's departure two years ago that the Weinstein story was never broadcast because it lacked sufficient on-the-record sourcing, even though NBC supported Farrow's assignment for seven months.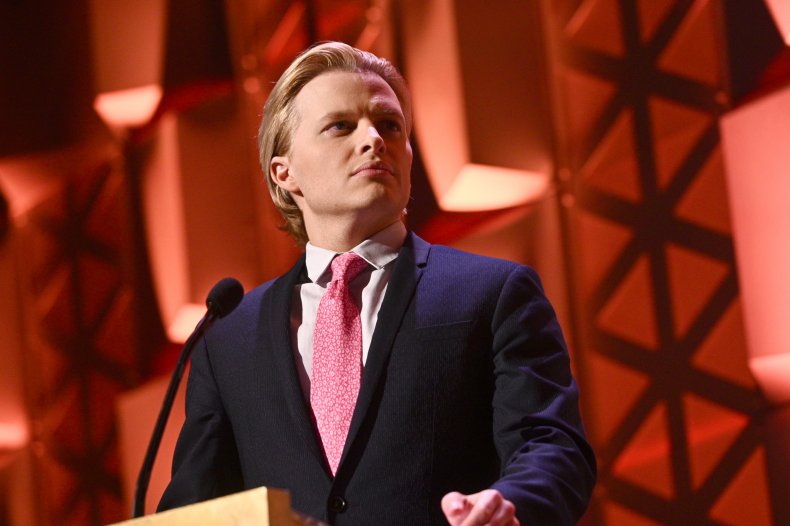 "One thing though is indisputable: Ronan Farrow walked out of NBC News after working on the Weinstein story and within two months, published an incredible article at The New Yorker that not only won a Pulitzer, but helped trigger a massive social and cultural reckoning that continues to this day," said Hayes.
"It is the kind of journalism that you want to do as a journalist, that everyone who works in this business should want to facilitate."
The path of least resistance has enabled men like Weinstein "and the many, many, many other powerful predators that we've come to know about," Hayes said.
In the end, Hayes brought it back to the common denominator and core of his closing statement.
"The path of least resistance is always there, beckoning seductively with an entirely plausible cover story, you've got bigger fish to fry, this isn't the hill to die on, the story isn't ready, but of course it's the very ease of that path that makes it the enemy to the kind of work that we as journalists are supposed to do."
In response to Hayes' closing remarks, journalist Yashar Ali posted the video and tweeted, "To stand up this way against his bosses at NBC News is remarkable. I should note what makes this even more remarkable is Andy Lack (NBC News Chairman) isn't a big fan of Chris/his show. Chris is stepping out here."