MSNBC Host Says Fox News Hosts Are Competing to be Trump's 'Most Shameless Toady'
MSNBC's Chris Hayes took aim at Fox News hosts Wednesday evening, taunting two of President Donald Trump's staunchest supporters, Sean Hannity and Laura Ingraham, for competing to be "the most shameless toady" to the president.
"Sometimes it feels like there's a competition over on Trump TV [a reference to Fox News] to see who can be the most shameless toady for the man in the White House watching on TV," Hayes said in a mocking tone during his show All In With Chris Hayes. "And now I'm a little worried that competition may be straining the relationships between the good friends hosting the shows over there," he added.
"Last night there was a bit of of an incident and you can tell [Hannity and Ingraham are] still good TV friends because they keep smiling as they say awful stuff to each other," Hayes said.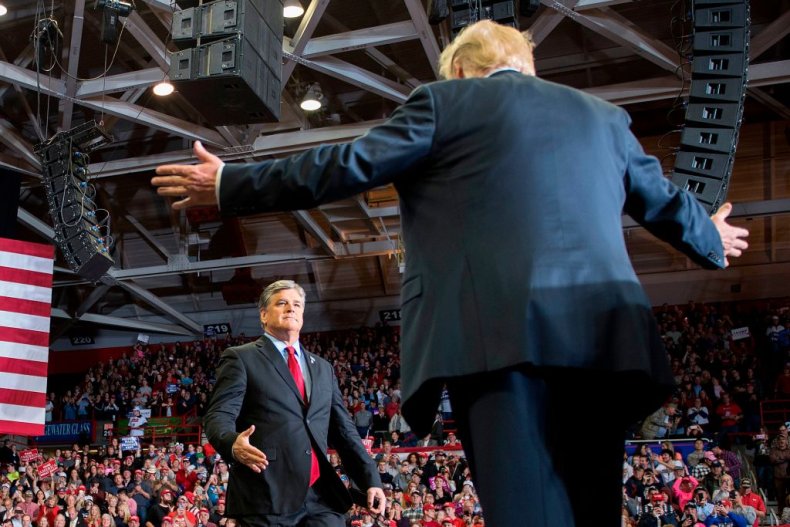 The MSNBC host was referring to a spat between the two right-wing hosts on Hannity's Tuesday evening program. During the show, Hannity hosted Ingraham as a guest and complained that she had cut off the end of Trump's rally in New Mexico to switch to a discussion Monday evening.
"I'm watching the president's speech in New Mexico last night. I wanted to see the ending," Hannity complained. "You cut to your debate early!"
Pushing back, Ingraham wondered: "Is that the White House speaking or is that you?"
Hannity then insisted that the complaint came from "Sean Hannity," to which Ingraham mockingly said: "I couldn't tell." Laughing, she then added quickly: "I'm just teasing you. I'm just teasing you."
But Hannity went on to complain more, suggesting her decision to cut from the Trump rally early was like silencing a performance of "a great work of Bach or Mozart." Ingraham replied by suggesting: "you handle your hour, I'll handle my hour." Both hosts then awkwardly laughed off the disagreement with smiles on their faces.
Whether or not Ingraham and Hannity actually feel competitively towards each other is unknown, but both are well-known to be close to the president. They consistently praise him on their shows, and Trump has repeatedly spoken positively of them in the past. Hannity controversially participated in a rally for the president last year, although Fox claimed that it did not "condone" such actions by network talent.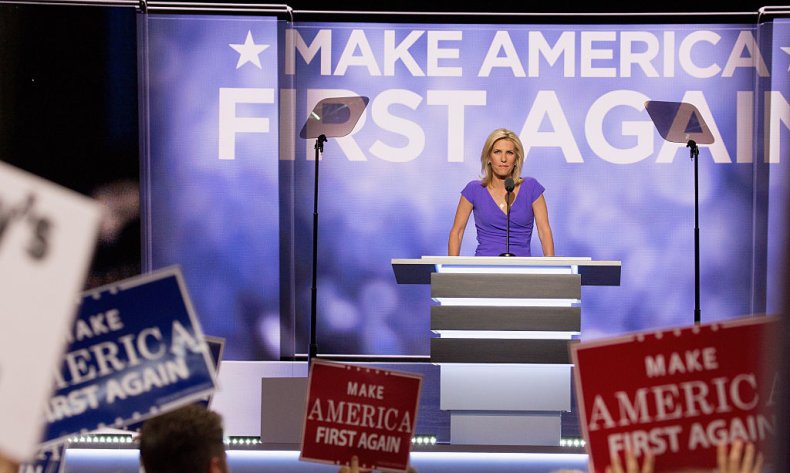 Ingraham also announced in May that her podcast, The Laura Ingraham Show Podcast, would be sponsored by the Make America Great Committee, which is a combined fundraising effort by the Trump campaign and the Republican National Committee to push for the president's reelection.
However, if there is a competition between the Fox News hosts, Hannity might be winning.
James Poniewozik, a television critic for The New York Times, wrote a new book published this month titled "Audience of One: Donald Trump, Television, and the Fracturing of America." According to the book, an anonymous source told the author that Hannity "basically has a desk" at the White House.
"Sean Hannity, who fulminated about conspiracies against Trump nightly on Fox, was the most influential White House counselor," the author wrote.