MSNBC Host Breaks Down Laughing, Calling Trump Lawyer Rudy Giuliani 'Unhinged' and 'Not Well'
MSNBC host Joe Scarborough broke down laughing as he mocked President Donald Trump's personal lawyer Rudy Giuliani on Monday, pointing out that the former New York City mayor had seemingly held up articles from right-wing websites and characterized them as "affidavits" to support his debunked theories about Ukraine.
During an appearance on Fox News Media Buzz on Sunday, Giuliani gave a typically combative performance while waving a small pile of printed articles. Clearly printed at the top of one was the name of the blog HopelesslyPartisan.com
The attorney repeatedly slammed the media, pushing a conspiracy theory that they had been covering for former Vice President Joe Biden for years. Holding up the papers in his hand, the former mayor said his claims were "supported by three affidavits. That's a lot better than whistleblowers."
After playing clips of Giuliani's interview during MSNBC's Morning Joe, Scarborough and his co-host and wife, Mika Brzezinski, showed a mix of visible amusement and disgust. "No, it's just painful," Brzezinski said.
"He's claiming that these are actually affidavits," Scarborough said, before he began to laugh uncontrollably. "It's from a pro-Trump website about conspiracies," he added through his laughter.
"Now, he's reading from it, claiming that this website hack job is an affidavit," said Scarborough, who previously served as a Republican congressman but now identifies as an independent.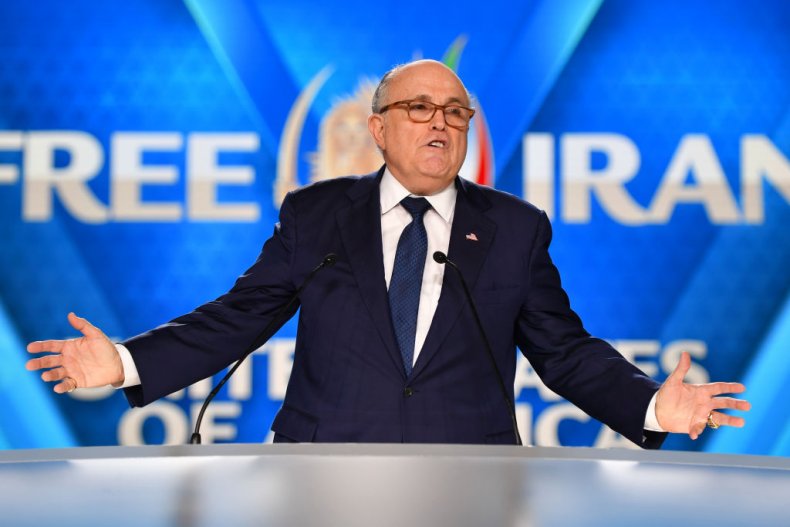 Scarborough went on to refer to Giuliani's actions as "unhinged." He said, "Two words: not well."
Brzezinski then expressed faux concern, asking, "Is there an aide? Is there someone taking care of him?"
Giuliani and his client Trump have attempted to deflect from the fast-moving impeachment inquiry led by Democrats by pointing to unsubstantiated allegations against Biden and debunked conspiracy theories about Democrats and the 2016 election. Speaker of the House Nancy Pelosi formally announced the inquiry after an anonymous government whistleblower came forward with revelations that Trump and his personal attorney had repeatedly pressured Ukrainian officials to investigate his political opponent Biden.
The whistleblower's attorney on Sunday confirmed that a second individual has also come forward.
Trump and Giuliani's claims against Biden center on his son's business dealings in Ukraine. Hunter Biden sat on the board of Burisma, a Ukrainian energy company, while his father served as vice president in the administration of former President Barack Obama. Prior to Biden's son joining the company's board, it had faced an investigation over alleged corruption.
The top Ukrainian prosecutor at the time, Viktor Shokin, was widely seen as corrupt and turning a blind eye to corruption. He also reportedly stonewalled a British investigation into the company.
Western leaders and the International Monetary Fund were in agreement that Shokin should be removed. As a result, Biden urged Ukrainian officials to oust Shokin, warning that $1 billion in aid could be withheld. Shokin was then removed and replaced.
Trump and his supporters now argue that Biden's actions were a way of protecting his son. But analysts have noted that the former vice president's efforts actually made it more likely that Burisma would face charges, not less likely.
Giuliani and Trump have also touted the debunked conspiracy theory that Democrats worked with Ukrainians to interfere in the 2016 presidential election. U.S. intelligence agencies are in agreement that Russia, not Ukraine or the Democrats, interfered in the presidential election. Thomas Bossert, Trump's first homeland security adviser, has even said he repeatedly warned the president that the allegation, promoted by right-wing websites, was "completely debunked."