MSNBC Host Slams Trump's Promise That North Korea Would Denuclearize: 'It's Not True, It Was Never True'
MSNBC host Joe Scarborough strongly criticized President Donald Trump's promises that North Korea would declearize, arguing that "it was never true."
Although Trump has repeatedly praised North Korea's leader Kim Jong Un and met with him on multiple occasions, becoming the first U.S. president to do so, tensions have escalated once again with the country. Kim's government has launched a series of missile tests over the past several months and promised further showings of force in the coming year, while publicly dismissing the possibility that an agreement will be reached with the U.S. Meanwhile, Trump has continued to claim that he has a positive relationship with Kim and downplayed the threat.
"[Trump has], for some strange reason, continued to talk about love letters between Kim and himself," Scarborough, who previously served as a Republican congressman but now identifies as an independent, said during his MSNBC show Morning Joe on Thursday, "and he's continued to assure Americans that this one was taken care of, this one was in the bag, check this one off your to-do list of worrying about North Korea."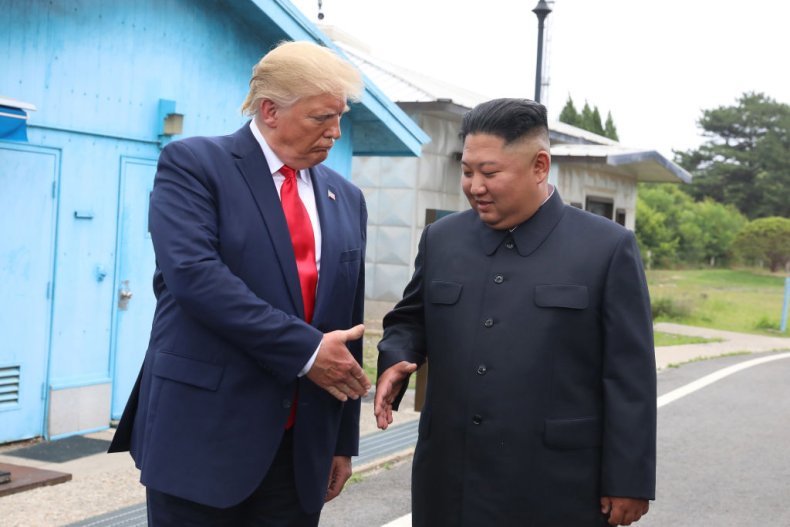 Continuing, Scarborough argued that "obviously that's not the case," noting that analysts of North Korea and experts had long questioned the reality of Trump's promises. "It's not true, it was never true," he said, wondering what the president's strategy would be going forward.
On Tuesday, North Korea's Kim dismissed the possibility of denuclearization, saying it will "never be" a reality on the Korean peninsula. He argued that his nation will continue to rely on "the powerful nuclear deterrent capable of containing the nuclear threats from the U.S."
Despite Kim's remarks, Trump insisted later in the day that "he likes me, I like him, we get along." The president went on to say that Kim "did sign a contract, he did sign an agreement talking about denuclearization ... I think he's a man of his word."
Newsweek has reached out to the White House for further comment.
Although Kim and Trump did sign a document in a historic Singapore meeting in June 2018, outlining possible steps toward denuclearization, experts were quick to note that the agreement was not binding. At the time, many analysts criticized the president for securing few concessions from Kim ahead of the summit, arguing that the president merely gave the American foe a political win with little benefit to Washington. Reports have suggested that Kim actually has continued to expand his nuclear program over the past year and a half, disregarding the document he signed with Trump.
Professor Robert E. Kelly of Pusan National University in South Korea argued that Trump's Tuesday comments were "a lie."
"This is just not true," Kelly, a Korean affairs analyst, posted to Twitter. "Kim signed nothing binding regarding nukes or missiles. No Kim ever has." The Kim family has ruled North Korea since the founding of the modern nation in 1948, maintaining firm dictatorial control of the country.
Despite Trump's continued optimism about North Korea, Kim's recent statements and actions are of little surprise to analysts and U.S. intelligence agencies. Last January, former Director of National Intelligence Dan Coats asserted that the U.S. intelligence community did not believe North Korea would give up its weapons, regardless of Trump's attempts to negotiate.
"We currently assess that North Korea will seek to retain its WMD [weapons of mass destruction] capabilities and is unlikely to completely give up its nuclear weapons and production capabilities because its leaders ultimately view nuclear weapons as critical to regime survival," he said at the time. Coats, who was appointed by Trump in 2017, later stepped down over the summer after reports of the president's frustrations with the director.
MSNBC Host Slams Trump's Promise That North Korea Would Denuclearize: 'It's Not True, It Was Never True' | U.S.