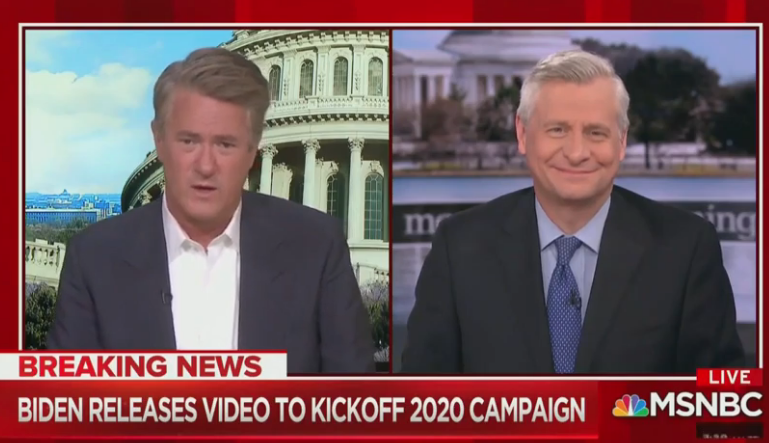 Thursday morning's Morning Joe panel on MSNBC agreed that all of former Vice President Joe Biden's past gaffes and questionable remarks don't matter now that Donald Trump is President of the United States.
Co-host Joe Scarborough and presidential biolgrapher Jon Meacham dredged up several past Biden lowlights, including his 2007 reference to then-Senator Barack Obama as the first "clean" African-American candidate for president, but said Biden's past pales in comparison to what they viewed as Trump's regularly outrageous behavior and scandals.
"And so I guess the question is: Are there examples of candidates that you can think of that changed their ways? Can you teach an old dog, as they say in the South, new tricks?" Scarborough asked the panel.
"Yes, he's done all those things but Donald Trump is President. So what the hell do we know?" Meacham responded, to the agreement of the rest of the panel. "The whole topography of American politics has changed. And it seems to me that there is almost nothing Biden could have said or done that would somehow startle a public that has become, I think tragically but undeniably, largely inured to public people saying things that even five years ago, we would have solemnly sat and said, 'Oh, that is the end of this person.'"
"Right, the arc is very different now," Morning Joe co-host Mika Brzezinski added.
Meacham is the author of The Soul of America: The Battle for Our Better Angels, which compares today's political realm to episodes in the country's past when "hope overcame division and fear."
"It's an era of redemption," Meacham continued. "It's an era of new episodes, of reality TV that is actually out reality. You could make a case, a fairly facile one, but why not, that Biden's incredibly operatic life of highs and lows, of tragedy and comeback, of endurance and durability, is not bad counter-programming. Again, forgive me for putting it in these terms but we might as well talk about it, at least in sociological ways."
Scarborough previously noted several "gaffe machine" errors from Biden's long political past. In 1987, Biden ended his campaign for president after it was unearthed he had lifted parts of a speech from a British politician. The then-senator from Delaware was also criticized for portraying himself as a scrappy, hard-working Pennsylvania family man in comparison to his middle-class upbringing.
In addition to accusations that Biden inappropriately touched some women, the 76-year-old politician has made a number of controversial comments about race. In 2007, on the day Obama officially announced his candicacy for president, Biden said of the Illinois senator, "[He's] the first mainstream African-American [candidate] who is articulate and bright and clean and a nice-looking guy."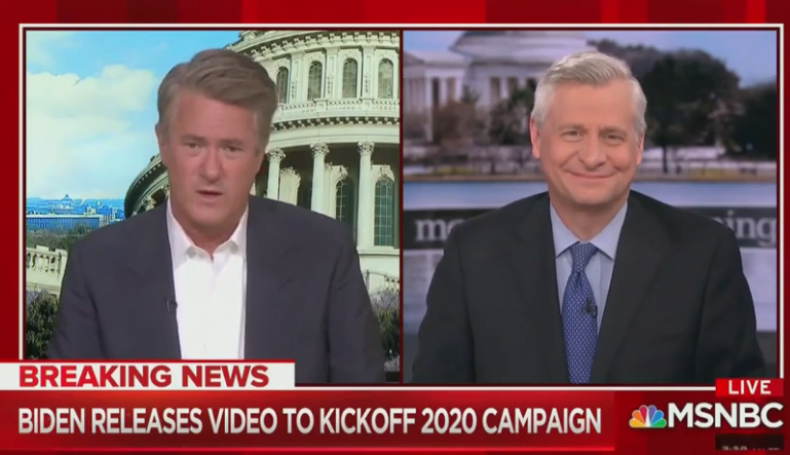 Biden also made a remark in June 2006 that offended Indian Americans, after he said "You cannot go to a 7-Eleven or a Dunkin' Donuts unless you have a slight Indian accent."
Meacham and the MSNBC panel said those insensitive remarks and accusations pale in comparison to Trump, who they said is engaged in perpetual scandal and offensive behavior.
"Joe Biden has a story to tell and is a story," Meacham said. "And frankly, far more legitimately and far more authentically than the president of the United States."