MSNBC host Joe Scarborough was humorously critical Friday morning of White House acting chief of staff Mick Mulvaney's admission of a quid pro quo for President Donald Trump's attempts to pressure Ukraine into an investigation of Democratic presidential candidate Joe Biden and his son Hunter.
In a clip from his show Morning Joe, Scarborough said: "There's no place to run. There's no place to hide, baby. It's all on video, and Mulvaney yesterday did more to move the president toward impeachment than anybody has over the past, well, three years."
Scarborough's comments came after Mulvaney admitted to reporters Thursday that there was in fact a quid pro quo for foreign policy, following three weeks of claiming there was "no quid pro quo" on the matter. As previously reported, Mulvaney said, "We do that all the time with foreign policy." Many on social media were critical of both Trump and Mulvaney
The comments were also accompanied by Scarborough and co-host Mika Brzezinksi airing a clip from June that showed Trump reprimanding Mulvaney for coughing during an interview with ABC News' George Stephanopoulos, as Mediaite reported. "If you're going to cough, just leave the room," Trump told Mulvaney at the time.
Scarborough laughed at the clip and was more critical of Mulvaney's comments. "He's mad at him for coughing. What do you do when somebody actually poops their pants in front of the press corps and then tries to take it back?"
Scarborough likened Mulvaney's to a Saturday Night Live sketch and went on to say, "He might as well just have a flashing light on his forehead that says, 'Impeach us now.'"
In the broadcast, Scarborough referred to Mulvaney's Thursday press briefing as possibly "one of the most significant news days over the past decade." He likened Mulvaney's comments to the Nixon tapes.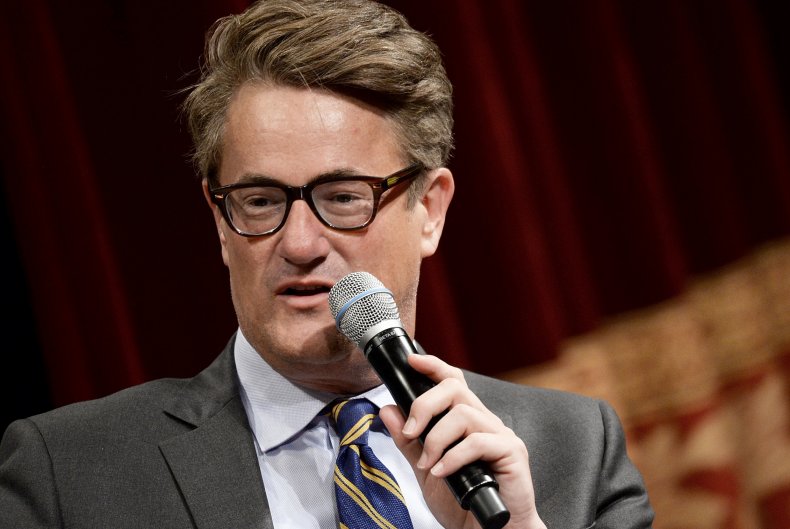 Also in the same broadcast, Scarborough spoke out regarding Trump's deal with the Kurds and Turkey, offering criticism of Trump's comments at his rally on Thursday evening. He implored Trump supporters at the rally to be better informed:
"All I'm asking is," Scarborough said, "that they just spend two or three minutes actually looking at the news and educating themselves, because if you were at that rally last night, just about everything that the president told you last night about the Kurds, about Turkey, about the Middle East was a lie, and we're all going to pay for it."